Continental Resources (NYSE:CLR) unveiled its new recoverable reserves estimate for the Bakken play last week. The company estimates that the Bakken Petroleum System's original oil in place is in the 413 billion barrels (P50 estimate) to 643 billion barrels (P10 estimate) range.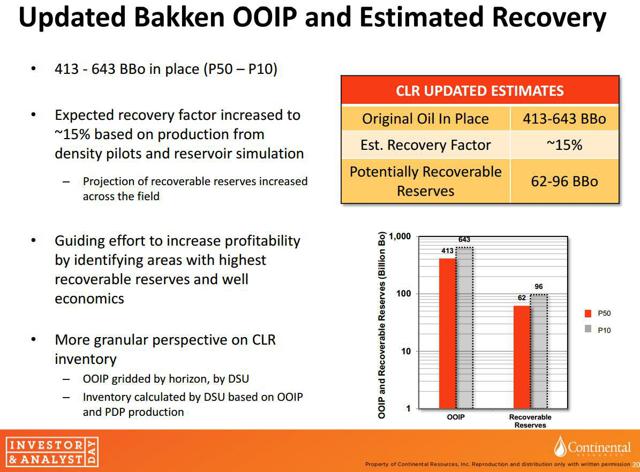 (Source: Continental Resources, September 2014 Analyst Day)
The new estimate is noticeably lower than the previous estimate of 903 billion barrels that the company introduced during its Analyst Day event in 2012.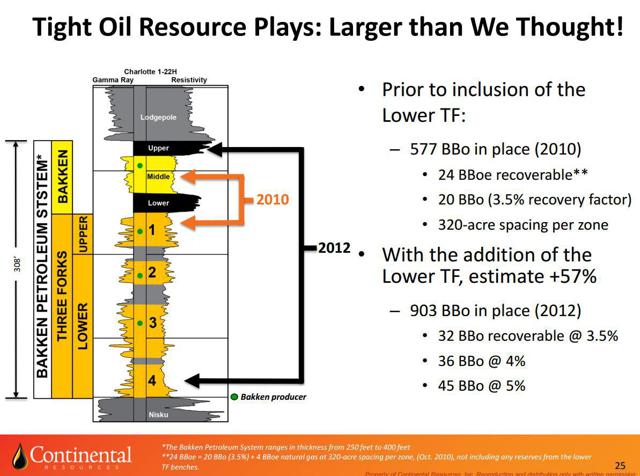 (Source: Continental Resources, September 2014 Investor Presentation)
Continental's new estimate is based on extensive new data that the company accumulated in the past two years. The new integrated assessment of the play also gives the company "a more granular perspective" on its own drilling inventory, including OOIP analysis by each drilling unit and broken down by target zone.
Despite a considerable reduction in the OOIP estimate, Continental's new resource appraisal shows a real breakthrough on the recovery factor side. The company raised its recovery factor estimate to ~15%, a steep change from the 3.5%-10% range that was often used by the company and the industry in the past. For example, Continental's previous presentations have focused on a recovery factor range of 3.5%-5%, as one can see on the slide above.
Moreover, Continental commented that the 15% recovery factor assumption may prove to be conservative for full-field development mode. The company's extensive reservoir simulation analysis for its Hawkinson density pilot suggests that recoveries as high as 20%+ can be achievable with density drilling using the company's traditional completion techiques and, likely, may be further increased with enhanced stimulation designs.
Based on this updated understanding of the play's resource potential and possibilities offered by existing extraction technologies, Continental estimates the Bakken's potentially recoverable reserves in the 62-96 billion barrels range.
To put this estimate in perspective, it may be instructive to calculate Bakken's potential productive life.
Bakken's Oil Production Has Grown At ~250,000 b/d Per Year
On a month-to-month basis, production growth from the Bakken has been lumpy and uneven, often impacted by weather, takeaway capacity, and services and equipment availability in the play. However, growth has been steady over a longer-term, with the play adding approximately 250,000 barrels per day of oil production on average over the past three years (the graph below).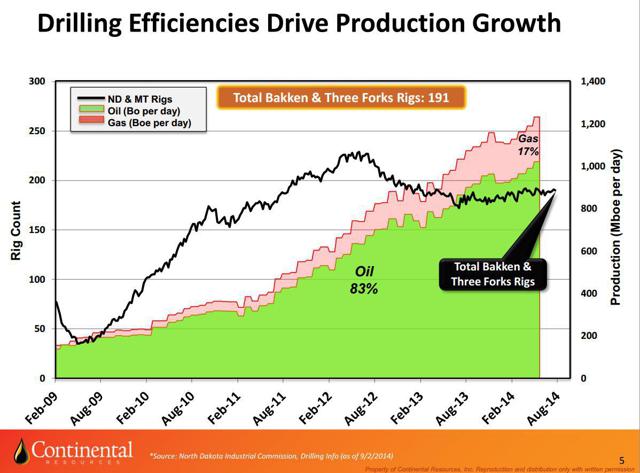 (Source: Continental Resources, September 2014 Investor Presentation)
Could this production growth pace be sustained going forward?
On one hand, operators are under less pressure to drill aggressively in the play as the vast majority of acreage in proven areas is now held by production. Also, given that base production has grown, a much larger number of new wells is now required to simply keep the existing production flat.
On the other hand, drilling returns in the play are likely to improve considerably, as operators transition in full-field development mode and focus on the most economic parts of their inventories. Pad development drilling provides an additional boost to economics. Most importantly, the rapid evolution of completion designs seen in the play over the past twelve months helps operators to unlock more productive potential. Production is more front-loaded (wells are more prolific over the first year or two) and EUR estimates are likely to move higher.
Based on the balance of all these factors, continued steady production growth in the Bakken appears to be a very realistic scenario, barring a further softening in oil prices.
The Bakken is currently producing ~1.1 million barrels of high quality light sweet crude per day. Assuming that the play's current annual growth pace of ~250,000 barrels of oil per day can be sustained over the next three years, then slowing down to only half of the current rate, one would arrive at ~2.1 million barrels per day of oil production from the Bakken in 2020. This illustrative calculation would be in line with the higher end of production growth scenarios shown in the following slide.
(Source: Continental Resources, September 2014 Investor Presentation)
In my opinion, the Bakken's production crossing over 2 million barrels of oil per day is a matter of "when, not if." A bigger question, however, is for how long that massive production rate can be sustained in the future. In this regard, Continental's bold prediction of 20%+ recovery factors, at least in the more prolific areas of the play, is truly encouraging.
Even assuming that only half of Bakken's potential recoverable reserves estimated by Continental at 62-96 billion barrels will be ultimately targeted by operators and extracted, the resulting 31-48 billion barrels are still a formidable resource. At 31 billion barrels, the Bakken can supply oil at a plateau rate of 2 million barrels per day all the way through approximately 2042 (I assume a straight-line decline thereafter over a 30-year period). At 48 billion barrels, the 2 million barrels per day rate can be sustained much longer, until approximately 2066. Again, I am using only half of Continental's new estimate for potentially recoverable reserves which is based on a 15% recovery factor.
If I assume that the Bakken continues to grow oil volumes beyond 2020, with production reaching 3 million barrels of oil per day in 2030 and staying at a plateau level thereafter, 48 billion barrels of recoverable reserves would support 3 MMb/d oil production through 2047 (with a linear decline over a 30-year period thereafter).
Under the most optimistic scenario, assuming Continental's OOIP P10 estimate for BPS materializes, the recoverable resource is fully extracted, and the recovery factor ultimately exceeds 20%, the Bakken could potentially plateau at ~4 million barrels a day for a multi-decade period. However, such a deep recovery of resources across the entire play would likely reflect substantially higher than current price levels for crude oil.
In Conclusion…
Technical advancements in extraction technologies may help bridge some of the existing gap between recovery factors seen in conventional oil reservoirs and the Bakken. The excellent quality of reservoir rocks in the Bakken Petroleum System is a major factor that supports this hope.
Based on Continental's new estimates for recoverable reserves, the play may be able to sustain production at a plateau level of 2 million barrels for at least several decades and possibly into the next century.
Assuming a supportive oil price environment, operators will likely take production volumes in the play well above 2 million barrels. At the high end of Continental's resource potential estimate, a multi-decade production plateau at 3 million barrel a day, or even higher, is certainly a possibility.
Should Continental's new assessment prove to be on target, operators with largest acreage positions in the core of the play, such as Continental, Whiting Petroleum (NYSE:WLL), Hess Corporation (NYSE:HES), Statoil (STO), EOG Resources (NYSE:EOG), ExxonMobil (NYSE:XOM) via its XTO and Denbury acquisitions, QEP Resources (NYSE:QEP), Oasis Petroleum (NYSE:OAS) and several others may prove to be a lot more resource-rich than one might have previously believed.
Disclaimer: Opinions expressed herein by the author are not an investment recommendation and are not meant to be relied upon in investment decisions. The author is not acting in an investment advisor capacity. This is not an investment research report. The author's opinions expressed herein address only select aspects of potential investment in securities of the companies mentioned and cannot be a substitute for comprehensive investment analysis. Any analysis presented herein is illustrative in nature, limited in scope, based on an incomplete set of information, and has limitations to its accuracy. The author recommends that potential and existing investors conduct thorough investment research of their own, including detailed review of the companies' SEC filings, and consult a qualified investment advisor. The information upon which this material is based was obtained from sources believed to be reliable, but has not been independently verified. Therefore, the author cannot guarantee its accuracy. Any opinions or estimates constitute the author's best judgment as of the date of publication, and are subject to change without notice.
Disclosure: The author has no positions in any stocks mentioned, and no plans to initiate any positions within the next 72 hours. The author wrote this article themselves, and it expresses their own opinions. The author is not receiving compensation for it (other than from Seeking Alpha). The author has no business relationship with any company whose stock is mentioned in this article.