Company Profile
BP p.l.c. (NYSE:BP), formerly known as British Petroleum, is a large oil and gas company - the sixth-largest oil and gas company in the world, in fact, as measured by 2012 production. A British multinational headquartered in London, England and involved in nearly every aspect of oil - i.e., production, exploration, refining, distribution, marketing, petrochemicals, power generation, and trading - BP is one of the six oil and gas "supermajors", according to Reuters. The massive company is the fifth-largest company in the world overall by revenues, and the sixth-largest energy company by market capitalization. As of 2013, it produces approximately 3.2 million barrels of oil per day, has a total proved reserve of 17.9 billion barrels, and owns 17 800 service stations. While its largest division is BP America, its operations span 80 countries, and it owns sizeable portions of such foreign giants as Rosneft (OTC:RNFTF). The company is also involved in exploring renewable energy sources: specifically, it has worked in solar power, biofuels, and wind power.
In the first decade of the new millennium, BP rose to become the second-largest oil and gas company in the world, and was faring very well. However, following several major environmental and safety incidents, BP experienced legal and public relations repercussions. In particular, the oil major had to sell major non-core assets to compensate for its liability in the Deepwater Horizon oil spill: the largest accidental release of oil into marine waters in history. BP cut down its alternative energy business, and abandoned several international projects. As could be expected, share prices fell rapidly, and have since remained considerably lower than they were pre-spill. However, as I Know First Research suggests, BP may well be looking at a bullish future.
Historical & Present-Day Disadvantages & Uncertainties
A few factors contribute to problematizing BP stock.
Firstly, BP's history of environmental and safety problems continues to place the company under present-day fire. While several events contribute to BP's unstable reputation (e.g., the Texas City Refinery explosion, the Prudhoe Bay oil spill, and the wreck of the Torrey Canyon), the Deepwater Horizon oil spill of 2010 is the single event that has most drastically altered BP's share price. On April 20th, 2010, an explosion at the Deepwater Horizon rig killed 11 crew members, and subsequently initiated the largest offshore oil spill in American history.
The incident made BP come entirely undone. The company pleaded guilty to felony manslaughter, misdemeanors, and lying to Congress, among others. Immediately after the Deepwater Horizon oil spill, from April 19th to June 25th, 2010, BP's share price declined by 55%: from $59.48 a share to a record low of $27.00 a share, totaling a $100 billion loss in market value. Following the spill, the U.S. Environment Protection Agency also forbade BP from applying for any new work in the Gulf of Mexico, and made certain that BP could no longer supply the military. Most recently, a U.S. federal court ruling has also ordered that BP can indeed be held accountable for the 2010 events: specifically, BP has been sued for "gross negligence", and may, according to the judge responsible, be held accountable for 67% of the Deepwater Horizon disaster: an accountability that comes with, potentially, an $18.5 billion fine.
BP never quite recovered from the 2010 spill. Share prices dropped drastically in 2010; though they've been recovering since, they have never quite returned to pre-crisis levels (Figure 1). In fact, between 2010 and 2014, shares have averaged up to 27% below the peak they reached prior to Deepwater Horizon. Production has also fallen significantly: daily production in 2013 was 20% less than the recorded daily production average in 2011. Finally, BP also had to sell many of its non-core assets to pay for the Deepwater damage: notably, it sold natural gas activities in Canada, as well as stakes in assets and businesses across Venezuela, Vietnam, Namibia, Botswana, Zambia, Tanzania, Malawi, Canada, the southern United States, and the UK. BP also closed several divisions of its alternative energy business, including BP Solar, and the BP Biofuels Highlands project (an initiative geared at creating cellulosic ethanol from crops).
By 2013, because of the sheer volume of assets it had to sell in order to compensate for its Deepwater Horizon liabilities, BP had become the fourth-largest company: a fall from its prior position as second-largest.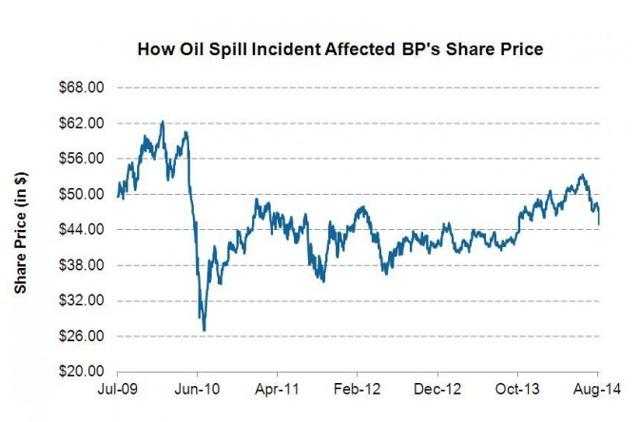 Figure 1. The influence of the 2010 Deepwater Horizon oil spill on BP's share price is clear: note the sharp drop from July 2009 to June 2010. Note further that share prices have never quite returned to pre-spill levels.
The consequences of the Deepwater Horizon spill are so drastic, in fact, that legal proceedings are still under way. The first phase of the case against BP was handled earlier this month; a judge ruled that BP could be fined $18.5 billion, potentially, in addition to the nearly thirty billion that the company has already spent - this could lead to further asset sales. BP appealed the fine; as such, the company will once again present its case in January 2015, at which point payouts and fines will be considered further. BP also still faces other lawsuits, one from the Plaintiffs' Steering Committee: these could contribute to its financial losses.
Another factor contributing to a bearish outlook on BP is the company's relationship with Russia. BP invests significantly in Russia's oil industry: specifically, it has high total production, reserves, and offshore resource potential in the land. It also controls a significant portion of Rosneft, a Russian oil major that is owned solely by the Russian government (69.5%) and BP (19.75%). BP does not just cooperate with Russia at present, however: it has also stated that it sees Russia as a crucial instrument in its long-term success plan. This could be problematic to investors for solely one reason: the Russia-Ukraine crisis. As political unrest grows in the region, possible sanctions on Russia's energy sector have started to loom; if implemented, they could prevent BP from actualizing its plans in the area. These rules could also reduce the value of BP's stake in Rosneft (which it exchanged for its 50% stake in TNK), and detract up to $600 million from BP's dividends.
A temporary threat to BP's success was also the political situation in Scotland, where the union of Scotland and England was being debated until earlier this week. Had the two regions separated, the partition could have created problems in the energy industry: namely, prices could have risen, and currency would have become uncertain. This would have been especially problematic for BP, which has a large number of employees in the area (nearly 10,000). The oil major no longer has this potential threat to worry about, however, given that independence was not granted to Scotland.
Current & Future Upsides
Despite the fact that BP may not have retained its pre-2010 glory, it is not an entirely poor stock to purchase. In fact, at present, it is looking bullish.
Firstly, while BP did indeed have a $38 billion divestiture on its hands, that is now over and done with. The divestiture was completed by the end of 2013, and thus no longer exists to plague BP. True enough, the company did suffer a 32% decrease in total head count as a result. It is also true that production went down as a result of the divestiture in 2013. However, it must also be noted that BP managed to retain 90% of its reserves, and managed to recover production again by 13.8% in 2014. The situation was not entirely devastating.
Further, BP offers a good yield, at 5.1%, and one that is expected to grow rapidly. In fact, it seems that BP's dividends per share could go up by as much as 5.3% by 2015. Many analysts have pointed out that, for those interested in the long term, this dividend is a solid pro; further, BP's long-term value proposition won't be impacted by events in Russia and Scotland. Some go so far as saying that the company should, even given Russian sanctions, be able to generate a profit growth of minimally 15%, and a cash flow of $10 per share this year. All these favorable attributes are accompanied by rising pre-tax profits, a strong balance sheet, and low debt levels.
BP is also bouncing back where margins are concerned. Refining capacity has famously increased this year, with many governments trying to avoid relying on imported fuels; this has created more employment. These local shifts have allowed BP to drastically refocus: it now plans to shut down its Australian refining operations, and focus on the US. This is advantageous to margins because Australian operating costs are considerably high, while dedicating effort to BP's already-strong US refineries will, according to the company, result in increased incremental cash flows.
In addition, just as it has tried to vigorously come back where production and margins are concerned, recovering production by 13.8% from 2013 to 2014, so too BP has sprung right back into action where new projects are concerned. As was previously mentioned, following the2010 spill, the U.S. Environment Protection Agency forbade BP from applying for any new work in the Gulf of Mexico, and made certain that BP could no longer supply the military. This ban was lifted in March 2014; BP came back to win leases in the Gulf of Mexico within a week of re-entering the fray. Specifically, it initiated five new projects in 2012, and another three in 2013. Now, BP has approximately ten rigs operating in the Gulf of Mexico, and has started up its Atlantis North expansion Phase 1 major project. The oil major also hopes to invest $1 billion into the Alaska North Slope as of 2015, and add approximately two drilling rigs to the area.
Finally, Tony Hayward, former chief executive of BP, also makes an interesting point: while oil prices have been dropping, this could change at any moment. If the aforementioned sanctions against Russia are put into place, Russian access to markets and Western oil technology will be drastically limited; this could very significantly change the global flow of oil when the U.S. supply peaks, catalyzing a reversal in dropping oil prices. Oil may not continue going down: if oil prices drastically change, BP may be able to profit.
All this appears to suggest that BP may well be worth a purchase, at the moment. Many short-term investors are selling in light of the Russia-Ukraine situation, and were selling in light of the Scotland separation issues, but those willing to ride out the potential, temporary volatility associated with these events may find that this is a stock worth holding on to.
It is clear that many analysts are also seeing these advantages. Yahoo! Finance contributors rank BP a moderate buy, on average (Figure 2). Additionally, among others, Citi, Grupo Santander, Beaufort Securities, and Standard and Poor's have also raised their ratings to "buy".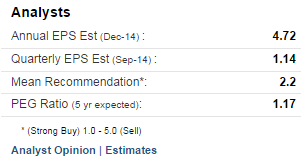 Figure 2. Yahoo! Finance analysts rank BP approximately a 2.2, where 1.0 is a strong buy and 5.0 is a strong sell.
Algorithmic Perspective: Bullish in the Short Term
While algorithmic analysis is not to be considered conclusive, it can prove a useful tool when combined with traditional techniques.
I Know First uses an advanced self-learning algorithm based on artificial intelligence, machine learning, and artificial neural networks to predict the flow of money in almost 2000 markets from 3-days to a year. This algorithm provides traders with a trend they can use to identify when to enter and exit the market; though it may be used for intra-day trading, the predictability of this trend becomes stronger in 1-month, 3-month, and 1-year forecasts; as such, it can - when coupled with traditional analysis and careful reasoning - effectively be used to analyze the value of such stocks as BP. While I Know First's algorithm should not be regarded as a stand-alone testament to BP's value, the algorithm has seen an unusually high degree of accuracy, and as such is, at least, a useful complement to independent analysis.
The new forecast generated by the I Know First algorithm, updated on September 16th, is shown below (Figure 4). Bright green signifies a highly bullish signal; light green also indicates that the forecast is bullish, but not as strongly so. Bright red, in turn, signifies a bearish forecast; correspondingly, light red indicates a bearish forecast as well, but not as negative a forecast. Each compartment contains two numbers: the strength of the signal itself (represented by the number in the middle of each box, to the right), and its predictability (found in the bottom left corner, this is the approximate level of confidence the algorithm has in the forecast). Taking all this into consideration, the ticker symbol for BP p.l.c. - "BP" - may be as bullish in the 1-month and 3-month time frames (Figure 3).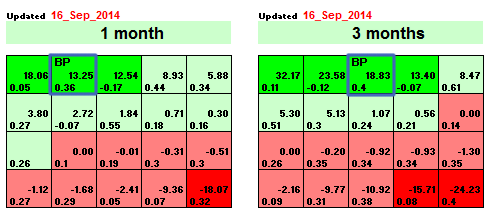 Figure 3. I Know First's most recent 1-month and 3-month forecasts for BP p.l.c.. BP is boxed in blue, and shown to be bullish. Please note that a negative predictability indicates high risk.
This bullish forecast for the short term coincides well with recent developments in BP's plans, its solid yield, and its increasing production and recovering margins. Given analysts' mean "Buy" recommendation and BP's activities in the last year, it may be wise to consider keeping BP in one's portfolio, though it may sometimes be seen as risky given current circumstances.
Conclusion
While BP is a stock that has, since 2010, been regarded with mild concern, it may well be bullish at the moment. Though the company did indeed suffer for its involvement in the 2010 Deepwater Horizon oil spill, and while it has had a questionable past where other environmental and safety accidents are concerned, it remains a giant in the oil and gas industry. Further, though it suffers from lowered share prices that have never quite returned to pre-crisis mode, it is making a comeback where production, margins, and projects in the Gulf of Mexico are concerned. While legal troubles continue to loom for the oil major, the worst part of its divestiture is behind it, and some analysts claim that even the $18.5 billion fine that may await BP in 2015 is not enough to injure the company's 5% yield, which proves a steady comfort to investors. In addition, it is true enough that changes in the political climates of Russia could dramatically affect BP's business. And yet, many investors argue that, again, even in the face of foreign issues, BP's profit growth and cash flow would not be too devastatingly affected.
BP p.l.c., then, is not an easy stock to coherently document. However, it is one that has certain clear advantages - advantages that have, in recent months, caused analysts' recommendations to average around a moderate buy. In addition, I Know First predicts that BP will be bullish in the 1-month and 3-month time frames. While none of these facts independently point to BP's becoming an exceptionally strong buy, it would be wise to avoid completely disregarding this stock: it does have its merits.
Business relationship disclosure: I Know First Research is the analytic branch of I Know First, a financial start-up company that specializes in quantitatively predicting the stock market. This article was written by Sophia Glisch, an I Know First intern, and edited by Daniel Barankin. We did not receive compensation for this article (other than from Seeking Alpha), and we have no business relationship with any company whose stock is mentioned in this article.
Disclosure: The author has no positions in any stocks mentioned, and no plans to initiate any positions within the next 72 hours.
The author wrote this article themselves, and it expresses their own opinions. The author is not receiving compensation for it (other than from Seeking Alpha). The author has no business relationship with any company whose stock is mentioned in this article.
Editor's Note: This article discusses one or more securities that do not trade on a major U.S. exchange. Please be aware of the risks associated with these stocks.