Take-Two Interactive (NASDAQ:TTWO) was made on the Grand Theft Auto line of games. The popular third-person, crime-laden game created by subsidiary Rockstar Games pushed the limits of what a video game could do and what topics it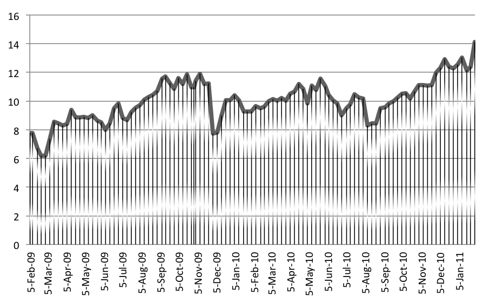 could cover. The company has not looked back since and still prides itself on violence-laden video games. Yet, in 2010, for the first time ever, the company was profitable without Grand Theft Auto. Rockstar Games brought us Red Dead Redemption and 2K Sports brought us the Michael Jordan-featured, revamped NBA 2K11. Both games were hits and did much better than expected, finishing fifth and tenth overall in total sales, respectivelt. The company proved it can be profitable without Grand Theft Auto. With these capabilities and Grand Theft Auto V on its way in 2012, this stock looks great to run up throughout 2011 and beyond.
It has been two years since a GTA release, but TTWO has shown that they can do it without GTA. With a solid lineup of games in 2011, GTA V in 2012, and a great future ahead, now appears to be the time to get into Take-Two Interactive. The company trades at a P/E ratio at 28.37, but given the cyclical nature of the company, this number changes a lot. Even given the cyclical nature, if the company can just have one great year in the next four (2012 when GTA V releases) with a few other modest years and even one year of negative income, this stock should be able to improve 100%. What will drive it? The fact that the company has taken advantage of its GTA and Rockstar success and leveraged it into other games.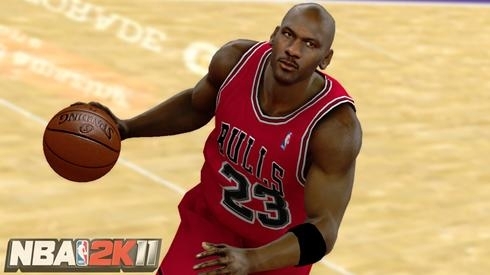 This is not a one-horse show any longer. The company is taking its groundbreaking style of doing things and funneling it into new genres – basketball, Western, and now in 2011. Games like LA Noire (the first-person crime-scene investigation style game) and Duke Nukem Forever should not be overlooked. Recent news is that the company has delayed Max Payne 3 and released the date for LA Noire. Many speculate that this is because the company is ready to announce that they are working on GTA V.
Some see the 50% growth that the company has recently had as the apex of this stock for some time, and that the video game industry is being plagued by social games on iPad and iPhones. This is just simply not the case. The industry on tablets and phones is simply an emerging market for TTWO. The company, in its latest quarter, saw its computer revenue double by 50%, and tablets are included in this number. The highly successful Civilization line as well as other games are now available on tablets. The growth of these devices is in no way a bad thing for video game companies. As long as the company can position itself in this market, it can benefit from it. The company has an extensive computer game lineup that can grow with the growing tablet, netbook, and PC market.
The video game industry is changing in some ways, but in many ways, it remains the same. Quality is what counts, and TTWO makes high-quality games that are starting to get a major following. NBA 2K11 received 25 awards/accolades and was sports game of the decade. This type of quality translates into positive sales and building lasting relationships.
There are definite risks with Take-Two Interactive. The company has not shown that it can consistently maintain free cash flow, but this number is skewed to your normal company. The company has to sink a lot of money into games for development, and so for some quarters, FCF margins look awful while for others they look outstanding. The company needs an FCF margin around 5-7% on average to really be able to sink money into developing new games and grow without taking on heavy debt loads. Over the last ten years, the company has averaged a slightly negative FCF. This risk factor was factored into the stock's ability to grow. The company has to take on equity and debts to raise money to maintain growth.
Despite the low FCF, the company maintains a low amount of long-term debt with only about $30M in net debt. They have a lot of cash on hand, and they have a current ratio close to 2. The company is in decent financial health, and if they can maintain profitability, it will help their FCF issues. When that can occur, they can reduce risk levels that would increase valuation and increase the company's overall value as it can pay off debts as they did in the TTM.
This is a company that can truly transform itself, as it has released series of games with great reception and is gaining traction in new markets – sports games and computer games. Further, with the blockbuster blowout of Call of Duty: Black Ops that made $1B in sales, GTA V's capabilities are unattenable. The game could truly take this stock into levels not known before.
In our opinion, this is just the beginning of Take-Two Interactive's run, and it has a lot of potential moving forward.
Valuation
The Oxen Group has a price target on TTWO at $24. The stock, given its cyclical nature, has a lot of valuation already priced into the stock based on what it can do in various cycles. Yet, the company has proven it can fill the valleys a bit higher with profitability without the major title names. This allows the company to most likely spend a lot of time in the black in the next five years. Despite its higher P/E ratio, the company still has tons of room to grow and should be able to see over $1.5B in operating income on a GTA V release year. The company, additionally, is just breaking into new computer markets and showing positive FCF. Margins, FCF, and profitability all have tons of room to improve.
The stock is a Buy below $18.50. The stock is a Sell above $26.
Risk
Risk is medium with Take-Two Interactive. The real risks for the stock come with questions of FCF, GTA V's release, and their partnership with Rockstar Games that could expire in 2012. The company will do everything it can to keep Rockstar Games, but their price tag is high. The company also will need a great release of GTA V to move to higher levels, and they will have to prove they can remain profitable with FCF in order to increase valuations. Given the cyclical nature of games and the ability for failure on any given game, risks are definitely prevalent. Yet, the track record of the company is to outperform expectations, and we are confident in their consistency.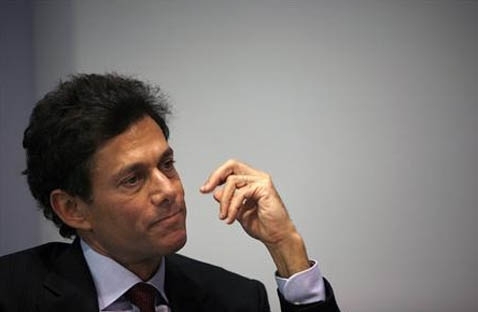 Management & Stewardship

Take-Two Interactive is run by a group of men that came into power in mid-2007 and have turned this company around and moved it into consistent profitability, leveraging the company's GTA-line into something more for Take-Two. The head honcho is Chairman Strauss Zelnick, who has a pronounced tenure in the music industry and entertainment business, and current management has done a great job of turning this company into a profitable enterprise. The company, additionally, from 2007-2009 took over 50% cuts in compensation to help get the company to profitability. In the same time, the company stayed neutral with a major year in 2008. Management is on the right track and took cuts even during the big 2008.
Management gets an 8 out of 10 rating (10 being the highest).
Disclosure:
I have no positions in any stocks mentioned, but may initiate a long position in
TTWO
over the next 72 hours.