A couple of months ago, I outlined a strategy for investing in country ETFs. It ranks the stock markets of most developed markets and a few major emerging markets by valuation and momentum.
Valuation is one of the largest factors that determines long term returns. Momentum, on the other hand, is more predictive of intermediate term returns. By combining both, we are trying to pick countries that have both long term and intermediate term tailwinds.
Since the last update, the five top ranked country ETFs rose 3.06%, slightly underperforming the five bottom ranked ETF's 3.39%, but still outperforming the S&P 500's 2.94% gain.
Methodology: First, the countries are sorted by each metric individually, assigning a score of 1 to the top country, 2 to the 2nd from the top, 3 to the third from the top, and so on. The scores of the underlying metrics are then added up, and re-sorted. The metrics for measuring valuation are the median earnings yield and the median price to sales ratio. Momentum is ranked by the sum of the most recent 12, 6, and 3 month price change.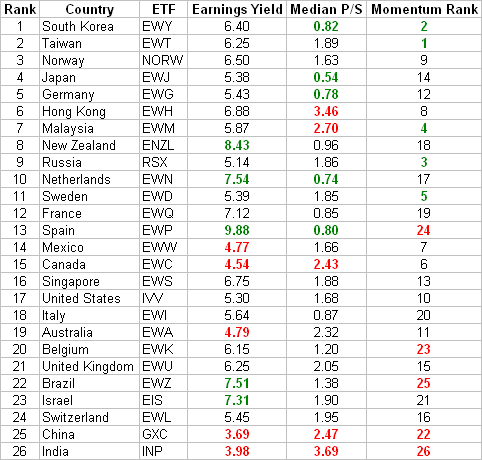 Looking for more ETF research? Check out our ETF ratings.
Disclosure: I have no positions in any stocks mentioned, and no plans to initiate any positions within the next 72 hours.