Specialty retailer GameStop (GME) is controversial - with strong opinions on either side of the issue. A study of past patterns suggests that the stock may perform well through March and into April, driven by a combination of rock bottom valuation, buybacks, and seasonal strength. On the other hand, questions about capital deployment, specifically the company's ability to achieve further growth, may limit the seasonal tendency.
Background
GameStop Corp. is the world's largest retailer of video games and PC entertainment software. Growth has been rapid, coming in at 29% annually for the past 5 years. Share prices soared accordingly. Over the past year, there has been increasing concern that the bricks and mortar approach to video games will be rendered obsolete by on-line delivery, and that GME's used game business is under pressure from competitors and also from content providers who attempt to restrict resale.
Shares prices have been pummeled and short interest stands at 24.8%. Management continues optimistic, and back in July last year made a presentation that includes rebuttals of the common criticisms as well as the outline of a strategic plan going forward. The bull case has been made frequently here on Seeking Alpha, although most contributors acknowledge reservations.
Thinking of Movie Gallery, Blockbuster (OTC:BLOAQ), Borders (BGP), Barnes & Noble (NYSE:BKS), Coinstar (NASDAQ:CSTR) and Netflix (NASDAQ:NFLX), questions about GameStop's long term potential cannot be ignored. The content, whether it be books, video, or games, will continue in demand. But the business and the profits will go to the company that can get a hammerlock on the winning method of delivery. And providers and distributors of content will wrestle over the profits. GameStop is a capable competitor.
Seasonality
Like many retailers, GameStop's business is seasonal. Over 39% of revenue and 57% of profit were booked in the fourth quarter for fiscal 2010, ending January 31, 2010. The first quarter is the second strongest, while the other two are lackluster.
Share prices also demonstrate a seasonal pattern. Of special interest is the tendency for the price to run up into and past earnings in March and into April each year, giving the gains back in subsequent months. Here's a monthly table of average TTM PE: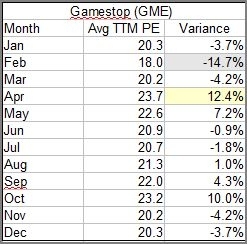 The same material can be presented in a chart, using analyst consensus EPS and ratios of monthly average PE to construct a projection for the remainder of the year (click to enlarge images):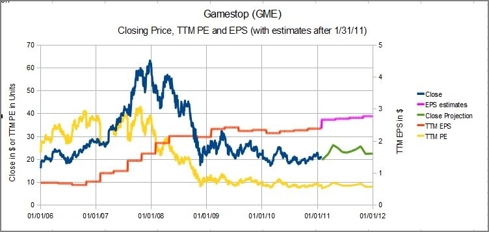 Based on seasonal patterns, it may be possible to make a short-term investment, book some profits, and go on to the next thing. The current P/E of 8.4, together with management's announced share buyback plan, provides a floor to the downside.
Buybacks and Short Interest
The company recently announced a large buyback program:
GameStop Corp. (NYSE:GME), the world's largest multi-channel video game retailer, today announced that its Board of Directors has authorized $500 million in additional funds for its share and debt repurchase program. This authorization replaces the $300 million plan announced in September 2010, under which, as of today, $138.4 million remained available for use. The funds will be used over the next 18 months to repurchase the company's stock and/or Senior Notes.

Dan DeMatteo, Executive Chairman, stated, "This Board authorization emphasizes GameStop's ongoing commitment to increase total shareholder return and supports the company's goal to increase return on invested capital (ROIC), while maintaining the liquidity to execute our business strategy."
Short interest currently stands at 24.8% of the float. Given that the company has the resources to buy back about 15%, selling short doesn't look too promising here. I personally would resist the urge to do so, for fear of getting caught in a short squeeze.
Questions about Capital Allocation
GameStop has typically announced any significant capital allocations determined by the board in early February, after the full year's results are known. A possible concern about capital allocation comes up when comparing this year's announcement to last years. Last year, they were very specific about allocating capital to new stores:
The company intends to continue its aggressive roll-out strategy of opening new stores worldwide, exploring acquisition opportunities in retail or in technologies related to the video game business, and implement the capital allocation plan as follows:

Estimated Cash From Operations - 600 million

400 New Stores and other capital expenditures - 200 million

Reserve for acquistion activity - 100 million

Share repurchase program - 300 million
It's possible to interprest the failure to mention new stores or acquistion activity as an admission that it won't be possible to grow by adding stores along the lines of what worked in the past. That may mean they expect to fill the gap with increased internet sales, a plus. Certainly it's reassuring to investors who may have feared they would run too aggressively with the bricks and mortar model and wind up stuck with leases on underperforming stores.
Strategy
After looking at this for a while, I decided to play for a pop on earnings. The stock is optionable and I used a bullish reversal, short GME Jul 2011 18.0 puts and long an equal amount of GME Jul 2011 23.0 calls.
Regardless of the strategy selected, investors who have an interest in GME should listen carefully to what management has to say on the topic of capital allocation on the 4th quarter earnings conference call, expected sometime in March.
| | | |
| --- | --- | --- |
| Estimated Cash From Operations | | $600 million |
| -- 400 new stores and other capital expenditures | | $200 million |
| -- Reserve for acquisition activity | | $100 million |
| -- Share repurchase program | | $300 million |
Disclosure: I am long GME as described in the article. I have no position in any other stock mentioned.