Outlook: For those of us who eat, drive cars, use public transportation or heat our homes, eliminating both food and energy costs increases from the inflation equation when setting monetary policy seems uninformed.
Ignoring the Obvious? Yet the Fed's favorite measurement of inflation is the "Core" Personal Consumption Expenditures ("PCE") that excludes both food and oil price changes. The basis for the exclusion is that such measurements are both volatile and distort the true underlying "core" inflation. The Fed has continued to reference this more tame inflation measurement as part of the basis for maintaining ultra-low interest rates.
From Temporal to Secular: The chart below compares the 5 Year Treasury constant maturity rate with the nominal difference between seasonally adjusted CPI US City Index for all items versus the same index less food and energy.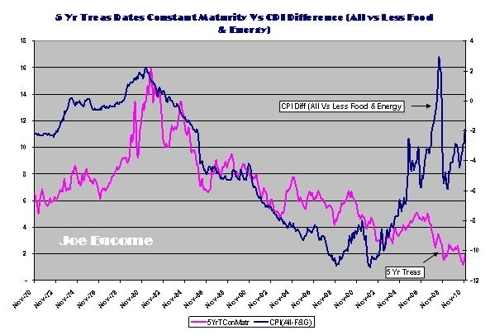 From the '70's to '03, one could make a case that while food and energy would be volatile over the long-term, it would gravitate back towards the mean.
However, both the increase in food and energy may no longer be such fickle measurements.
Such price increases may now be more a function of imbedded secular increase in both food and energy costs. As a result, ignoring such increases without providing a prospective basis for doing so is potentially irrational for setting monetary policy.
Lesser of Two Evils: It is clear that the Fed is willing to risk the prospects of ramped inflation as a choice of the lesser evil of a deflation spiral in the US economy. Yet the Fed has painted itself a corner. Equity investors will expect a Bernanke "put" to keep rates low until asset prices rise and the economy improves while the Bond Vigilantes will keep pushing rates up--having witnessed the Fed's imperfect impact of keeping rates under wraps. This is like watching a car accident in slow motion.
A Hedge: I initially expressed my concerns regarding inflation and rising rates in the Aug 8th, 2010 edition of this publication, entitled: "Land of Confusion". I have continued to hedge my concerns by accumulating the ProShares Short 20+ Year Treasury ETF (NYSEARCA:TBF) since that time.
A Warning: An adverse economic or financial event could cause investors to seek safety in the US Treasuries thereby driving rates down and bond prices up. This would be negative for this "trade".
CEF Weekly Review: On average the 13 closed-end fund [CEF] types registered an increase of 0.9% for the week ending 2/4/11. The high-low spread was +3.1% versus +3.5% the previous week on an average of +0.7% versus +0.2%, respectively. On an aggregate, unweighted basis, the weekly average price change for the 500 plus CEFs in the Eqcome database was also up 0.9%.
The PowerShares CEF Income Composite (NYSEARCA:PCEF), an ETF that invests in taxable income CEFs, was up 1.1% for the week. The S&P 500 spurted 2.7% for the week after recovering from last Friday's "Egypt Correction" and is now up 4.2% YTD. The S&P 500's average daily share volume for the week was down 6.2% to 4.345 billion as volume trailed off from Tuesday's 5.164 billion shares on an upward price advance of 1.6%.
The Eqcome CEF Fear Index for the week eased significantly. The average unweighted price increased 0.9% while related NAV was off 0.1%. After advancing for two consecutive weeks, the VIX plunged 20.5% in a downward stair-step fashion to end the week below 16.
Money Flows: The shift of money flow to equities from bonds seems to be gaining traction. For the third week in a row equity long-term mutual funds took in $5.0 billion while muni mutual funds continue to see an outflow for the fifth week of over $2.0 billion for the week ending January the 26th.
The same held true for ETF money flows for the month of December. Total domestic and foreign equities were up 8.5% to $853 billion while bond funds were down 2.8% to $137 billion.
This was further confirmed by weekly money flows into the Dow Jones U.S. Total Stock Market Sectors. Funds flow was up 2.8% for the week ending Jan 4th with an Up/Down Ratio of 1.01. All the DJ sectors experienced inflows. Oil and Gas saw the largest with a 4.3% increase in funds flow; Utilities edging up only 0.6%.
CEF Weekly Fund Type Performance: The current week's price changes flipped from debt-oriented to equity-oriented CEFs from the previous week. GenEqFnds led the procession advancing 2.6%. SpecEqFnds and WrldEqFnds were both the laggards the previous week. This week they posted "place" and "show", up 2.2% and 2.1%, respectively. SpecEqFnds advanced strongly on the strength of real estate and natural resources. WrldEqFnds rebound was an apparent function of investors' assessment that the Egyptian turmoil was not contagious and protests remained non-violent as Mubarak promised to step down.
With the exception of OtherFnds, which typically underperform in a rising equities market as their upside is capped due to their writing options on their holdings, all the other CEFs that fell below the average weekly price appreciation were debt-oriented. Munis slipped below the surface after posting strong performances the previous week.
Both PrefStkFnds and WrldEqFnds were the only two of the 13 CEF fund types that saw their NAVs rise greater than their stock prices.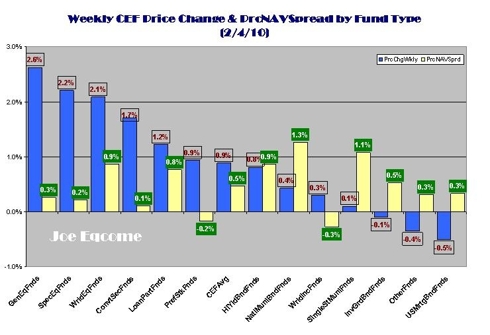 Weekly CEF Winners and Losers: One of the CEFs with the greatest positive spreads for the week was Templeton Russia and East European Fund (NYSE:TRF). TRF was last week's "CEF Focus Stock(s) for the Week". TRF's price advanced 6.3% versus its NAV which increased 0.7%; this generated a positive PrcNAVSprd* of 5.6%. TRF essentially rebounded from a 7.3% price decline on heavy volume in the latter part of the previous week
One of the CEFs that experienced the greatest negative PrcNAVSprd was Highland Credit Strategies Fund (HCF). HCF's price declined 2.9% while its NAV increased 0.5% generating a negative PrcNAVSprd of 3.4% (see, "CEF Focus Stock(s) for the Week" below).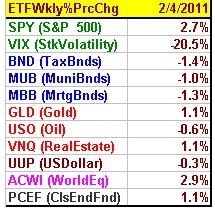 Insider Trading: There were only three small trades in the CEF sector the first week of February.
One of the insider purchases was made by James Keenan. Mr. Keenan is co-head of both BlackRock's leveraged finance business and its high yield team within its Fixed Income Portfolio Management Group. Mr. Keenan purchased an additional 750 shares at $7.04 per share. This brings his total holdings to 90,250 shares of CYE.
Of note is that First Trust Portfolios LP filed a 13G increasing its position in CYE from 12.2% to 12.6% to 4,700,092 shares during the first days of February.
Steven R. Pruchansky, a trustee of John Hancock Premium Dividend Fund [PDT], purchased 615 shares at $11.41 for a total holding of 1,115 shares. Mr. Pruchansky also purchased shares in the John Hancock Bank & Thrift Opportunity Fund (NYSE:BTO) adding 391 shares at $17.90 per share. He seems to be a regular, small buyer of the Hancock funds for which he is a trustee.

CEF Distribution Announcements This Week: The following is a link to a table of CEF distribution announcements this week as well as the previous week's with yet expired ex-dividend dates. The list is not intended to be inclusive. (Click Here for Joe Eqcome's Weekly CEF Distribution Announcements)
Significant CEF Corporate Events: BlackRock Apex Municipal Fund (APX) declared its final distribution in advance of the reorganization of APX with and into BlackRock MuniAssets Fund, Inc. (NYSE:MUA). APX's final tax-free distribution of $.084 per share (ex-dividend 2/7/11) is comprised of the normal monthly distribution amount for APX plus all undistributed net investment income earned through the anticipated effective date of the Reorganization (2/25/11).
Neuberger Berman Real Estate Securities Income Fund (NYSEMKT:NRO) announced that it intends to conduct a tender offer for up to 100% of its outstanding auction market preferred shares ("AMPS") at a price equal to 98% of the per share liquidation preference of $25,000 plus any accumulated and unpaid dividends.
Tortoise Energy Capital Corp. (NYSE:TYY) announced that it has priced the sale of 5,000,000 of its 5 percent Series B Mandatory Redeemable Preferred (MRP B) Shares at $10.00 per share generating net proceeds of approximately $49 million. TYY intends to redeem all $45 million of its outstanding 5.60 percent Mandatory Redeemable Preferred shares.
The MRP B Shares are expected to trade on the New York Stock Exchange (NYSE) under the symbol "TYY Pr B". The MRP B Shares are expected to be rated "AA" by Fitch Ratings. The MRP B Shares have a fixed dividend rate of 5 percent with a mandatory redemption on March 1, 2018.
CEF Focus Stock(s) for the Week: As with last week, the focus stock of the week is the CEF with the greatest negative PrcNAVSprd: Highland Credit Strategies Fund (HCF). HCF's price declined 2.9% while its NAV increased 0.5% generating a negative PrcNAVSprd of 3.4%.
HCF invests in floating and fixed-rate debt securities and equities seeking current income with a secondary objective of capital appreciation.
HCF generates an annualized monthly yield of 8.1% and is trading at par. Its distribution has remained constant for the past year at a $0.0525 per share per month and appears to be derived from net investment income. It's leveraged at approximately 20%. Its expense ratio is twice that of its peer group at 3.65%.
While HCF is classified as in the HiYldBndFnds category, approximately 60% of its holdings are classified as loans. Its biggest single investment in its portfolio at 4.7% is Celtic Pharma Phinco BV 144A 17.00 15 Jun 2012.
This week HCF experienced three times the average volume on Friday dropping the stock 3.0%. In contrast, the HiYldBndFnds on average for the week was up 0.9%. The sub-category of high yield leveraged was up 1.6% for the week.
HCF may offer investors a quick trade based on the possibility it was oversold at the end of last week.
Caveats: The "CEF Focus Stock(s) for the Week" section includes CEF stocks of interest to me—and possibly other retail investors—and are subject to further analyses. Their inclusion in this section should not be viewed as recommendations based on the analysis provided here alone. Such stocks are basically a "heads-up" of something that might be of interest—or, not.
Joe Eqcome (Owns a diversified portfolio of CEFs and ETFs and is long stocks in the CEFBig10™, CEFMuni10™ and CEFDisc10™.)
Additional Disclosure: Eqcome CEF Portfolio™: Joe maintains three separate CEF portfolios that have different investment objectives: CEFBig10™, CEFMuni10™ and CEFDisc10™ (see website).
The first is a balanced equity-income portfolio (CEFBig10™), the second a tax-exempt income portfolio (CEFMuni10™) and the third a portfolio whose objective is capital gains with a secondary objective of current income (CEFDisc10™).
These portfolios will soon be available to retail investors at a nominal fee to maximize equity-income for retirees and retail investors.
The recent increase in interest rates and the pressure on muni funds has placed downward force on the stock prices since the late-2010 (See: Performance Chart)
[*]All things being equal, price and NAV should move in tandem. A price movement greater than the NAV generates a positive PrcNAVSprd and may be interpreted as negative on a near-term basis and indicate that the stock is overvalued relative to its NAV which in theory is the stock's intrinsic value. The opposite would be true for a negative PrcNAVSprd.

Disclosure: I am long BTO, TBF.