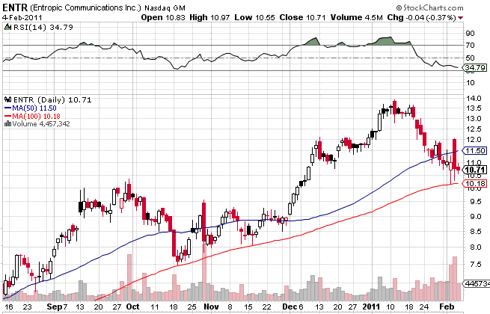 Entropic Communication (NASDAQ:ENTR), a $900 million market cap company, is the leader in MoCA (multimedia over coax alliance) technology that engages in design and manufacturing of home networking chipset and set-top boxes. MoCA technology improves delivery of high-definition TV quality and digital broadcast satellite services. Verizon (NYSE:VZ), DirecTV (NYSE:DTV), Cox, Time Warner (NYSE:TWX) and Comcast (NASDAQ:CMCSA) are major pay TVs leveraging MoCA and Entropic covers about 70% of US market.
On February 2nd, the company reported its Q4 EPS $0.22 vs. 0.21 est. It recorded its 7th consecutive revenue growth. Specifically, there were three major customers contributing to its revenue growth. WNC 29%, Motorola (MOT) and Samsung (OTC:SSNLF) each 14%. WNC supplied DirecTV with CSS products and MoCA products in DECA. Motorola and Samsung supplied DVR and set-up boxes to DirecTV and US MSOs.
The stock experienced a sharp decline of 19% from mid-January until earnings due to overbought condition, uncertainty towards earnings, and seasonality in Q1 2011. The stock after beating estimates, however, declined another 3% despite opening at $12. This is a similar situation to its Q3 earnings report on October 27th, EPS $0.18 vs. 0.17 est, when the stock price popped huge in the morning but closed weak.
The problem with the stock is that it has high short interest. As of January 14th, when the stock price was almost $14, short interest reached 23 millions of shares, 40% float. It is uncertain whether those shares have been covered by now, but regardless of the price movement last year, short interest of the stock increased month by month. 8 million shares in September, 12 million in October, 17 million in November, and 22 million in December.
Investors should be cautious with such high short interest, but Entropic deserves better valuation. The earnings report wasn't a blow out, but in fact, picture perfect. It expects Q1 2011 EPS of $0.20 to $0.21 and revenue of $71 million to $72 million. The guidance is above estimates as current earnings estimates were EPS of $0.20 and revenue of $68.6 million. The steady increase in its cash position is also very attractive. Entropic by Q3 possessed about $53.6 million cash. Total cash per share was about $0.62. In the Q4 report it announced a $168.8 million cash and cash equivalents position. This increases the total cash per share to $1.98.
Another risk is competition against Broadcom (BRCM). The company conservatively expects to lose a maximum 25% of market share to Broadcom for a full year, but at the same time forecasting the home entertainment industry to grow significantly, offsetting the loss. MoCA, despite fast growth, is still in the early adoptive stage as only 7 million homes have installed MoCA by the end of 2010, which is 7% of 100 million pay TV homes in US. The company is looking to penetrate the market and increase the number to 10%.
Disclosure: I have no positions in any stocks mentioned, but may initiate a long position in ENTR over the next 72 hours.