The FDIC has got a "little list" of 860 problem banks. 297 banks failed in 2009 and 2010. Since the start of 2011, 14 banks have bitten the dust. Every Friday, the FDIC publishes the banking obituaries (you can find out where they're buried at its failed bank list site.
Let's look back to the last banking crisis of the early 1990s in order to get an idea of how many more of these teeter tottering financial institutions will die. In 1990, the FDIC's list of problem banks was almost 1496. 381 banks ceased that year. By the end of 1994, the list had fallen to 318 as the financial crisis had largely been resolved. That year only 15 banks would fail, marking the end of the Savings and Loan Crisis.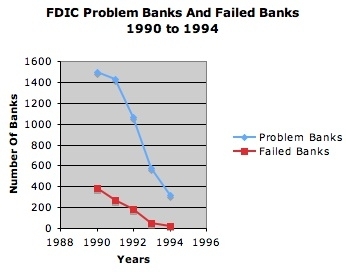 Our financial crisis is still evolving. Problem banks number 860.* The number of banks failing climbed to 157 in 2010. So far, this year, 14 banks have blown up.
At first glance, the "Problem List" of 1990 appears more formidable than 2010. However, there are far fewer banks now than there were in 1990. In 1990, there were over 15,000 commercial banks and savings instituitions. Currently, there are only 7700. In 1990, problem banks comprised 10% of all financial institutions. Today they represent over 11% of banks. The crisis is far from over. The 1990 through 1994 period was marked by bank startups; 520 banks were created during that period. In 2010, less than 15 banks were chartered. We are nowhere near a banking renaissance.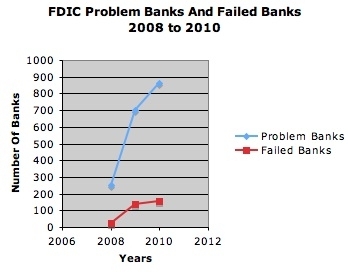 Have bank failures have peaked? The problem list grew in 2010. More banks failed in 2010 than in 2009. On the brighter side, the total assets identified by the FDIC as being at risk has modestly declined. There are a few other signs that the crisis may be abating. Since January 1, 14 banks have blown up, fewer than in the same time frame last year. This implies a 2011 run rate of 146 failures. I suspect that the number of bank failures peaked in 2010. However, the problem is far from over. The FDIC problem list implies at least another 100 bank failures in the rest of 2011. Look at one section of the country, North and South Carolina. There remain lots of bad banks out there.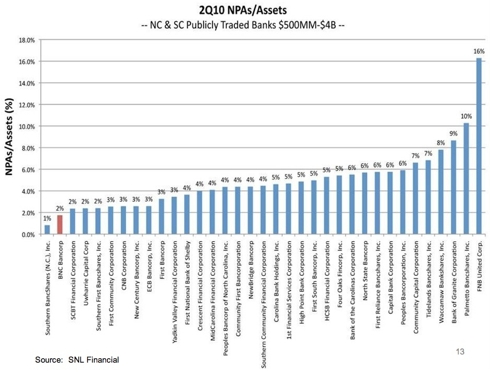 <a:>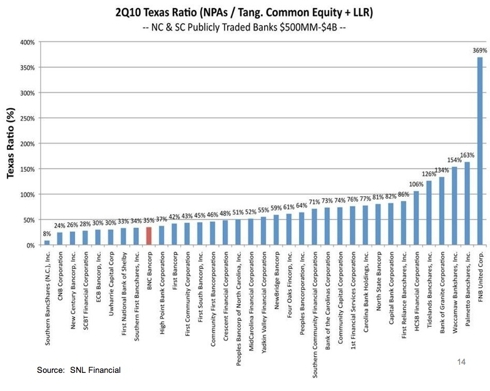 Clearly many banks are barely hanging on.
So who gains on this financial debacle? That's the subject of the next article.
*Data extends to 9/30/10. The FDIC is due to report banking conditions for 12/31/10 at the end of February.

Disclosure: I have no positions in any stocks mentioned, and no plans to initiate any positions within the next 72 hours.