Natural gas is one of the most volatile commodities that trade. The New York Mercantile Exchange (NYMEX) introduced futures on Henry Hub natural gas in April 1990. Henry Hub is a distribution hub on the natural gas pipeline system in Erath, Louisiana owned by Sabine Pipe Line LLC, a subsidiary of Chevron Corporation. Since 1990, active month natural gas futures have traded in a range between a low of $1.02 per million British thermal units (mmbtus) in January 1992 and a high of $15.65 per mmbtus in October 2005. Price spikes to the upside in 2005 and again in 2008 were due to hurricane activity in the Gulf of Mexico, close to Henry Hub, that caused damage to natural gas infrastructure.
In April 2012, natural gas traded below the $2 mark, but in 2014, the price has ranged between $3.724 and $6.493. Since late July, the commodity has seen a narrow trading range of $3.724 on the downside and $4.101 on the upside.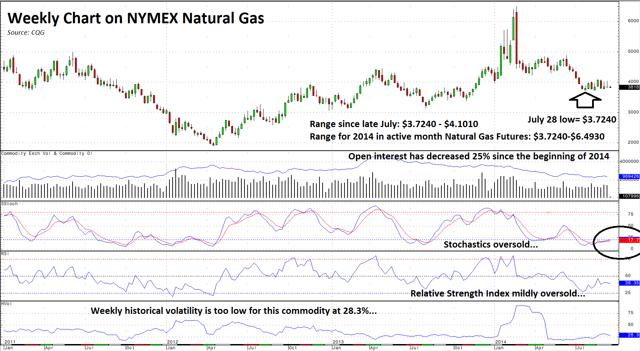 Last winter it was cold in the United States. Many homes heat with natural gas. In fact, natural gas has become a favored alternative to heating oil a product of crude oil. Given today's historically high price for crude oil (crude never traded above $40 per barrel prior to May 2004), the fact that natural gas is a cleaner burning and cheaper fuel and a governmental policy steering the US toward energy independence, natural gas demand has surged.
Along with the increase in demand has come an increase in supply of the commodity. Natural gas is a fossil fuel, one of three major fossil fuels, the other two being oil and coal. Fossil fuels were formed hundreds of millions of years ago during the Carboniferous Period, which was part of the Paleozoic Era. These fossil fuels, trapped in the earth's crust between rock formations, power modern society. Mining and exploration for fuels uncovered huge reserves of natural gas in areas called the Marcellus and Utica Shale. These areas cover a large part of the east coast of the US - an area stretching from West Virginia all the way up to Northern New York and the Canadian border. They contain over a quadrillion cubic feet of natural gas reserves. A process known as fracking releases and captures these reserves. Fracking is breaking up rock with a high-pressure mixture of water, sand and chemicals in order to release the fossil fuels, namely natural gas. While fracking is expanding, concerns about environmental effects have limited the process in many locales as politically empowered environmentalists oppose it.
Natural gas tends to be a winter commodity, although as a fuel it can both heat and power cooling systems. Many utilities generate electricity with natural gas. Therefore, extreme temperatures increase natural gas demand while stable temperatures decrease it. The price of natural gas is a function of weather; it is a season-to-season commodity.
The old real estate mantra - location, location, location - applies to the natural gas market. The price of this commodity varies at different delivery points around the US as well as around the world. Supply and demand at different pipeline locations dictates specific prices for specific regions, but all regions in the US employ the NYMEX Henry Hub price as a benchmark.
The cold temperatures last winter resulted in a huge decline in natural gas inventories. This is why the price of natural gas futures contracts spiked to almost $6.50 per mmbtu in February 2014. We witnessed a series of big withdrawals from inventories during a frigid winter last year. As we headed into summer, inventory levels were at the lowest level in years. Companies involved in natural gas fracking and capture did yeoman's work this past summer to rebuild those inventories. The summer injections were larger than in past years, but given the extent of withdrawals during the winter of 2014, they were not enough to build stockpiles to levels seen in previous years. A temperate summer helped the injection process, but inventories remain 12.2% below last year's level and 13.3% below the average inventory level for the past five years as of September 12, 2014. The US Energy Information Administration releases weekly data on inventories each Thursday at 10:30 AM EST. You can monitor inventories by checking their website. The bottom line on the current state of natural gas inventories going into the winter of 2015 is that they are still too low.
As summer ends today and the fall season is upon us, winter is right around the corner. Many regions of the US will start to feel the chill of the coming season. When it comes to natural gas inventories, historically injections continue until the first or second week of November when cold weather causes withdrawals from inventories usually lasting into March.
While no one knows for sure how cold it will be during the winter of 2014-2015, we do know something about natural gas inventories over past years.
Over the past eleven years, since 2004 natural gas inventories have only been lower than current levels in two years - 2004 and 2005. There are currently 2.891 trillion cubic feet (tcf) available. In 2004, there were 2.874 tcf and in 2005 2.758 tcf. In 2004, the range in the price of active month NYMEX natural gas futures was $4.56-$9.07. In 2005, the range was $6.50-$15.65. In both cases, the low price in those years was above today's price level. Active month natural gas futures are currently trading at the $3.85 level. Given the current low level of inventories on a historical basis, a cold winter this year could cause some shortages and an incredible upside opportunity in this commodity.
Natural gas is one of the most volatile commodities that trades in the futures market. It is not out of the ordinary to see natural gas volatility spike to over 100% during times when prices get moving. This commodity has a history of doubling and halving in short periods. The current price level (under $4) and the current level of inventories (under last year, the five-year average and one of the lowest in the past decade) could fuel an amazing rally if this winter shapes up to be a cold one.
When it comes to natural gas, it is all about the weather and inventories. Given the current tight price range and relatively low level of historical volatility, natural gas futures and options on those futures are cheap today. I expect a very volatile and potentially explosive winter season for natural gas over the coming months.
Disclosure: The author has no positions in any stocks mentioned, and no plans to initiate any positions within the next 72 hours.
The author wrote this article themselves, and it expresses their own opinions. The author is not receiving compensation for it (other than from Seeking Alpha). The author has no business relationship with any company whose stock is mentioned in this article.