The ongoing unrest in Egypt and neighboring countries has kept Brent crude well above $100, and the oil market on edge worrying about more chaos. News broke on Saturday, Feb. 5 that Egypt halted natural-gas exports through the East Mediterranean Gas (EMG) gas pipeline after a massive explosion at El Arish in Egypt's North Sinai.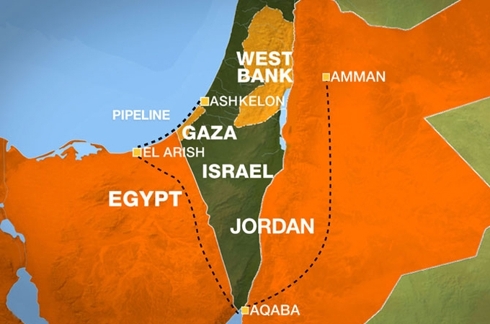 Map Source: www.English.Aljazeera.net
Some suspect the blast was probably a sabotage, and initial news reports indicated the stoppage would halt Egyptian gas exports to Jordan, Israel, and possibly Syria, for about a week.
Natural Gas Geopolitics
In addition to being the home of two global oil transport choke points - Suez Canal and Sumed Pipeline - Egypt is also a significant natural gas producer. The U.S EIA data show that Egypt has natural-gas reserves of 77 trillion cubic feet (tcf), which lands the country on the global top 20 list.
Over the last decade or so, Egypt has become a strategic source for European natural gas imports. The country also has a gas pipeline network exporting to Eastern Mediterranean countries, in addition to liquefied natural gas (LNG) exports to Europe, Asia, and the Americas.
Egypt started exporting natural gas to Israel in February 2008 under an agreement to supply Israel with 60 billion cubic feet a year for 15 years. The deal is highly controversial and has raised much opposition in Egypt.
Platts quoted Barclays Capital Research on Wed. Feb. 2 that oil drilling activity has already been halted in Egypt after several foreign oil companies evacuated staff from Egypt. According to Barclays, around 14% of the world's LNG trade transits the Suez Canal each day, and Egypt exported around 2 Bcf/d of gas in 2009. The majority of the gas export was in LNG form, accounting for about 3.2% of global LNG supply.
EMG Gas Pipeline Intact
An update by Upstream Online on Monday Feb. 7 noted that the EMG pipeline was not damaged in the explosion. Platts on Monday also said the Egypt gas shipments to Israel could resume in "36-48 hours." Nevertheless, this incident could very well put a geopolitical premium on regional natural gas/LNG, while adding more to the crude oil market.
Chaos = Risk & Opportunity
However, as chaos creates risks, it often brings opportunities as well. In this case, the other side of the long crude and natural gas related trades arising from the Egypt unrest is a high risk/reward play on companies that got hammered due to their exposure to the region.
According to John S. Herold, Apache Corporation (NYSE:APA), BG Group (OTCQX:BRGYY), and Eni S.p.A (NYSE:E) are the most levered in Egypt and North Africa, while BP Plc (NYSE:BP) and Royal Dutch Shell (NYSE:RDS.A) are also active mainly in the deepwater exploration. Then, this latest gas pipeline explosion, which temporarily suspended natural gas exports to Israel, also has brought Noble Energy (NYSE:NBL) deeper into the mix.
The Jerusalem Post noted that Noble Energy and its Israeli partners discovered around 25 trillion cubic meters of deep-water gas — enough to feed Israel's energy demand for decades. Experts say gas could come online by late 2012.
Six Taking an Egyptian Hit
Indeed, Fig. 1 shows the stock prices of these six companies have taken a hit ever since the riot started as compared to the broad SPDR S&P Oil & Gas Exploration & Production (NYSEARCA:XOP).

Little Oil Supply Disruption
The oil minister of Venezuela said a shutdown of the Suez Canal could push oil prices above $200. Fortunately, according to IHS, the two critical oil choke points - Suez Canal and Sumed Pipeline - have been secured by the Egyptian army and face little threat of a shutdown or major disruption. Furthermore, oil companies' oil and gas fields in Egypt are far away from the chaos centers like Cairo.
As such, in the grand scheme of things, the International Energy Agency (IEA) and many analysts have stressed that the ongoing unrest in Egypt could delay things, but wouldn't take any crude out of the market.
Peaceful Resolution Likely
Moreover, Egypt's economy relies heavily on oil and gas revenues, so any new regime more than likely would be highly incentivized not to disrupt their revenue stream. Bloomberg said Egyptian authorities and opposition leaders already began talks on sidelining President Hosni Mubarak before the September elections amid unprecedented protests demanding his exit.
So, from all indications, it looks probable that the political standoff in Egypt will be contained and resolved peacefully. But as long as images of protests keep flashing on TV screens worldwide, any kind of market concern over the long-term stability of the region would continue to hurt these aforementioned companies' stocks. And that could present an investment opportunity of a potential quick reward when Egypt's situation finally gets resolved.
Six To Watch
Among the six, Eni is the one with a de facto National Oil Company (NOC) status, which could be advantageous should the situation in the region turn volatile. Apache, which just paid BP $650 million in 2010 for some Egyptian development leases, scores the lowest in the near-term risk profile (Fig. 2) as the company has the most exposure to Egypt, with over 20% of its 2009 production derived from that region.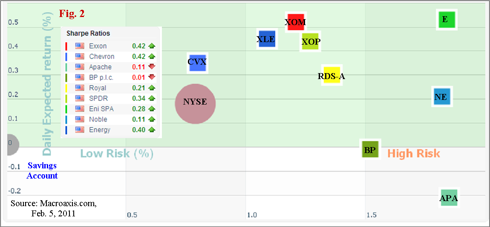 Note - I also included Select Sector Energy SPDR (NYSEARCA:XLE), SPDR S&P Oil & Gas Exploration & Production (XOP), Exxon Mobil (NYSE:XOM), Chevron (NYSE:CVX) and Sharpe Ratios in Fig. 2 for comparison purposes.
Buy on Broader Pullbacks
The broader market has had quite a run-up since the second half of 2010, and could be due for a technical pullback. On that note, I'd expect 3-5 days of pullbacks between now and March 1. If that does not happen, then there could be a bigger sell-off in April. So, in the next month or two, there's a possibility that patient long-term investors could pick up some shares of these solid resource producers at even more attractive pricing.
Disclosure: I have no positions in any stocks mentioned, and no plans to initiate any positions within the next 72 hours.