Reynolds American Inc. (NYSE:RAI) is the parent company of R.J. Reynolds Tobacco Company, American Snuff Company LLC, Santa Fe Natural Tobacco Company Inc., Niconovum USA Inc., Niconovum AB and R.J. Reynolds Vapor Company. R.J. Reynolds is the second largest US tobacco company and American Snuff Company is the second largest US manufacturer of smokeless tobacco products. In the past year, RAI has produced a price return of 16.2% that was below the S&P 500 and NASDAQ.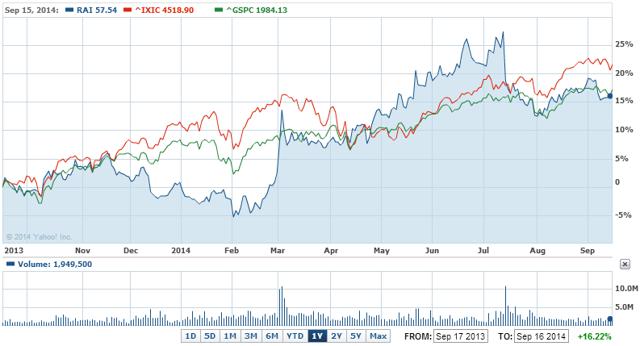 Decrease in Smoking in the US
Strong awareness campaigns against tobacco smoking can be seen in the US and around the world. Governments and non-government organizations throughout the world have taken measures to discourage tobacco use. In the US efforts to discourage tobacco smoking have proven successful. In 1965, about 42% of adults smoked in the US but this rate significantly decreased to 19.3% in 2009. Cigarette use by high school students has also dropped in recent years. The High school student smoking rate was 28% in 2000 but it decreased to 17.2% in 2009.
Tobacco Industry under Pressure around the World
There is growing concerns about tobacco use around the world as there are some very disturbing facts about the effects of tobacco smoking. According to the World Health Organization (WHO), tobacco is the second largest cause of mortality in the world. It is estimated that about one out of ten adult deaths are caused by tobacco smoking. Nearly half of tobacco users are killed by its consumption. About 100 million deaths were caused by tobacco in the last century. It is estimated that about one billion people will die in the 21st century due to tobacco consumption. Tobacco smoke contains nearly 4000 chemicals out of which about 250 are found to be harmful and about 50 of these chemicals are found to be cancerous. Owing to growing awareness, cigarette companies are morally forced to admit that their products are injurious to health. Trends indicate that smoking is likely to reduce in the coming years.
Stagnating Top Line
RAI has been facing a stagnating top line in recent years. Since 2010, RAI's revenue fell at a CAGR of about -0.8%. However, RAI managed to increase its profit margins. In 2004, the reported gross margin was 40% and improved to 55% in 2013. In 2004, the reported operating margin was 13.7% and improved to 38% in 2013. Improving margins can only partially help the bottom line. After the 2009 financial crisis, the top line increased but also exhibited volatility.

Newport: Putting Money on a Stagnating Ship
RAI's proposed acquisition of Lorillard (NYSE:LO) will add the Newport cigarette brand to RAI's portfolio. Newport occupies the number two position among US cigarette brands and number one position among US menthol brands. It is a dominant brand in Lorillard's portfolio contributing 85% of the total net revenues. Historically, Newport provided healthy growth for its company. However, the following figure shows that the healthy growth produced by Newport started to vanish in the recent years. Since 2007, Newport's production volume grew by a meager CAGR of less than half a percent.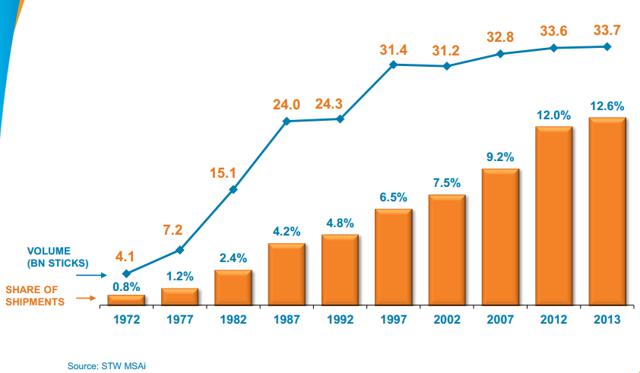 RAI hopes to realize sufficient synergy benefits from increased scale to justify this transaction. However, this is only likely to prevent the top line from taking a steep fall. It is unlikely to give RAI sustainable growth to its top and bottom lines in the coming years. Therefore, RAI is not a very attractive investment for long-term investors.
Struggling to Avoid Negative Growth in Top Line
RAI is struggling to avoid negative growth in the top line by transforming its product portfolio. RAI is responding to the changing preferences of consumers and providing more cigarette choices to adult consumers. RAI's subsidiaries, Niconovum USA Inc. and Niconovum AB, sell nicotine gum "Zonnic" that can help smokers quit smoking. However, this product is cannibal in nature for RAI's tobacco product portfolio. This is an interesting situation where a company has entered a product category that is cannibal in nature to one of its established portfolios.
The High Dividend Payout Ratio Is Short of Meaningful Growth Opportunities
RAI has paid out most of the net earnings as dividends in the past years. RAI intends to keep the dividend payout ratio at around 75%. The payout ratio has remained well above 75% for about six years. This returning of capital to shareholders indicates that RAI is short of meaningful, long-term growth opportunities to grow its top and bottom lines in the coming years. The company's dividend yield is very healthy at 4.5% but this factor does not make RAI's stock very attractive owing to the lack of growth potential.

The Consensus Target Price Reveals Upside
The consensus target price polled by six brokers from Thomson Reuters covering RAI reveals that the company is undervalued at its current price of $57.54. The mean target price is $63.17 which presents some upside of about 9.8% at its current price level. The median target price is $64.50 which presents an upside of about 10%. The highest target price is $72 and if realized it presents an upside of 25%. The most conservative target price is $56 with a downside of -2.7% at its current price level. Although the consensus target price reveals some upside potential the weakening top and bottom lines render RAI's share unattractive for long-term investors.

Relative Valuation
On the basis of its P/E ratio RAI is undervalued compared to the industry and the sector but overvalued compared to the S&P 500. Building upon the forecasted growth in the P/E ratio, the PEG ratio shows that RAI is undervalued compared to the industry and the sector but overvalued compared to the S&P 500.

Bottom Line
Reynolds is struggling to support its stagnating top line. With the growing awareness about its harmful effects, tobacco smoking has decreased in the US over the years among both adults and high school students. RAI has acquired leading brands to support its stagnating top line. The proposed acquisition of Lorillard will add the Newport brand to RAI's portfolio; however, Newport has exhibited stagnating growth in recent years. RAI's dividend yield is high but this does not make the company a very attractive investment due to its weak growth prospects. The consensus target price shows some upside at its current price. Therefore, RAI's stock may have upside in the short term but it is not a very attractive investment for long-term investors.
Disclosure: The author has no positions in any stocks mentioned, and no plans to initiate any positions within the next 72 hours.
The author wrote this article themselves, and it expresses their own opinions. The author is not receiving compensation for it (other than from Seeking Alpha). The author has no business relationship with any company whose stock is mentioned in this article.