On Monday, Danaher (NYSE:DHR) announced the acquisition of Beckman Coulter (NYSE:BEC) at a purchase price of $6.8 billion (including $0.8 billion net debt acquired). With annual revenues of approximately $3.7 billion, Beckman Coulter develops, manufactures and markets products that simplify, automate and innovate complex biomedical testing. The purchase price represents 1.8x sales and 8x TTM EBITDA which are in line with past DHR deal multiples. It is expected to be financed through a combination of cash-in-hand (around 25% of purchase price), new and assumed debt (around 60%) and equity (around 15%)
Assuming the acquisition closes in 2Q11 and Beckman sees 4% annual sales growth in 2011 and 2012, we get around $4 billion in sales upside in 2012. At 13% margins that translates into EBIT of $520 million. Assuming 28% tax rate and $ 225 million in interest costs (for $4 billion in transaction-related debt and $1.3 billion of acquired debt), we get 212.5 million accretions in net income line or 29 cents in EPS (adjusted for dilution) for 2012. Further, since above analysis does not take into account any significant cost synergies, it is a conservative estimates and has a good upside potential.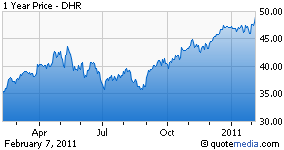 The news was well-received by investors, driving a +2% stock price performance. However, the 29c plus accretion potential on 2012 implies a more substantial share price reaction, which we expect to see over the near term. 2012 street numbers will likely move to $3.35-3.40 on closure (expected during 2Q11) with buy-side expectations possibly going as high as $3.60. In this sense, assuming DHR maintains its FY1 multiple of ~18x FY1 GAAP EPS, there is a clear path towards the mid-60s over the next 12 months, making DHR one of the best pick in large cap MI/EE space.
Further, DHR is trading at ~18x P/E on 2011 estimate. This represents an 11% relative P/E premium to the group, at the low-end of its historical relative P/E premium range to peers of 10% to 25%. This limits the downside risks.
Risk to the above analysis: If any counter bid emerges for Beckman it can pose a risk to DHR's stock.
Disclosure: I have no positions in any stocks mentioned, and no plans to initiate any positions within the next 72 hours.