I have been bullish on world equity markets since November 2008, and I have made it perfectly clear that any weakness should be seen as a buying opportunity not reason to sell. I guess the most trying time was in March 2009 and May/June last year.
Anyway that is all history. But now, for the first time in two years I am issuing a warning. We are now witnessing divergent behavior between equity markets, namely between the "emerging" and "developed" variety. One of the primary reasons as to why I remained bullish on world equity markets was the leadership shown by emerging market small cap equities.
With every sell off that occurred in the major market indices (Dow, FTSE, DAX etc) emerging market small caps were very reluctant to follow suit. However, we now have a "situation"! A number of emerging market small caps indices are breaking down and diverging from the behavior of developed market equities. I must stress that it is not an across the board break down in emerging market small caps, rather it is in selected markets, namely Brazil, India, Philippines, India and of course China.The most notable breakdown is with India.
MSCI Brazil Small Cap Index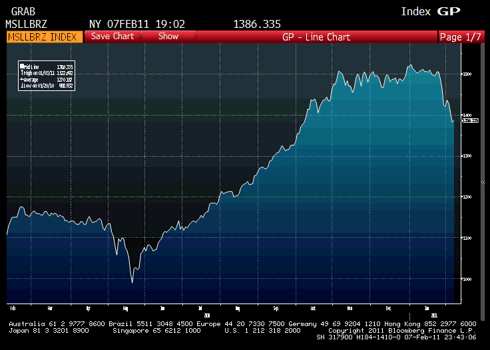 MSCI India Small Cap Index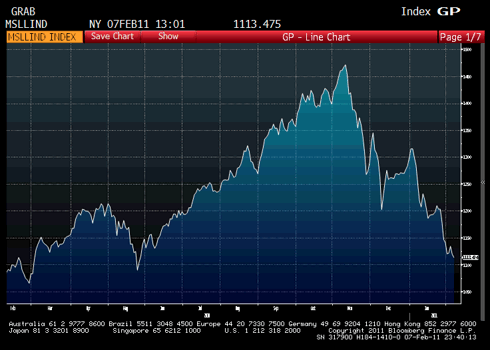 Now it probably does not take a rocket scientist/economist to work out that the markets in question have openly been battling with inflation by raising interest rates for a number of months. India, for example, has hiked interest rates seven times in the last 12 months, but it has failed (as with other nations) to put a dent in rapidly rising prices of "things".
Well all the foregoing discussion is nothing new...............but is what's currently happening to the Indian economy and stock market a taste of things to come in developed markets particularly the US? And if it is then when will it occur, i.e. when with the Dow and Russell start to crumble due to inflationary pressures? And by how much?
One thing is for sure, stay away from emerging market equities and stay in developed markets. I think one cannot go too far wrong by looking for opportunities in large cap stocks in the US and Japan. How long the upside in major market indices lasts is fantasy and beyond my mortal confines to know. My suspicion is that upside will last for quite some time yet as we have yet to see liquidity sensitive markets in the US show any sign of buckling (namely junk grade bonds and small caps).
Disclosure: I am long DIA.