By M.E. Garza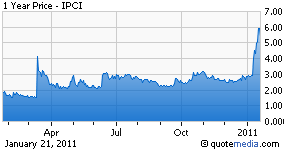 We were surprised to see that shares of Intellipharmaceutics (NASDAQ:IPCI) barely reacted after the company announced that it has retained the services of Doll Consulting's David S. Doll, to assist with the commercialization of products in its controlled-release generic drug portfolio as well as its New Drug Application (NDA) portfolio.

If the news was not fully digested as a positive development, then its a safe bet that investors also missed the "Easter egg" in Monday's press release. Fellow nerds may know that a virtual Easter egg is an intentional hidden message, in-joke or feature in movies, books or video games. The term draws a parallel with the custom of the Easter egg hunt observed which thrives on discovering hidden surprises. We'll come back to the Easter egg momentarily.
As we've saying, IPCI is an intriguing biotech play with an extremely low float. The stock ran to $6 after we issued a detailed report describing why we expect it to become a multi-bagger. Every time it dips, we've been encouraging our readers to diligently accumulate more shares. They'd be smart to do so in light of Monday's news.
First, it tells us that the firm is finally about to enter the commercialization phase. It also suggests that FDA approvals are on the way and as we've said recently, that positions IPCI well for partnership offers for the distribution of their super generic drug formulations. Intellipharmaceutics' master drug formulator and CEO, Isa Odidi and his team have been busy filing controlled released versions with the FDA.
The news also tells us that Odidi is willing to do what it takes to make sure investors in the company get back the best value they can. By enlisting Doll, Odidi brings on an expert in commercial pharmaceutical operations with an impressive resume spanning over 26 years in the pharmaceutical industry. Doll's stint as executive vice president, commercial operations at Impax Laboratories (IPXL) shows that he can successfully negotiate lucrative, long-term agreements with the major pharmaceutical companies who want IPCI's products. Doll has already done it on multiple occasions with TEVA (NYSE:TEVA), Shire Plc. (NYSE:SHP), Novartis (NYSE:NVS), Purdue Pharma, Schering (OTC:BYERF), Wyeth (WYE), and others.
Here's a direct quote from Monday's press release. See if you can spot the Easter egg:
"We now have four products filed with the FDA for the purpose of obtaining regulatory approval in the U.S. [ANDA's for Focalin XR, Effexor XR, Protonix, Glucophage XR] and expect to file at a minimum an additional two products this year," stated Dr. Isa Odidi, CEO and co-Founder of Intellipharmaceutics. "Given our progress last year, our anticipated growth moving forward, and an increased focus on partnering due to our advancing pipeline, Dave Doll, with his impressive track record in business development and commercialization, is an excellent addition to our team."
Did you see it? If you spotted the reference in Odidi's quote to "Glucophage XR," then you're on to something.
This is the first time we have ever seen Glucophage XR mentioned in any public disclosure as a drug that Intellipharmaceutics has submitted to the FDA. Did we miss the press release disclosing this previously or has that news yet to make the wires?
People had been betting that Odidi would be going after yet another big market drug, but I don't think anyone had guessed that it would be the first-line drug of choice for the treatment of type 2 diabetes- Glucophage. Bristol Myers Squibb (NYSE:BMY) and others have made billions marketing the drug. Diabetes affects roughly 6% of the adult population; somewhere north of 246 million people worldwide, and the number is expected to rise to 380 million by 2025. With doctors and experts at the International Diabetes Federation recommending that drug remains a drug of choice for first-line therapy of type 2 diabetes, there is clearly plenty of room in the market for the version IPCI has submitted for approval.
Odidi has also told the market that IPCI will be filing at least two more products this year. That gives us more reason to be excited. Smart money says those will be multi-billion dollar drugs as well.
As we pointed out in our initial report, Investors are excited about a potential NDA filing with the FDA for Abuse Resistant Oxycontin. Controlled-release oxycodone drugs had U.S. sales of approximately $2 billion and IPCI's drug delivery platform (branded Rexista) is a novel, paste-in-a-capsule dosage form designed to be a deterrent to the well-documented abuses. Last summer, the company advised investors that it had taken delivery of and fully qualified its primary manufacturing equipment for the manufacture of the abuse-deterrent formulation and that the manufacture of clinical batches using that equipment had commenced. It is worth noting that the company's Rexista technology is applicable to additional opioid drug candidates like oxymorphone, hydrocodone, and morphine.
The Intellipharmaceutics story is getting more interesting every day.
Disclosure: Long IPCI