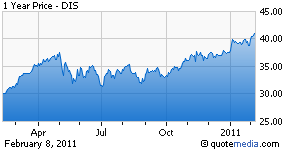 Disney (NYSE:DIS) reports fiscal first quarter earnings on Tuesday (Feb. 8) after market close. The whisper number is $0.57, one cent ahead of analysts' estimates. Disney has exceeded the whisper number in 26 of the 38 earnings reports we have data.
Although Disney has topped the whisper number in three of the last four quarters, the average short term price movement is limited. We'll take a look at when those moves occur (after market or intra-day) and if Disney presents an earnings trade opportunity.
Since Disney reports earnings after market close, it's important to look at after hours trading activity. Over the past four quarters the average price move in after hours trading following its earnings reports is -0.9%, a negative price move but not very significant.
The post earnings price movement certainly doesn't improve much during regular hours trading. The average price move during next available intra-day trading (next day market open to market close) is +1.1%.
Longer term earnings analysis (last four years of earnings) shows the company tends to see (on average) positive price movement of +1.2% (intra-day) in one trading day following its earnings report, and -0.1% in five trading days.
While Disney does not meet the criteria of a "consistent" reactor to beating or missing the whisper number per WhisperNumber.com, it does present a "contrarian" earnings scenario. Over the past four years, it has reacted in an opposite manner (strength when missing the whisper number, weakness when beating the whisper). Disney has a 60% to 70% "contrarian accuracy" rating as it has seen an opposite price reaction in 10 of the last 14 quarters up through 30 trading days following earnings. This simply means that the stock should consistently see strength when the company misses the whisper, or see weakness when it beats (opposite of our normal data interpretation).
Other factors that may influence post earnings price movement:
The majority of investors polled are expecting the company to provide a positive outlook:
Positive - 80.0%
Neutral - 20.0%
Negative - 0.0%
Disney earnings have historically given investors a positive surprise (by narrow margin) as they have exceeded investor expectations more times than missed:
Beat whisper: 26 qtrs
Met whisper: 0 qtrs
Missed whisper: 12 qtrs
Summary: The whisper number is showing limited confidence this quarter as it is a penny ahead of analysts' estimates. The average price movement (either after hours or intra-day, long term or short term analysis) is not very impressive. Most traders aren't happy with just a 1% price move. Disney does have a relatively high "opposite" reaction accuracy, but that too is inconsistent. The negatives outweigh any potential positives and the data indicate Disney does not present a viable short term trading opportunity.
A company's "reaction" to the whisper number expectation is the key - on average companies that exceed the whisper are "rewarded," while companies that miss are "punished" following an earnings report.
Companies that exceed both the whisper number (from WhisperNumber.com) and the analyst estimates see a 2.5 times greater positive post earnings price move than companies that only exceed the analyst estimates but miss the whisper.
The whisper number is derived from an average of individual investors, floor traders, investment advisors and market strategists expectations regarding earnings for the most recent quarter.
Disclosure: I have no positions in any stocks mentioned, and no plans to initiate any positions within the next 72 hours.