Last week, I penned a SA article outlining a bullish thesis for drug company Incyte Corp. (NASDAQ:INCY). Interestingly, the comment section was immediately overrun with Geron (NASDAQ:GERN) investors taking me to task for apparently writing positively about Incyte, all while extolling the virtues of Geron stock and its only drug, Imetelstat. It was an interesting reaction, as neither Geron nor Imetelstat were mentioned in the article. After trying unsuccessfully to get a cogent explanation of the vitriol directed towards Incyte by the above mentioned commenters - I decided to dig in and see what the fuss is about. Apparently, a number of Geron investors are convinced that Geron's one and only drug, Imetelstat, if approved, will eventually take significant market share from Incyte's Jakafi in treating MF (Myelofibrosis), and somehow, that makes writing a bullish thesis about Incyte a real party foul.
I dug into Geron's press releases, website, history, and Imetelstat to see if my bullish Incyte thesis was threatened. While Imetelstat has shown some promise in early and small studies, in the end I came to the conclusion that Geron's Imetelstat poses no immediate competitive threat to Incyte - and may never. Below are the reasons my bullish Incyte thesis appears safe.
Geron's History Does Not Inspire Confidence
A quick look at Geron's history shows a clinical-stage biopharmaceutical company incorporated in 1990 that has massively diluted shareholders since it IPO'd in 1996, while never advancing a drug candidate past a Phase 2 clinical trial. Geron went public in a 1996 offering, with an IPO price of $8 per share for 2M shares. Geron closed Monday, 18 years later, at $2.15 per share, with nearly 157M shares outstanding. The company's latest stock offering closed in February this year, and was nearly 26M shares at $4/share. For those that prefer a graph...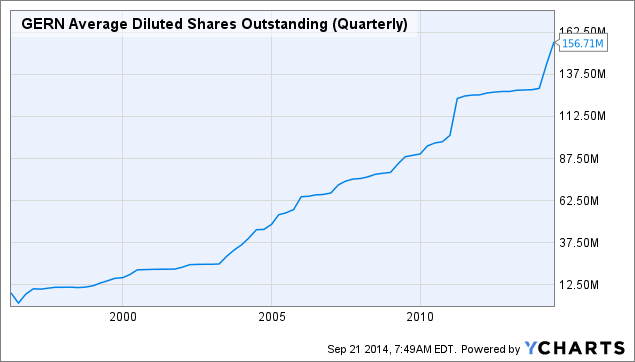 It is common knowledge to those experienced in speculating on small, clinical-stage biotechs that secondary offerings are often a necessary evil for pipeline advancement. However, to see this level of dilution and not see a drug candidate advance past Phase 2 in the clinic in 24 years makes it easy to be skeptical whether the company can advance a drug to market.
In 2010, Geron in-licensed a novel LRP-1-targeted peptide-drug conjugate GRN1005 from Angiochem to study brain cancers and cancers that had metastacized to the brain. Then, in 2012, Geron discontinued the program and sent the assets back to Angiochem.
In 2012, the company saw Imetelstat fail in a breast cancer trial and its Imetelstat for lung cancer trial get shelved, after the company determined the Phase 2 data didn't show enough statistical significance over the control arm to advance to a Phase 3 trial.
In 2013, the company decided to discontinue and sell its stem cell research program, and announced it was discontinuing its discovery research and companion diagnostic programs, closing its research lab, and reducing the workforce by approximately one-third in an effort to reduce costs. The company made a strategic decision to focus its resources on hematological myeloid cancers.
Imetelstat Shows Promise
Imetelstat is a "first-in-class" telomerase inhibitor. Telomerase is an enzyme that is often over-expressed in cancer cells. Telomerase has been described as similar to the hard-end of a shoelace - it protects cancer cells by extending the protective caps on the end of chromosomes. Inhibiting telomerase kills cancer cells. There is no doubt that the early data for Imetelstat treating ET/PV and MF is compelling and has shown promise. However, the studies so far have been small - The company lists 2 clinical trials on its website. The MF study is a small investigator-sponsored, open-label pilot study, and the ET/PV trial is a small company-sponsored, open-label Phase 2 study. If the preliminary results are able to be replicated in large multicenter, randomized, double-blind, active-controlled trials, then Imetelstat could be a game changer, but that is going to take years, and Imetelstat could fail in larger trials.
The Ongoing FDA Clinical Hold Saga
The company-sponsored trial for ET/PV was put on a FDA full clinical hold in March of 2014. A full clinical hold is an FDA order to a trial sponsor to suspend all ongoing clinical trials and delay all proposed trials under that IND. According to Geron, the FDA put Imetelstat on a full clinical hold because of:
the occurrence of persistent low-grade liver function test (LFT) abnormalities observed in the Phase 2 study of imetelstat in ET/PV patients and the potential risk of chronic liver injury following long-term exposure to imetelstat
According to the CEO on the Q2 earnings call, the company plans to address the FDA's clinical hold in 2014 and initiate a Phase 2 trial for MF in Q1 2015:
We plan to initiate a company sponsored clinical trial with imetelstat in MF potentially to release in the first quarter of 2015, pending the outcome of expected interactions with FDA in 2014.
The investigator-sponsored trial for MF was put on a FDA partial clinical hold on March 20th. A partial hold meant no new patients could be enrolled, but the trial could continue for those participants deriving clinical benefits. The hold was related to hepatotoxicity - according to the company:
... the FDA cited the reason for the partial clinical hold was that a safety signal of hepatotoxicity had been identified in clinical trials of imetelstat, and that it is not known if this hepatotoxicity is reversible. In order to resolve the partial clinical hold on the Myelofibrosis IST, the investigator is required to provide to the FDA follow-up information regarding reversibility of hepatotoxicity for all patients who received imetelstat in the Myelofibrosis IST.
In June, after receiving the necessary information, the FDA lifted the partial hold; however, the trial sponsor had already indicated back in January of 2014 it would not continue enrollment. In August, Geron announced it would assume the sponsorship of the MF trial, data, and IND by the end of September. The company will use this data to inform the design for a new Phase 2 MF trial after the consulting with the FDA. It is important to emphasize that in the company's August 5th press release, it said it would not be initiating any new clinical studies under the new IND until it has further communications with the FDA regarding the company IND (the one that is currently under the FDA clinical hold):
In light of the full clinical hold placed on the company's IND, Geron has committed to the U.S. Food and Drug Administration (FDA) that the company will not initiate any new clinical studies under the transferred IND from Mayo Clinic until Geron has had further communication with the FDA regarding the company's IND and development plans for imetelstat.
So, as you can see, the company is still very early on in the development of Imetelstat, with many hurdles yet to overcome. It is still dealing with an FDA full clinical hold, and if that gets lifted, it still needs to run at least 1 more Phase 2 trial, and if successful, at least 1 more Phase 3 trial. Imetelstat likely won't see the market for years as the company conducts the trials, collects the data, interprets the data, designs appropriately powered trials based on the data, works with the FDA, etc... Never mind the costs.
Incyte's Jakafi
Incyte's Jakafi for MF was approved by the FDA back in 2011, after multiple trials showing symptomatic relief, reduced spleen size, and in some cases, fibrosis reversal. In addition, Jakafi shows a significant extended survivor benefit over the previous standard of care. MF sufferers have benefited greatly by having Jakafi available and on the market. The company recently raised guidance to $330M-$340M in sales for 2014, and expects Jakafi to hit $500M in peak sales for the MF indication.
In fact, Jakafi has a second indication (PV) coming up for FDA approval on December 5th. The PDUFA should be a breeze, given the RESPONSE study data Incyte is providing. The company expects the PV indication could be another $500M peak seller, taking the Jakafi franchise to potentially over $1B.
Geron and Incyte are not even comparable as companies. Just because Geron has one drug candidate in early testing that one day, years down the road if approved, may be able to treat MF more effectively than Jakafi doesn't mean the bull case for Incyte is somehow destroyed. Unlike Geron that only has Imetelstat, Incyte already has one approved drug, another indication nearing approval, and has a pipeline stuffed with multiple compounds, in multiple trials, targeting multiple indications with multiple partners. The company is growing Jakafi revenues at a brisk clip, and could be an attractive M&A candidate for a company looking to boost its oncology/inflammation pipeline.
Conclusion
What I have learned after digging into Geron's Imetelstat is it poses no immediate, and little if any, longer-term risk to a bullish thesis for Incyte. I have concluded that the "Geron vs. Inctye" or "Imetelstat vs. Jakafi" is a non-issue that Incyte investors need not worry about anytime soon, if ever. Geron will continue to try and develop and hopefully advance Imetelstat in the clinic, and Incyte will continue to sell Jakafi, develop its massive pipeline, and provide much-needed relief to today's MF and PV sufferers, and this will most likely go on for years.
Disclosure: The author is long INCY.
The author wrote this article themselves, and it expresses their own opinions. The author is not receiving compensation for it (other than from Seeking Alpha). The author has no business relationship with any company whose stock is mentioned in this article.
Additional disclosure: This article is informational and intended to spur thought and discussion. This article is not a substitute for your own extensive due diligence and does not qualify as investment advice. Do not buy or sell stocks based on this article.