Becton, Dickinson (NYSE:BDX), the large maker of surgical and diagnostic devices, reported Q1 results slightly under expectations, and company stock fell over 5% on the news on 2/8/11.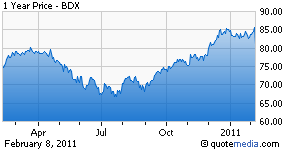 Revenue was $1.842 billion, which was short of the expected $1.89 billion.
EPS was $1.35, which was higher than the expected $1.29, but when a $0.07 tax benefit is removed, their results are short by a penny.

Much of this was due to Becton Dickinson benefiting last year from the flu epidemic and stimulus input. It's more of a matter of a strong 2010 than a weak 2011.

The company expects 4% revenue growth and 11% EPS growth for this year. Becton Dickinson is noted for having a huge streak of consistent increases in revenue without a miss. Every year since at least the early 90's, Becton Dickinson has reported revenue growth, and revenue has approximately doubled since 2001. It is, of course, unknown how long their streak of revenue increases will continue, but management's guidance expects that this year will not be the year it ends.

The company continued its strategy of organic growth combined with small acquisitions, as it announced a deal to acquire Accuri Cytometers, Inc.

Over the past five years, Becton Dickinson has increased its dividend by an annually compounded rate of over 13%, and the most recent quarterly increase for 2011 is a bit under 11%. The recent stock drop brought the dividend yield back up to around 2%.

The company continues to buy back shares as well. Becton Dickinson plans to repurchase $1.5 billion worth of shares in 2011 and $600 million in 2012. This is a total of $2.1 billion and represents a repurchase of over 11% of the market capitalization of the company in 2 years.

Overall, with a moderate P/E of around 16, a strong balance sheet (LT Debt/Equity is 0.28 with little goodwill, and the interest coverage ratio is very high), and consistent bottom-line and top-line growth, as well as shareholder-friendly management that pays dividends and regularly repurchases shares, this may be a good entry point. It's a moment of stock weakness for a company that is very solid.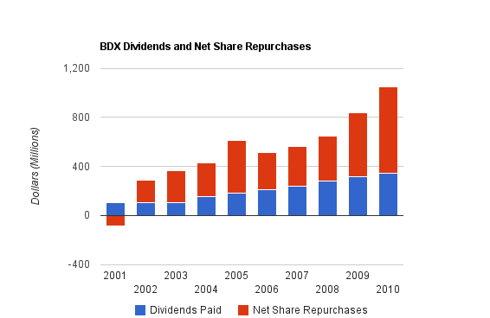 Disclosure: I am long BDX.