UCP, Inc. (NYSE:UCP) is a small cap homebuilder that was spun off last year from land and water rights holding company PICO Holdings (PICO), which retained a 57.5% stake in the company. Since becoming independently public, the company has posted losses before swinging to a small profit in the most recent quarter. They are expected to continue this momentum on the back of the continued housing recovery, especially in the desirable locations they operate in, particularly California.
The company operates primarily in the Central Valley and Monterey Bay areas, although they also have a presence in the hot markets of San Francisco and Los Angeles. They have also expanded to the Pacific Northwest via recent lot purchases in the Puget Sound area of Washington state, as well as to the Southeastern U.S. through the acquisition of a small regional builder operating in the Carolinas and Tennessee.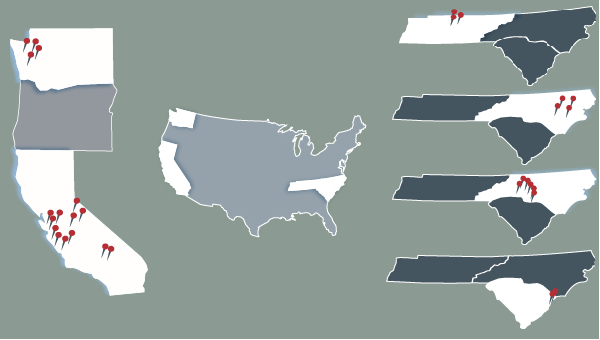 This expansion and a renewed focus on homebuilding over just land development has helped drive revenue significantly higher. Both homebuilding and total revenue more than doubled in the latest quarter over the same period last year, and nearly tripled over the first six months of 2014 compared to the first half of last year.
This increase in scale has allowed UCP to post a small quarterly profit, which is expected to increase steadily over the next several quarters and into next year. While this year's earnings per share are still expected to be negative on higher relative SG&A expenses in the first half of the year as the company ramped up, these expenses as a percentage of revenue dropped from 22 percent over the first 6 months of this year to less than 17 percent over the past three.
This trend is expected to continue and the company should temper first quarter losses if they are able to continue to increase revenue at a faster rate than expenses. In fact, if the company reaches the goal they mentioned during the last conference call of doubling 2014 revenue from the prior year, while maintaining that quarter's gross margins near 19% and SG&A percentage of revenue at 17%, they would actually come close to breaking even this year, much better than analysts are currently projecting.
And then next year this operating leverage is really going to start to kick in, and if they just meet the likely understated average analyst revenue projection of $285M while maintaining gross margins above 19% and SG&A spend below 17%, this could translate to $3.7M in operating income in 2015, or about 47 cents a share. Furthermore, as the company becomes more consistently profitable, they will be able to recognize a deferred income tax benefit, resulting in additional earnings recognition through a reduction of future income tax expense.
And increasing earnings might not even be the most important part of the valuation story, as UCP's large lot inventory offers significant upside since much of it was acquired at cheap prices during the housing downturn. Therefore, since it is carried on the balance sheet at cost, this likely underestimates its true market value, since land prices have increased since then, especially in some of the hot west coast markets they are in.
The fact that the company currently trades near book value seems unusual, since they have $150M in just raw land held in real estate inventories against less than $50M in long term debt. Given the company's sub-$100M market cap, it's almost like you're getting the rest of the operating business for free.
Other larger homebuilders that operate in or are looking to get into these areas with tight inventory might notice this and look to buy out the entire company. It would probably have to be at a significant premium to the current market value, given that PICO still owns the majority of the company and probably spun it off in anticipation of the market giving this fast growing segment a higher multiple.
If fact, it wouldn't surprise me to see PICO itself look to repurchase this stake if it continues to languish near 52 week lows, since they presumably recognize that these assets are being undervalued by the current stock price. Therefore, I think investors should do the same and buy shares before the market wakes up to the value contained in this relatively unknown company, whether it be through the mechanism of increasing earnings or a potential buyout due to its attractive assets.
Editor's Note: This article covers one or more microcap stocks. Please be aware of the risks associated with these stocks.