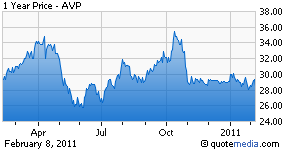 Avon (NYSE:AVP) reported disappointing earnings again, coming in at 53 cents per share in the fourth quarter compared to last year's .63 cents. Revenue rose a mere 1.3% to $3.18 billion compared to an expected average of $3.27 Billion from analysts. Avon did warn of earning adjustments due to never-ending restructuring charges on February 1. Analysts expected unadjusted earnings of 66 cents compared to the 59 cents reported Tuesday.
The small bit of good news from the company was a 4.5% dividend increase a few weeks ago. In the third quarter of 2010, the company blamed weak U.S. and slowing growth in China on its profit miss. This time the excuse was disruptions in Brazil and Russia. The misses, excuses, and restructuring originate from the executive suite at the company, led by CEO Andrea Jung.
Jung has frequently graced Jim Cramer's Wall of Shame, on the show "Mad Money." She is on the short list of longest running CEOs on this list, having been placed there in 2006. While we disagree with Cramer on stock picks you can read about here, we agree that Jung's performance at Avon has been lackluster at best. She has been CEO of Avon since November 2009, and shares have barely stayed ahead of inflation.
While peer Estee Lauder (NYSE:EL) boosts sales 10% and earnings 34% on the back of growth in Russia and China, and Elizabeth Arden (NASDAQ:RDEN) exceeds expectations, Avon falls short when it should be succeeding. Avon was the first company licensed to direct-sell in China, giving it a critical first-mover advantage. CEO Jung has continued to bungle her job and needs to go.
Recent investments in Silpada jewelry and Liz Earle look wise for Avon as the acquirer but even wiser for Silpada and Earle as the seller. Avon's board of directors should look to management talent at these firms to teach their acquirer a thing or two about growth.
Avon, a company with 80% of its revenues coming from outside the U.S. and a prime acquisition candidate should be a market darling and not a dog. Shares do sell at a discount to fair value and the dividend policy does favor investors, which we wrote about here. We wouldn't be surprised to see institutional shareholders and activist investors finally get involved at this point. The potential replacement of Andrea Jung is yet another catalyst that should propel shares higher.

Disclosure: I am long AVP.