The individualist without strategy who takes opponents lightly will inevitably become the captive of others.
-- Sun Tsu, "The Art of War"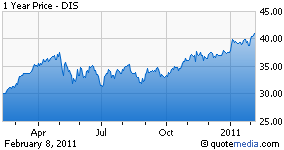 Walt Disney Company (NYSE:DIS), the $77B market cap Burbank, Calif. entertainment company earnings came out today after the closing bell. What would at first appear to be a smashing success with a rise in profit of over 50% was met by the market with a collective "yawn." The street estimate was a profit of about $.56 cents per share and Mickey appeared to be on his "A" game as he handily beat it with a whopping $.68 per share. That compares to about $.44 per share for the same quarter last year. Add it up and it comes in at about $1.33B worth of cheese for investors. Top line revenue was up from $9.74B in the same quarter last year to $10.7B this quarter. Helping this quarter was the great response in sales of DVDs and products from the movie "Toy Story 3." Across the board divisions such as theme parks, cable, and even resorts pulled their weight to bring in the results.

So why is the stock trading in after hours at only about 4.5% higher than the closing bell today? With one of the biggest brand names in the world and higher earnings one would expect that the price would have moved up well over 10% after the earnings release. There is one simple answer for this and that is the analysts did a poor job of convincing investors that the earnings would be near $.56 cents a share. Investors knew better and moved the price of the stock up into earnings expecting a number that would surpass "the experts" on Wall St.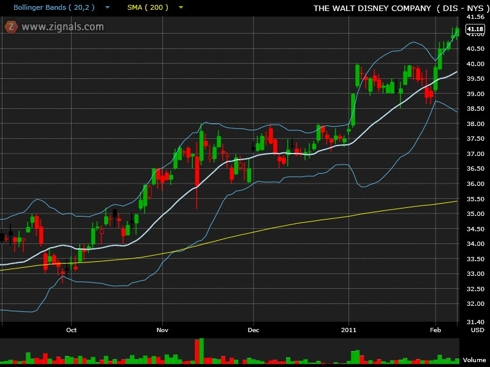 (Click to enlarge)
Looking at the chart it appears pretty clear that these surprise earnings beat was fully priced in. With the current trading price up 15% from the start of the year the market had discounted the beat and it would appear that anyone chasing this stock on the highs may get their tail caught in a trap. After seven days of higher closes and a gap up that have all the makings for an exhaustion move Disney may have a pause before being able to move further higher if it is able to at all. After seeing Disney not able to continue higher after the initial surge of only about five minutes it became clear to me that everyone who was getting on this bus was on. Without a continuous increasing amount of money pouring into a climbing stock there was only one direction it could go and that was down.

I use a proprietary blend of technical analysis, financial crowd behavior, and fundamentals in my short term trades and while not totally the same in longer swing trades to investments, the concepts used are similar. I believe the company and the company stock correlation have separated. As a result I started shorting DIS in after hours for an overnight expecting a lot of disappointed investors selling shares after Disney were able to beat but DIS was unable to move higher. My sons sure do love Magic Kingdom and Disney may be a good company but if an increase of 54% right to the bottom line can't move the price of the stock more than 5% higher what will?
I will be watching how the options open up today and may add to my short by selling the near dated February calls that are out of the money. It would appear that now after the "news" has passed DIS will find it difficult to move higher and the options will suffer time decay going forward. Look for a pullback to the $40-41 price range.
Disclosure: I am short DIS.

Additional disclosure: I may short Feb DIS calls in the next 72 hours.