To win a U.S. Presidential election, the candidate generally must win California's electoral votes. In the U.S. frac sand market there is a similar dynamic, albeit with a twist. To win the U.S., an aspiring frac sand champion must win the Texas market, in particular the Eagle Ford and Permian Basin. Together, these two basins drill approximately twice as many wells as any other North American unconventional liquids production basin and are the growth engines for North American frac sand demand presently-and likely for the next five years and beyond.
Rising horizontal drilling activity and increasing proppant intensity in both the Eagle Ford and Permian are showing up in frac sand carload data from Union Pacific (NYSE:UNP), whose sand shipment volumes have grown at an average clip of 28% year-on-year each of the past three quarters as more operators turn to "massive frac" techniques (Exhibit 1).
Exhibit 1: Horizontal Rig Activity in the Permian and Eagle Ford vs. UNP Frac Sand Carloads
Quarterly carloads ('000) and quarterly avg. horizontal rig count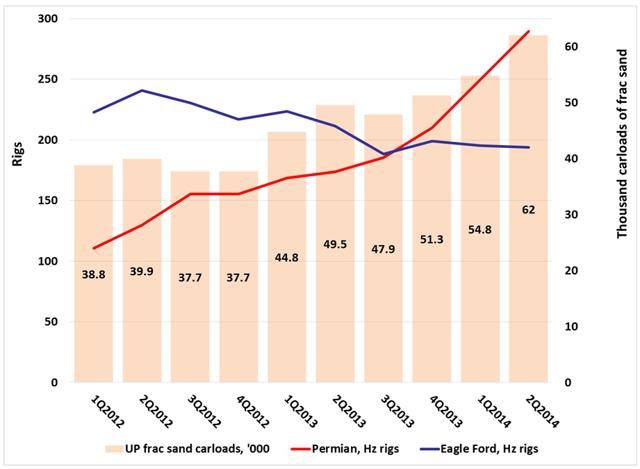 Source: Baker Hughes, Union Pacific, China SignPost analysis
Horizontal rigs comprised 53% of all rigs in the Permian Basin during 2Q2014--up from only 25% of rigs in 2Q2012-and the basin had an average of 289 horizontal rigs working in 2Q2014, up dramatically from the average of 130 rigs drilling horizontal wells during 2Q2012. Rising proppant intensity is spearheaded by the three large independent operators who have purchased their own captive sand mines--EOG Resources (NYSE:EOG), Pioneer Natural Resources (NYSE:PXD), and Apache Corporation (NYSE:APA). EOG has used as much as 2,400 lbs per foot of sand in its Eagle Ford completions.
PXD is experimenting with increasing proppant usage in some completions from 1,000-1,100 lbs/ft to as much as 1,700 lbs/ft. To support this higher proppant demand, it is working to more than double the production at its Brady sand mine over the next 18 months. Recent completions data from FracFocus shows that APA is now using as much as 15 million lbs per completion in its newer Reagan and Irion County wells in the Southern Permian Basin (these are most likely horizontal Wolfcamp wells). PXD used approximately 10 million lbs per well in its Southern Wolfcamp program during July and August of 2014 and the sand consumption numbers could climb in coming months as the company continues to refine its frac designs.
In the Eagle Ford, the rig count has stabilized over the past several quarters and the number of wells drilled is not likely to rise significantly beyond current levels, as the play is already fully in development mode. But natural sand proppant demand continues to rise substantially as operators frac more stages and increasingly adopt the "massive frac" methods pioneered by EOG Resources. This methodology entails pumping very large natural sand jobs with sand totals that can exceed 12 million lbs per well-the equivalent of 60 railroad hopper cars' worth of sand.
The Permian goes horizontal-and gets much sandier
Among independents, is the biggest driller in the Permian Basin at present. I do not count OXY - the largest Permian Basin operator - as an "independent" because in many ways it more closely resembles a Major. PXD formerly focused on vertical wells in the Spraberry Trend near Midland, wells which typically require between 1.0 and 1.5 million lbs of proppant. In 2Q2012, the average PXD Permian well consumed 1.4 million lbs of frac sand (mostly natural sand). By 2Q2014, the average climbed to 3.6 million lbs per well as horizontal drilling increased and sand intensity per stage rose. In July and August 2014, PXD's per well average proppant demand rose to 8.7 million lbs on the back of very large horizontal Wolfcamp completions in Irion County (Exhibit 2). Other operators are very likely to follow PXD's lead in the Permian and pump more sand.
Exhibit 2: PXD's Frac Sand Consumption Per Well Has Risen Dramatically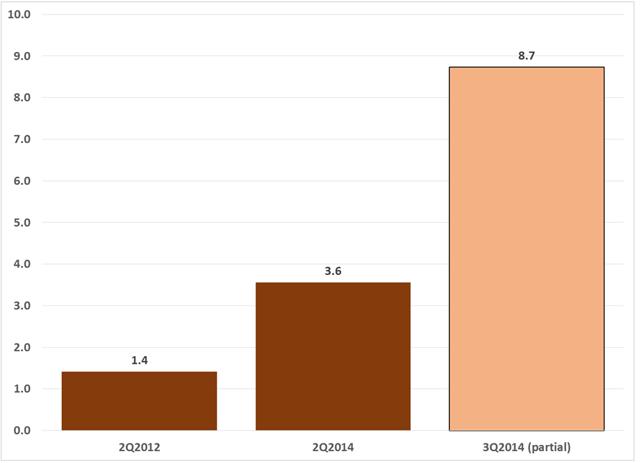 Source: Company Reports, Frac Focus, China SignPost analysis
Marketwide, the significant increase in horizontal drilling along with rising numbers of stages and frac sand usage intensity in the Permian and Eagle Ford will profoundly influence the frac sand supply chain. To put the shift in perspective, the vertical wells PXD drills in the Permian require approximately 7 hopper cars of sand apiece. It would require more than 3,800 of these wells to absorb the productive capacity of a 2.5 million ton per year dry sand plant in Wisconsin, Minnesota, or Illinois, where the premium Northern White sand is predominantly sourced.
Now that the Permian drillers are beginning to go horizontal in full force, we see that Laredo Petroleum's Cline Shale wells and PXD's Wolfcamp horizontal wells each require roughly 10 million lbs of sand apiece-meaning that 500 wells drilled can absorb the entire annual production of a typical sized white sand production facility. Cabot Oil & Gas's new Eagle Ford fracs in Frio County are even bigger. At nearly 12 million lbs of total sand product per well, it only takes about 430 of these wells to use the entire annual output of a 2.5 million tons per year sand plant (Exhibit 3).
Exhibit 3: Big Fracs in Permian and Eagle Ford Mean Lots of New Sand Mines and Railcars Needed
Example wells-some jobs may use more sand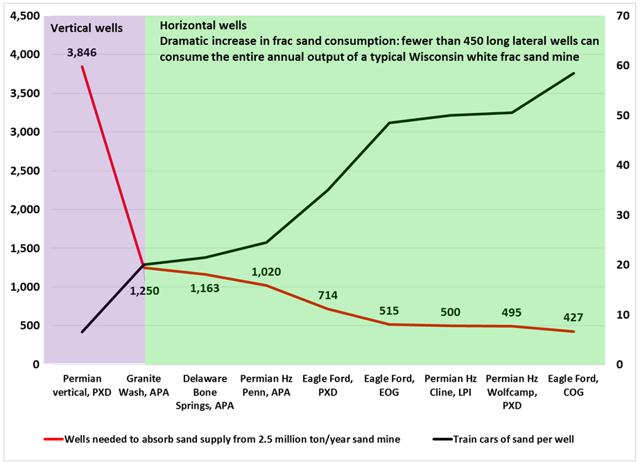 Source: Company Reports, FracFocus, China SignPost analysis
In the Permian Basin alone, RBC estimates that horizontal wells drilled could rise by 30% (to more than 3,100) in 2014. Even at the lower end of the horizontal well frac sand usage levels shown in Exhibit 3, this 1,000-plus new wells this entails can easily absorb the output of a 2.5 million tons per year new sand production facility. If Permian drillers continue to increase frac sand usage intensity, it would be entirely reasonable to expect increased horizontal well counts over the next 12 months to absorb at least 4 million tons of new sand production capacity.
Permian Sand Supply War: Current Edge Goes to SLCA, but Hi-Crush Partners (HCLP) and Emerge Energy Services (EMES) seek to catch up
Delivered costs and transload positioning will be key for competitiveness in both the Permian and Eagle Ford. In both dimensions, U.S Silica (NYSE:SLCA) leads. The company's financial data for its oil & gas segment show that in 2Q2014, SLCA's cost per ton of frac sand sold was $30.59 per ton. For comparison, HCLP's average cost of goods sold in 2Q2014 was $46.00 while EMES came in third at $51.97/ton of frac sand sold (Exhibit 4). We chart SLCA's cost advantage in terms of the percentage edge it enjoys over the average cost per ton of sand sold of its two main publicly traded competitors-HCLP and EMES.
Exhibit 4: SLCA's frac sand cost advantage, percent (on per ton basis)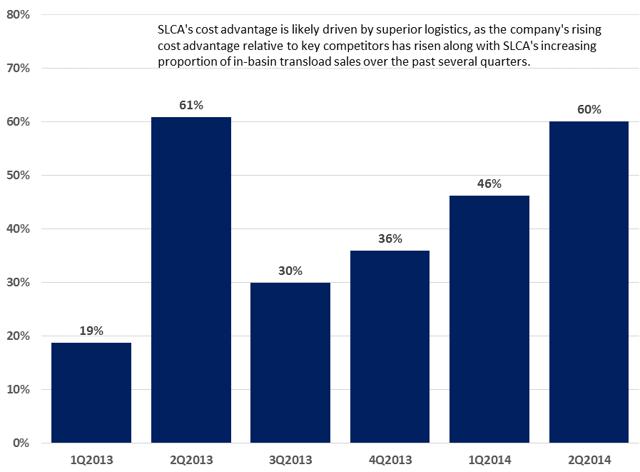 Source: Company Reports, China SignPost analysis
SLCA's cost advantage stems in large part from its logistical edge in key basins. It has access to a network of 35 transloads in all of the major basins. SLCA also has a stronger Texas transload presence than its competitors-with 5 facilities in operation and a sixth (a massive facility in Odessa) slated to start up in 1Q2015. Logistics efficiency is critical for a frac sand producer to be competitive. Professional Logistics Group estimated in 4Q2012 that logistics costs accounted for 58% of the delivered cost of natural frac sand and the figure is now 63%, showing how logistical prowess is increasingly important as a competitive business edge in the frac sand space.
SLCA now sells approximately 70% of its sand through transloads located in-basin. In contrast, EMES presently sells 40% of its sand in basin and 60% FOB mine. SLCA increasingly seeks to take a "storefront" sales approach where it keeps substantial volumes of sand forward positioned for quick sale to customers. On the white sand side, the company runs a unit train-capable transload facility near San Antonio that can store 15,000 tons of sand now and will be able to store 25,000 tons by the end of 1Q2015. It is also building a transload in Odessa with 20,000 tons of storage capacity slated to come online in 1Q2015.
SLCA's recently acquired Cadre Proppants subsidiary also effectively functions as forward storage for Permian brown sand customers because it is within ready trucking distance of the emerging new drilling areas south of Midland and San Angelo. Cadre's main facility in Voca, TX lies approximately 100 miles from the new Southern Permian drilling activity in the Wolfcamp and other layers. Cadre also has 44,000 tons of storage-perhaps the largest dedicated proppant storage facility in the entire U.S.
Thus, in short, by mid-year 2015, SLCA will have access to at least 64,000 tons of silo and covered storage in the Permian Basin (more if Titan Transloading's Lubbock and Levelland facilities are counted) and 25,000 tons of low-cost, weather-protected silo storage in the Eagle Ford. This is enough forward positioned sand to frac 20 large Wolfcamp, Cline Shale, or Eagle Ford liquids wells without needing to bring in a single additional railcar. The ability to pre-position large sand volumes in-basin will help buffer rail and weather disruptions such as those in early 2014 when severe winter weather in Wisconsin temporarily curtailed sand supplies.
HCLP just getting into the large-scale Permian Basin transload arena. The company posted an announcement in July 2014 looking for a manager for its Big Spring, TX transload site, suggesting that the facility is likely just now actually becoming operational. The Big Spring facility will compete with SLCA's Odessa transload for customers, but due to the scale of demand growth, there is room for additional large-scale transloads, as some of the most sand-intensive areas are in the Southern portion of the Permian Basin, more than 100 road miles from Odessa or Big Spring. This is significantly beyond the ideal trucking radius of approximately 50 miles, especially for large jobs that literally can require hundreds of truckloads of sand.
Timing
The substantial frac sand demand increases currently underway as operators increase stage count, sand intensity, and move to horizontal drilling in the Permian Basin are coinciding with a sharp upswing in political opposition to sand mining.
In Wisconsin--the epicenter of U.S. frac sand mining--a number of local fights over sand mining smolder. Many of Minnesota's mineable deposits are too far from high-volume rail lines to be cost effective at present. Two of Iowa's three frac sand-bearing counties currently have strict ordinances that effectively prohibit frac sand mining and are unlikely to rescind these restrictions in the foreseeable future. Illinois and Missouri offer potential for increased sand supply, but frackers are boosting their sand usage more quickly than the mines can respond and we believe this situation will endure for at least another 18-24 months. Thus, the next 6-8 quarters will be the action time where sand prices are likely to spike and existing producers will continue their push to expand production, as well as potentially acquire smaller rivals.
Bottom Line
In a constrained supply environment, having large reserves with mining infrastructure in place and which can be expanded relatively rapidly confers a distinct competitive advantage. SLCA leads the way on this account with at least 185 million tons of API-grade frac sand reserves spread between Wisconsin, Illinois, and Texas. HCLP and EMES each sit atop slightly less than 110 million tons of API-grade sand reserves. If sand prices remain strong, we see a rising probability that SLCA will attempt additional acquisitions. HCLP would be the most logical target, as it offers pure-play frac sand exposure and would not present the challenges of integrating or divesting a completely alien business like EMES's fuel retail operations.
In a nutshell, the tide of rising sand demand and price increases will likely float all thee publicly traded "sand boats" but SLCA offers the best combination of exposure, reserve base, in-basin sales presence, low delivered costs, and potential for additional value-added acquisitions.
The opinions and analysis in this article are based entirely on publicly available data and are the author's own.

Disclosure: The author has no positions in any stocks mentioned, and no plans to initiate any positions within the next 72 hours.
The author wrote this article themselves, and it expresses their own opinions. The author is not receiving compensation for it (other than from Seeking Alpha). The author has no business relationship with any company whose stock is mentioned in this article.