Earlier today, Statoil ASA (NYSE:STO) announced its Q4 2010 and 2010 full year results. Here are some highlights from the report:
Fourth quarter operating income of NOK 42.8 billion ($7.43 billion), up from NOK 33.5 billion ($5.82 billion) in the fourth quarter of 2009.
2010 operating income was NOK 137.2 billion ($23.83 billion), up from NOK 121.6 billion ($21.11 billion) in 2009.
Fourth quarter net income of NOK 9.7 billion ($1.68 billion), up from NOK 7.1 billion ($1.23 billion) in the fourth quarter of 2009.
2010 net income of NOK 37.6 billion ($6.53 billion), up from NOK 17.7 billion ($3.07 billion) in 2009. This large increase in net income can largely be attributed to increased commodity prices in 2010 versus 2009.
Equity production was down 4% in 2010 compared to 2009. This was caused by a natural production decline from existing fields, operational issues, and higher maintenance activity.
Reserve replacement ratio grew to 87% in 2010 and the company expects to improve this further going forward.
The Board of Directors proposed an annual dividend of NOK 6.25 ($1.085) per share. This is an increase of 4.2% in Norwegian Krone or 18% in USD from the 2009 dividend.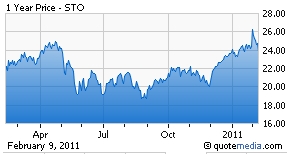 Statoil expects to have a compound annual production growth rate of 3% between now and 2012. However, most of this growth will come in 2012. The company has begun development on thirteen fields that will begin operation in 2012 and will be delivering some of this growth. Statoil expects to produce 200 mboe per day from these new fields and will also be increasing production at existing fields. They expect the increased production from these fields to generate 150 mboe per day. The company also expects forty new projects to be sanctioned over the next two years.
Statoil will be continuing development of the Norwegian Continental Shelf, where it has operated since its beginnings. The company has also begun expansion into Canada's oil sands as well as into Brazil. This international expansion will be a focus of the company into the future as it expects production in the Norwegian Continental Shelf to begin to decline around 2020.
Statoil is using these new projects to position itself as a true international operator and thus will be able to exploit fields all over the world. As many of the concerns that I have been seeing about this company's future have something to do with the declining production in the Norwegian Continental Shelf, these new projects and international expansion should help to allay some of these fears, as well as make Statoil a stronger company in the future.
Disclosure: I have no positions in any stocks mentioned, and no plans to initiate any positions within the next 72 hours.