By Samuel Lee
Micro-cap exchange-traded funds have never been more popular. On the back of great performance since September, investors have poured in over $300 million into the four micro-cap exchange-traded funds, the most ever (see the graph and table below). In doing so, they are buying some of the worst ETFs on the market today.
I like ETFs. I keep most of my assets in them. However, they're not suitable for every asset class. Micro-cap ETFs fall prey to nearly every weakness in the ETF structure, which devastates their returns. Since inception, the average micro-cap ETF has a monthly alpha of negative 0.50%, or negative 6.2% annualized. In laymen's terms, after controlling for the ETFs' risk exposures, such as size, value and momentum, they trailed their true benchmarks by about 6% annually.
The average masks a decent amount of variation. The worst is PowerShares Zacks Micro Cap (NYSEARCA:PZI), which clocks in with a negative 7.95% annual alpha. First Trust Dow Jones Select MicroCap Index (NYSEARCA:FDM)'s alpha is negative 2.87%. On the other hand, a well-constructed ETF like Vanguard Small Cap ETF (NYSEARCA:VB) has zero alpha, as an index fund should.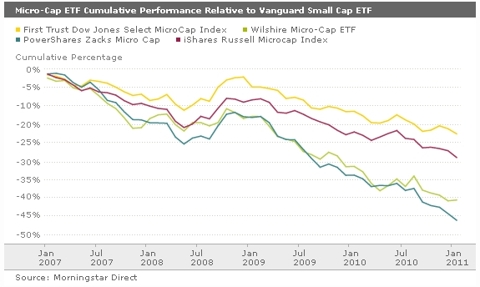 The Problem with Micro-Cap ETFs
ETFs work best when their underlying holdings trade in efficient, deep, and liquid markets. The micro-cap market is none of those. Micro-caps can go for days, weeks, or months without trading a single share. Micro-cap ETFs don't venture that deeply into illiquid shares, but their holdings are often only modestly better. When they mechanically buy and sell even small share lots into a relatively illiquid market, they can affect prices. Market impact costs undoubtedly play a significant role in diminishing micro-cap ETF performance.
Front running also hurts micro-cap ETFs. Indexes are "stupid" in that they broadcast far in advance when and what they're going to buy and sell. Clever traders can trade shares in anticipation of these changes and pocket profits at the expense of indexed money. Front runners barely budge large-cap indexes such as the S&P 500 because arbitrageurs do a good job keeping stocks in line with fair value, but they can really hurt micro-cap indexers.
Finally, micro-caps generate much of their outperformance, thanks to an illiquidity premium. You may be familiar with the small-cap premium: Since 1926, micro-caps have beaten the largest U.S. stocks by 6% to 7% annualized. However, the most liquid small-caps underperform large-cap stocks. The small-cap bonus is mostly concentrated among the smallest, least liquid issues. So even if a micro-cap ETF deals with only the most liquid stocks to avoid price impact and front running, it gives up much of its return premium.
Micro-cap ETFs face Scylla and Charybdis: Either lose money to front runners and price impact while trading illiquid ETFs, or miss out on the illiquidity premium by holding the more liquid micro-cap stocks. It's a no-win proposition.
The Mutual Fund Alternatives
Micro-caps can play a role in a portfolio. ETFs just aren't the way to do it. Micro-cap investors should look at mutual fund offerings, actively managed or passive. The gold standard for passive funds is DFA US Micro Cap (DFSCX). Over the past five years, its monthly alpha was a statistically insignificant negative 0.16%. DFA's fund does everything right: It charges only a 0.52% expense ratio, returns all share-lending income to investors, keeps turnover low, trades stealthily, and exploits the latest academic research. DFA funds are available through a select group of fee-only advisors or some 401(k) plans.
Bridgeway Ultra-Small Company Market (BRSIX) also passively tracks micro-cap stocks, and since inception it's had monthly alpha of close to 0%. Bridgeway uses quantitative screens to remove companies on the verge of going under. However, over the past five years, the screens hurt its performance, and its alpha was negative 0.39% a month. I'm inclined to give Bridgeway a pass. Unlike the micro-cap ETFs, which are almost doomed to fail, Bridgeway's screens have over its 13-year history helped performance and may do so in the future.
Actively managed funds may offer the best micro-cap opportunities. Of the 23 micro-cap funds with three years of history, 22 beat the average micro-cap ETF, despite much higher expense ratios.