Background
ChinaNet Online Holdings, Inc. (NASDAQ:CNET) is a business to business based internet services company that caters to small and mid-sized businesses. The company operates segments including internet advertising, television advertising, brand management, sales channel building, and bank kiosks. CNET's main focus is internet advertising. In the past three months they have generated about 80% of their revenue from internet advertising and related services.
The Most Recent Chinese Company to Explode in a Matter of Days
On Friday September 18th CNET closed the trading day at around $1 per share. Due to mentioning Alibaba's (NYSE:BABA) Taobao and Baidu (NASDAQ:BIDU) in their own press release, CNET shot up to as high as $3.98 per share in the coming days. According to CNET's CEO George Chu:
"We are very excited about our new focus on digital advertising and our cooperation with Baidu. We are also in discussions with Taobao of Alibaba to provide "Micro-Sell 360", which is one of our new product solutions geared towards precision marketing for clients."
While this announcement seems very promising for CNET, there is nothing substantial behind it. This announcement by CNET seems like a well-timed public relations move by the company ahead of the Alibaba public offering. First off, there is no concrete deal with Taobao that will be putting Micro-Sell 360 into action on their platform any time soon. Secondly, the cooperation announced with Baidu is something that we do not see as ground breaking. CNET announced cooperation with Baidu with no substantial metrics behind it. We believe that this "cooperation" is possibly a reduced rate on advertising costs based on volume. This type of deal is offered to any advertiser that places enough ads on a search engine. This is definitely not a game breaker by any means. However, this could help CNET as there gross product on internet advertising has been declining. This can be seen in the chart from their 10-Q.

Taken from CNET 10-Q.
In the past quarter CNET's revenues from internet advertisement decreased from the same quarter last year while their cost of revenues increased. The net result was CNET's gross profit ratio on internet advertising was cut in half. With internet advertising accounting half of all revenues, it is very concerning that margins are going in the wrong direction.
Legal Proceedings
CNET and its subsidiaries are named as the defendant in three ongoing lawsuits. The lawsuit of the most concern was filed by Xuanfu Liu, a 34% shareholder in CNET. This is of utmost concern as the company is trading at a multi-year high, and would be a great time for Mr. Liu to cut his ties with the company. As a result he could sell many of the shares into the market. This would cause a flood of shares and greatly drive down share price. The basis of this lawsuit is that the CEO Mr. Cheng abused operation and management rights with it Business Opportunity Online. An excerpt from CNET's 10-Q describes the lawsuit:
"The complaint alleges that Mr. Cheng abused operation and management rights and that Mr. Cheng's disposition of equity interests that Business Opportunity Online held in Beijing 58 (the "Equity Interests"), without the consent of the plaintiff, was an act of infringement and in violation of the articles of association of Business Opportunity Online and Chinese corporate law. The complaint seeks a court order to declare the contract allegedly entered into by and between Mr. Cheng, on behalf of Business Opportunity Online, and Mr. Yao, null and void."

Taken from CNET 10-Q.
Risks to Shorting CNET
While we believe that right now is a good opportunity to short CNET, it does not come without risk. The largest highlight to the positive story for CNET is that they have just received an award from the China Electronic Commerce Association (CECA) for the "Best Company in Chinese Entrepreneurial SME Business Development Marketing." While it is unknown what the CECA's metrics are for this award, it is clear that an industry group has confidence in CNET. However, RightEdge Analytics does not have faith in this company at its current price level.
The Explosion Implosion Case in China
In the past year, many Chinese companies have gone through a stage where they have exploded over a few days and then imploded back to the same levels. This is based on the overreaction by the market to news. Much of this news is over-hyped by the market and possibly company PR. We will show examples of a few of these cases from the prior year.
You On Demand Holdings (YOD)
YOD is a China based on demand video service. Prior to February YOD was trading in a range of about $2 per share. YOD accelerated to a high of $7.35 per share based on a plethora of news articles claiming that YOD was the Netflix (NASDAQ:NFLX) of China. The market reacted to this press without doing their own due diligence and pumped up the share price well beyond what the company was worth. The article was not untrue in stating that YOD is trying to build the same type of on demand video service that NFLX has developed in America, however it was overreacted to. YOD is now trading at a fair value of around $1.80, lower than before the press releases.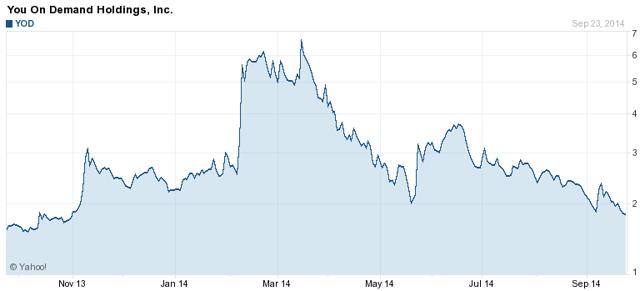 Image taken from Yahoo Finance.
The9 (NASDAQ:NCTY)
The 9 has just gone through a similar phase of what we believe will happen with CNET. Upon an announcement of a joint of a joint venture with Qihoo 360 (NYSE:QIHU) The9 spiked over 35% in on August 29, 2014. The9 is now trading below the levels that they were trading at before the news announcement.

Image taken from Yahoo Finance.
SinoCoking (NASDAQ:SCOK)
SinoCoking is another similar story to what we believe CNET will follow. On September 9. 2014 SCOK announced a new underground coal gasification project. After the announcement shares soared to intraday highs of $9.37 per share. Since the market has had time to evaluate this new the share price has fallen back to normal levels around $4 per share.

Image taken from Yahoo Finance.
ChinaNet Online Holdings
The reasons for CNET's exceptional spikes have been discussed in this article. Prior to the news announcements by CNET it was trading around $1 per share. CNET soared to intraday highs of around $4 per share. Like these other companies we believe that CNET will come back down to the $1 level as the market digests the press release.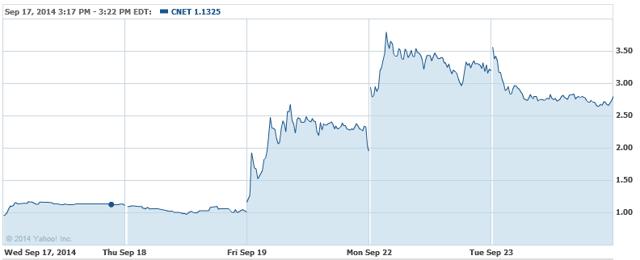 Image taken from Yahoo Finance.
Conclusion
Due to the recent price action of many Chinese companies recently; we believe that CNET is still worth about $1 per share. The recent press releases will not have the effect on CNET to justify the near tripling of the stock in the past four trading days. We believe that this price can be attributed to a well timed press release ahead of the Alibaba IPO. We believe that CNET presents a great short opportunity at these price levels.
Disclosure: The author has no positions in any stocks mentioned, and no plans to initiate any positions within the next 72 hours.
The author wrote this article themselves, and it expresses their own opinions. The author is not receiving compensation for it. The author has no business relationship with any company whose stock is mentioned in this article.
Editor's Note: This article covers one or more stocks trading at less than $1 per share and/or with less than a $100 million market cap. Please be aware of the risks associated with these stocks.