By Charles Basta
"I'm sitting on my front porch watching the wheat fields. You know what? When the wind blows on them you can see waves..."
It was 6 pm in New York, and I was working from an office on the 28th floor of a highrise in the financial district. I knew what my client, a farmer in the Midwest, was talking about. I had seen it in different places across America and the world. I was feeling very envious, in a good way, of the quality of life he had. But what was even more interesting was how on top of things he was when he was trading. Good insider knowledge of a particular type of product or commodity does, in my opinion, help when investing. He was one of the best wheat traders I had seen at the time, and to a certain extent, he knew his product so well that he had an undeniable advantage compared to some of the pure technical traders and quants I was also dealing with.
Because of the commodity's importance in our everyday lives, many people consider financial wheat trading as very legitimate and intuitive. Historians believe the crop's domestication is as old as some of our civilizations, and they even attribute the fall of certain governments or city-states to shortages of the commodity from bad harvests or improper trade routes. In America, the Chicago Mercantile Exchange (NASDAQ:CME) was created in the 19th century to help producers and consumers in their endeavors. Because of its location, Chicago was a natural hub for grain transportation and trading. The exchange is now considered the biggest futures exchange in the world.
In 2010, world production of wheat was 651 million tons, making it the third-most produced cereal after maize (844 million tons) and rice (672 million tons). According to the USDA, commerce in wheat is set to expand, as there is somewhat a discrepancy between those who produce more and those who are predicted to consume more over the next few decades. Wheat can be a highly volatile market, giving lots of opportunities for traders to make or lose money. The fact that world trade for this commodity is predicted to expand so much gives traders even more reason to be excited. Whether it be through direct wheat futures, commodity stocks, ETFs, or even managed futures or automated trading systems, there are many ways to focus on this interesting commodity. For those who are interested in this market, we're going to go over a few of the basics, as well as examine a few of the trends.
1. World wheat movements
Although some commodity markets can be relatively compartmentalized, the wheat trade is a world affair. Wheat consumption and production is very unevenly spread across the world, creating a strong inter-dependency between different regions.
The European Union, China, India, United States, and Russia are the biggest producers. Because the world markets are interconnected, when analyzing one region, forces affecting foreign markets must be considered as well.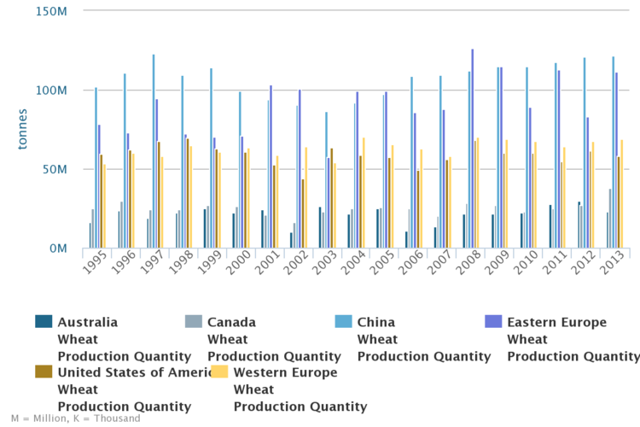 Source: Food And Agriculture Organization Of The United Nations, Statistics Division
Some countries are big consumers, and are unable to meet that need with domestic production. In addition, some of their populations are expected to grow. Although consumption needs vary and have to be monitored, we expect demand for wheat exports to expand over the coming decades. World wheat trade (which includes flour) is projected to expand by nearly 28 million tons (19%) between 2014/15 and 2023/24, rising to 177.5 million tons, according the USDA. The largest growth markets include the 15 countries of the Economic Community of West African States, other Sub-Saharan Africa countries, Egypt, other countries in the North Africa and the Middle East region, Indonesia, and Pakistan. In many of these countries, income and population gains are expected to drive increases in demand.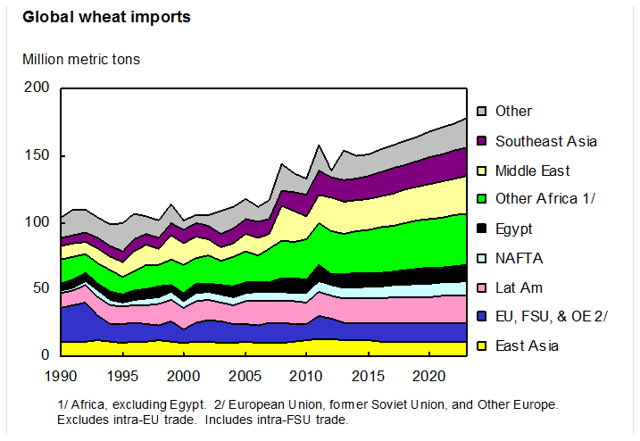 Source: USDA
To consider this increase in demand, we need to examine the major exporters. Some of the latest figures show the United States as the current biggest exporter of wheat (27% of total exports in 2010/11 fiscal year), followed by the European Union (17%), Australia (14%), and Canada (13%).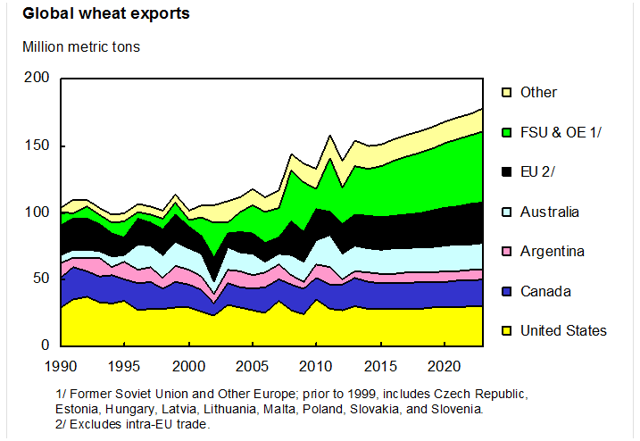 Source: USDA
Over the next coming decade, US wheat exports are projected to be in a stable 28- to 30-million ton range. But analysts expect the US share of world exports to decline over that period, as the EU wheat exports are projected to trend upward and surpass 30 million tons by 2023/24.
In some countries of the former Soviet Union, wheat production can be volatile. An upward trend in wheat exports from Russia, Ukraine, and Kazakhstan was interrupted by droughts in 2010 and 2012. However, exports from those countries are expected to recover and rise by more than 50%, climbing to 52 million tons by 2023/24 and accounting for two-thirds of the projected increase in world wheat trade. Rising domestic feed use prevents even more rapid export growth. Although not explicitly reflected in the projections, continued year-to-year volatility in wheat production and trade is likely because of the region's highly variable weather and yields.
2. Wheat Varieties
Wheat is generally grown as food for humans, but lesser-quality wheat and the nutrient-dense by-products of flour refining are used for animal food and even biofuels. Different types of wheat generally have slightly different usages, which is important to note when trading wheat futures contracts in finance.
The various types of wheat can be categorized by planting season, hardness of the grain, and color. In the US, the winter wheats are winter-hardy, so they are planted in the fall, resume maturation in the spring, and are harvested early summer. Spring wheats in the US are, as their name implies, planted in the spring and harvested late in the summer. Spring wheat yields are significantly lower than winter ones, but they offer a very high quality and are usually used for making bread.
Soft wheat varieties have starchy kernels (less gluten) which mill easier than the hard wheats. Soft wheat flour is preferred for piecrust, french bread, biscuits, and breakfast foods. Hard wheats have higher protein and gluten levels than their softer cousins, and are used for bread, cakes, and flour. The hardest wheat is durum (Triticum durum), whose flour is used in the manufacture of macaroni, spaghetti, and other pasta products. Typically, soft wheats and white wheats usually bring higher prices because they are easier to mill and don't require bleaching.
The six major classes of wheat grown in the US are listed below.
Hard Wheat
- Hard red winter wheat is a high-protein wheat used mostly for breads and all-purpose flour, and as an adjunct in other flours to increase protein content. This class of wheat accounts for more than 40% of the US wheat crop and half of US wheat exports.
- Durum wheat is a spring wheat. It may be either white or red, and is the hardest of all US wheats. It offers both high protein and high gluten content, and is used to make the semolina flour for premium pasta products and for some Mediterranean breads.
- Hard red spring wheat is the highest-protein wheat, and is used for bread, hard baked goods, all-purpose flour, and flour blends.
- Hard white wheat is medium-protein grain that is closely related to red wheat, except for color and some milling and baking qualities. However, it offers a milder, sweeter flavor, and is used in yeast breads, hard rolls, bulgur, tortillas, oriental noodles, whole wheat and all-purpose flours, and also in brewing. It is the newest class of wheat to be grown in the United States.
Soft Wheat
- Soft red winter wheat has a low-to-medium protein content, and is used for breads and blending. It is used to make cookies, cakes, donuts, and other fine pastries, as well as flat breads and crackers.
- Soft white wheat is a low-protein wheat, but offers high yields to growers. It provides a whiter product for high-quality cakes, crackers, cookies, pastries, and Asian-style noodles (bakery products other than breads), and is ideally suited to Middle Eastern flatbreads.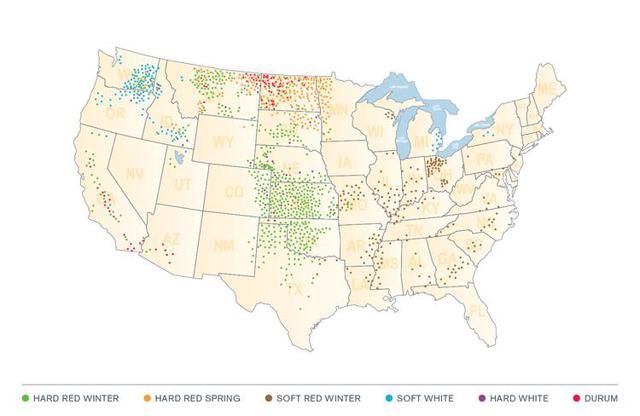 Source: National Association of Wheat Growers
3. Seasonalities
Wheat is grown on more than 216,000,000 hectares (530,000,000 acres). This is an area larger than for any other crop. This is because of the wheat plant's agronomic adaptability to grow from near-Arctic regions to the equator, from sea level to the plains of Tibet, approximately 4,000 m. (13,000 ft.) above sea level.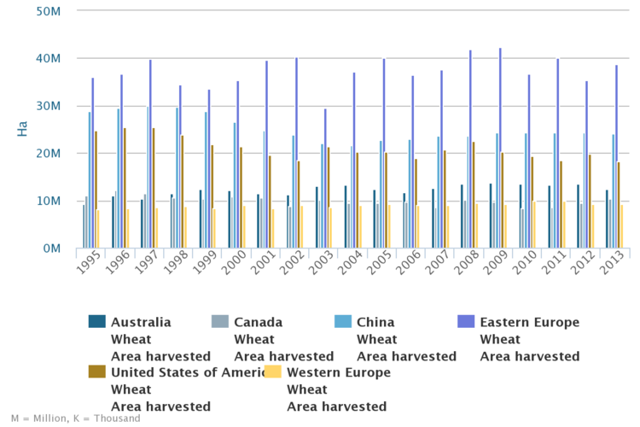 Source: Food And Agriculture Organization Of The United Nations, Statistics Division
In agriculture, a very noticeable distinction is generally made between southern and northern hemisphere plantings and harvests, because opposite summer and winter seasons make parallel but opposite planting and harvesting seasons between the two regions. However, with both winter and spring crops, and such a wide cultivation area, wheat's planting and harvesting seasons become more complex and diverse than most other crops.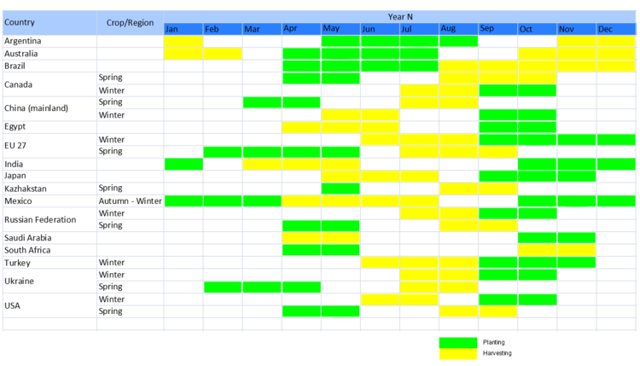 Source: Agricultural Market Information System (AMIS)
4. Wheat Trading Particularities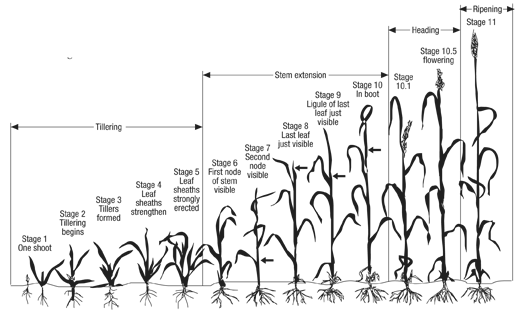 Source: University of Delaware
Wheat can be a highly volatile market that can offer plenty of opportunities for different styles of trading. Generally speaking, however, traders tend to seek the major trends that affect the market before the planting seasons starts, and then continue to monitor for continuations or reversals that could take place until the harvest is completed. Some of the main elements to watch are:
Soil moisture: At harvest time, soil moisture can be somewhat depleted. Precipitations that take place between the last harvest and the new seeding period are very important for wheat, particularly winter wheat, because of its growth environment. Adequate soil moisture from the boot stage through the bloom stage increases grain yield and test weight. Groups such as the European Space Agency (ESA) use satellite imagery to provide evidence of soil moisture for the United States Department of Agriculture (USDA) and people in the trade to help in hedging their production.
Carryover: The amount of wheat supplies remaining from the last harvest influences how much farmers will plant, but it's also an element that's looked into by buyers for pricing. Strong inventories from the previous growing season - or carryover - will dampen the effect of adverse weather, whereas low carryover from the previous year will make the market more sensitive to anything that can affect yield.
Weather: Predicting weather patterns is an important element of any agricultural crop. Droughts, floods, and extreme temperatures obviously have huge impacts on crops. The further out, the more unpredictable weather becomes, and forecast changes can cause severe movements in the grain complex.
Geopolitical conditions and trade policies: Throughout history, food inflation and famines have been a source of political instability, making the flow of wheat closely monitored by most governments. Both import and export quotas are modern tools still used by countries with the goal of maintaining adequate supplies. But the range of events that can affect wheat production are numerous.
5. Financial Instruments for Wheat Trading
The most traditional ways for traders and investors to gain exposure to wheat have been through the futures market or commodity stocks. Since then, a number of grain ETFs, managed futures programs, and automated trading strategies have been added. Some of the most common versions of these instruments are listed below.
5.1. Futures Contracts
- CME Group:
The Chicago Mercantile Exchange is the largest futures exchange in the world. Its benchmark wheat contract, the soft red winter wheat, is one of the most popular tools for wheat trading. It also offers a mini-sized wheat contract for traders. In 2012, it added to its offerings a hard red winter wheat contract, which it acquired from the Kansas City Board of Trade (KCBOT).
- MGEX:
Since its inception in 1881, MGEX has been the principal market for hard red spring wheat - first as a cash market, then as futures and options. Additionally, MGEX offers index-based contracts. Index futures and options contracts are offered on hard red spring wheat, hard red winter wheat, soft red winter wheat.
- NYSE Liffe:
The NYSE Liffe now owns the London Feed Wheat contract and the Paris Milling Wheat contract. Both can aid a trader or investor to gain exposure to Western European Grain Prices.
- Others:
There are other wheat exchanges in different countries around the world that can help traders gain exposure to more specific regional particularities: Winnipeg, Manitoba; Hong Kong; Brazil; India, to name a few.
5.2. ETFs and ETNs
ETFs and ETNs hold certain advantages and drawbacks compared to direct futures and options. Investors can use 3 different types of ETFs and ETNs to gain access to grain markets, with one specialized in wheat only:
The Teucrium Wheat Fund (NYSEARCA:WEAT) includes multiple wheat futures contracts, and features a unique roll methodology that attempts to help the fund mitigate the negative impact of contango.
The iPath Dow Jones-UBS Grains Total Return Sub-Index ETN (JJG) and the ELEMENTS MLCX Grains Index Total Return ETN (NYSEARCA:GRU) target corn and soybeans in addition to wheat. Though JJG is significantly bigger in terms of assets under management, both show impressive liquidity.
Investors should understand that these ETNs offer exposure not to spot commodity prices, but to futures-based investment strategies. Moreover, it should be noted that JJG and GRU are structured as exchange-traded notes, i.e. they are subject to credit risk of the issuers.
5.3. Managed Futures
Three of the most famous pure commodities managed futures programs are Global Ag, HPX Financial, and Bocken Trading. All three cover a basket of agricultural commodities, including wheat. The Commodity Trading Advisors that lead these programs seem to all benefit from solid reputations within the grains trading community.
Independent brokerage firms (Independent Introducing Brokers) can offer their clients a wide variety of products, with some specializing in managed futures programs. Firms such as Redcape Investments offer their clients access to over 300 Commodity Trading Advisers (CTA), and certain FCMs such as Vision Financial Markets have many years of experience with managed futures programs.
5.4. Automated Trading
One of the benefits of automated trading strategies is that they can give access to trading certain markets without the need for a trader or investor to personally execute each trade. Certain programs such as the 25k$, 30k$, and 40k$ Diversified Agricultural Programs are trend trading programs that offer exposure to a basket of agricultural commodities, including wheat, for a monthly subscription fee. These programs can be combined with others to target several approaches to the markets. The Exit Points series (Epic, Score, and Starter), for example, are day trading programs that attempt to take advantage of volatility breakouts, including on the wheat market.
With trading knowledge, it is also possible to create and program wheat-specific automated trading systems. Many trading platforms, such as Ninja Trader, Trade Navigator, and MultiCharts, offer such capabilities.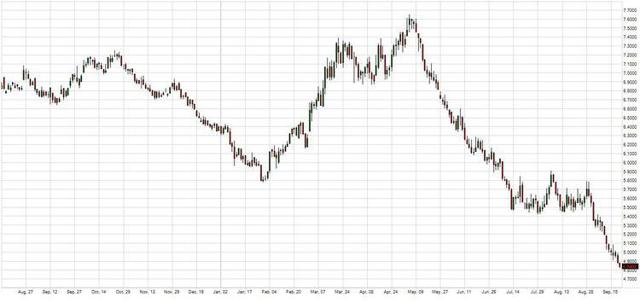 CME December 2014 Wheat Futures as of 9/19/2014 (ZWZ14)
6. Other Agricultural Investment Vehicles
6.1. Commodity Stocks
For some commodities, such as precious metals or natural gas, it is possible to gain indirect exposure through an investment in companies that are engaged in production or extraction. Unfortunately, agricultural commodities are slightly more complex, since investors need to aim for agribusiness firms that will not directly mirror movements in wheat prices, but instead provide products and services to farmers. The profitability of these companies often does show a correlation to agricultural spot prices, and can be a way to play strength in this commodity market.
Examples are Potash (POT), Monsanto (NYSE:MON), and The Mosaic Company (NYSE:MOS).
6.2. Direct Farmland Ownerships through Professional Management
Farmland investing is exactly what it sounds like: a direct investment in land used for agricultural production. In doing so, managers attempt to reduce average capital expenditures, boost productivity, and improve inventory management practices. These investments generally aim to capitalize on the increase of value of the land, but also on the income produced by the land. Direct investment in farmland is sometimes considered less volatile than the other investments described above. But the risks involved with investing in farmland include regulatory risk, interest rate risk, illiquidity risk, and overvaluation risk (for example, asset bubble risk). While these risks remain relevant, they may be mitigated in the current environment through the careful selection of the right active manager.
Farmland investments can vary by their target crops and by regional specialty, and there are many different programs. UBS, for example, promotes a fund that invests in Australian Farmland, while the Black Sea Ag Fund invests in areas around the Black Sea, such as Romania or Bulgaria, some of the lands of the European continent that offer some of the biggest growth potential.
7. Trends for the 2014/2015 Season
The USDA came out with its latest World Agricultural Supply and Demand Estimates Report (WASDE) on September 11th 2014. The USDA reports higher supplies than in its previous assessments, and lower exports due to intense competition from foreign markets.
There seems to be a relative consensus by the world wheat trading community, based on the belief that foreign wheat supplies can mitigate the 2014 US hard red winter wheat production shortfalls in the Central and Southern plains states. For the time being, private forecasts for 2015 supply and demand show potential for ending stocks to rise to very burdensome levels, and the market has been trending down. No other major threats to world wheat supplies and trade, including events in the Black Sea region or the Middle East that would cause this market outlook to change, have yet become apparent. But one thing is for sure: wheat traders will continue monitoring weather maps, newswires, and charts for changes, even those sitting on their front porches with a gorgeous view on their own fields... like my client.
Disclosure: The author has no positions in any stocks mentioned, and no plans to initiate any positions within the next 72 hours.
The author wrote this article themselves, and it expresses their own opinions. The author is not receiving compensation for it (other than from Seeking Alpha). The author has no business relationship with any company whose stock is mentioned in this article.
Additional disclosure: Trading futures and options involves substantial risk of loss, and is not suitable for all investors. Past performance is not necessarily indicative of future results.