As many precious metals investors know, the price of silver (NYSEARCA:SLV) was smashed to 2008 lows of $17.5/ounce (see chart from Kitco below).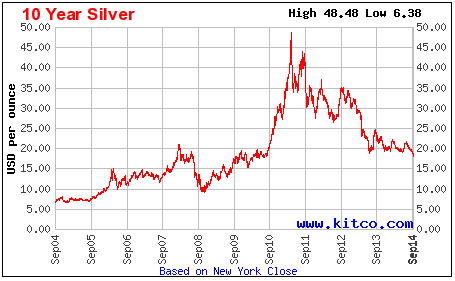 Silver premiums have been moving up particularly at the Shanghai Exchange, where silver inventories are very low. It is also very interesting to note that while the paper silver price has dropped, the mining companies are not eager to sell their physical silver at lower prices. You won't get your hands on the physical silver in large quantities. For example, First Majestic Silver Corp. still sells its silver bullion at $23/ounce and has been doing this for one year already.
Nevertheless, investors should mitigate the risks in their silver miners portfolio and we can do that by looking at the costs. In June, 2013, the World Gold Council, an industry group, produced a detailed standard for what miners should include in all-in sustaining costs, or AISC. We will use that metric. If silver prices keep slumping below the all-in sustaining costs of silver production, the company won't be able to make a profit. That's why I summarized a table of the most recent AISC numbers of several notable silver mining companies and compared it to the 2013 numbers. These numbers can be found in the financial reports of the respective companies and over the internet. Hecla Mining (NYSE:HL) didn't report AISC numbers in 2013, but an estimation was done here a year ago. They just recently gave an AISC number of $8/ounce for 2014 in their latest statement.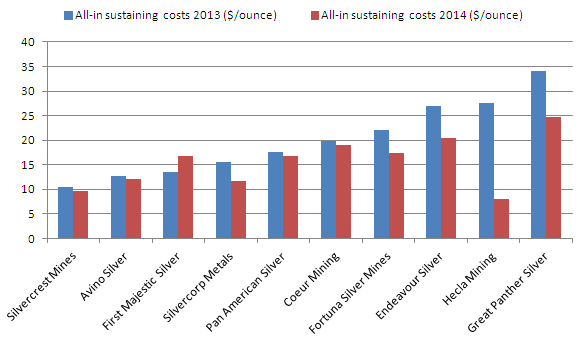 My first reaction from the results is that overall, the all-in sustaining costs have been going down from last year except for First Majestic Silver Corp. (NYSE:AG) due to the higher ramp up costs at Del Toro and San Martin.
It's surprising because, all-in costs have been rising during the mining boom around 2010, along with a rising silver price (see chart below from Coeur Mining). Overall AISC for silver mining was at $25/ounce in 2012, because the silver price was much higher then. Silver miners could make a profit at high AISC. If I look at the numbers today, these have been coming down significantly along with a declining silver price. Today, the AISC averages out at around $18/ounce on the chart above. We know that miners are going for the higher grade projects at this time and going into 2015, these high grade ore bodies will eventually deplete themselves. So what we are seeing here is a deleveraging of new projects in the mining industry. Silver supply from mining is estimated to rise till 2016, but at a slower pace. Gold supply on the other hand will come down next year and enter a period of secular decline. Although the AISC has come down, there are still some companies that have a higher AISC than today's silver price like Great Panther Silver (NYSEMKT:GPL).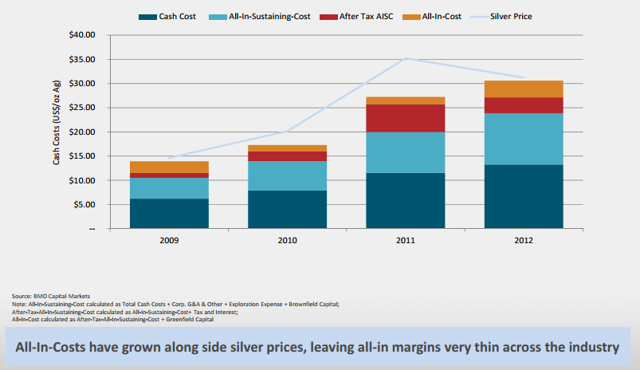 The next question is, which companies do you want to invest in? From the 2014 AISC chart, we see that many companies have an AISC in the $17/ounce range while others are in the $12/ounce range. It's obvious to any investor that you choose the most profitable mines at this stage. Among these are Avino Silver (NYSEMKT:ASM) and Silvercrest Mines (NYSEMKT:SVLC). If the silver price were to go even lower, these mines can withstand the pressure and their share price also outperformed most of the other silver miners. Avino Silver in particular is interesting as they have just started producing from their Avino mine. For the investor who thinks that the silver price will quickly reverse at the end of the year, it's better to choose the ones with a higher AISC to get the highest leverage. I would recommend Endeavour Silver here (NYSE:EXK) as they have a good track record of lowering costs. It's up to you but I wouldn't take that risk until something significant happens in the economy.
Disclosure: The author is long ASM, EXK.
The author wrote this article themselves, and it expresses their own opinions. The author is not receiving compensation for it (other than from Seeking Alpha). The author has no business relationship with any company whose stock is mentioned in this article.
Editor's Note: This article covers one or more stocks trading at less than $1 per share and/or with less than a $100 million market cap. Please be aware of the risks associated with these stocks.