For those unfamiliar with the company, you've probably been closer to Diebold's (NYSE:DBD) products than you realize, since DBD is a leader in the ATM machine business. But that's not all that they do. As noted on Morningstar.com:
Diebold builds, sells, and services ATMs and security products and systems. The majority of Diebold's revenue comes from the sale and service of ATMs, split about equally between the two. The firm also provides security solutions such as access control products, video surveillance, and communications systems. The company derives roughly half of its revenue from overseas.
Let's start with why I was considering selling it. DBD's stock has been a laggard for some time.
images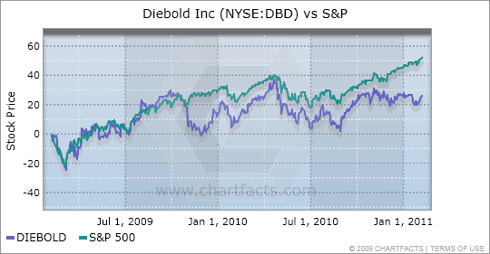 (Source: ChartFacts.com)
As the chart above shows, since the market's overall recovery that began in March '09, DBD initially stayed with the S&P, but from late '09 until today, it has lagged and failed on a couple of attempts to catch up with the broader market.
What's to blame? Revenues? Net income? Have a look at both:
From an earnings perspective (the chart immediately above), 2009 was certainly not a year to write home about! But the earnings pattern throughout 2010 has been on an upward path, and here's where my view on the company started to turn around. For a company deeply involved in the banking industry worldwide, this kind of earnings pattern may be more understandable since banks were on their knees through 2009 and only in 2010 started to get a set of legs underneath them.
Even with recent earnings announcements by several regional banks in which the low interest rate environment has pinched earnings, many banks, large and small, have been opening up retail branches and going after consumer deposits. If the US economy continues to show signs of improving, banks ought to be able to offset the crimp to earnings caused by the current higher levels of mortgage refinancings, as consumer (and possibly corporate) borrowing picks up. If banks do better, it's likely that Diebold could stand to benefit.
When you look more closely at the way in which DBD's stock behaves relative to a variety of economic indicators, you see that instead of what one might expect to be a high correlation to Consumer Confidence or Retail Sales, in fact the most relevant correlations are to the Purchasing Managers Index, the S&P 500 and Durable Goods. (Source: HiddenLevers.com)
Both the PMI and underlying orders for durable goods have been on the upswing of late (see Briefing.com for more information on each). Furthermore, if you look at the correlations of an ETF of regional bank stocks (NYSEARCA:XLF) with various indicators, you see that Consumer Confidence measures quite high…and again, confidence figures have been on the rise, auguring well for regional banks.
Some of the reasons that DBD has lagged might have to do with what Morningstar.com's analyst, John Ayling noted in a recent report:
Diebold, NCR, and Wincor Nixdorf collectively dominate the global market for ATM machines. ATM hardware has been increasingly commodified due to standardization of ATM functionality, and banks are generally ambivalent between the hardware of the three leading vendors.
It's clear that price competition for new machine sales is an issue. Ayling notes that one way in which the big players in this space try to differentiate themselves is through their service organizations. Diebold is especially strong on this front in the US, though even here, pricing power is limited by the plethora of local service providers eager to do business with local banks. So even if one has an optimistic view on all the relevant indicators that would lead to the conclusion that ATM sales will likely rise, there are headwinds in the form of limited pricing power.
Nonetheless, DBD is still worth a close look. Beyond their ATM business, they have a security systems and services business in which Morningstar.com' Ayling notes:
Diebold is working to become a major one-stop shop for security solutions that provide a number of different functions, including access control, video surveillance and communications systems.
Here too there's intense price competition from other security company heavy-weights, but the diversification to DBD's ATM business should be a net positive.
Another net positive is DBD's
handsome dividend (currently over 3%), which they've paid out for some time, despite the threatening market conditions of the past few years.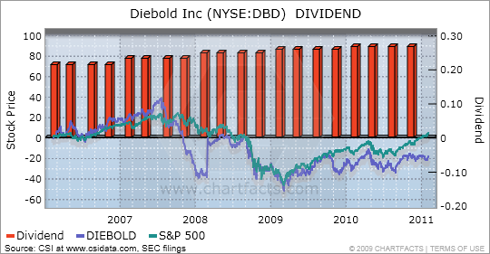 In sum, Diebold is a company that appears to be in growing businesses, they have a meaningful international presence, the dividend is attractive and the stock has lagged the broader market upside move. That said, the risks mentioned above should be weighed in the mix. And each investor has to opine and decide for themselves as to the relevance of anything written in this article to their unique financial situation, risk tolerances and portfolio goals. This article is neither a stock recommendation nor personal financial advice in any way. It is solely for thought-provoking purposes.
But putting Diebold under the microscope seems like a worthy endeavor. You might conclude that it will continue to lag. Alternatively, you might compare it to its own main product line, ATM machines, and conclude that some cash could come out of this stock!
(Please note: This article is solely meant to be thought provoking and is not in any way meant to be personal investment advice. Each investor is obligated to opine and decide for themselves the appropriateness of anything said in this article to their unique financial profile, risk tolerances and portfolio goals).
Disclaimer: Please read and consider important information related to all communication made by Soos Global on this site by clicking here.
Disclosure: I am long DBD
.