On Tuesday, Disney (NYSE:DIS) reported fiscal year 1st quarter earnings of $0.68 while the analysts had only banked on $0.56 (see earnings call transcript here and earnings report here). That's pretty significant and led to a quick rise in stock price.
Now, I know what you must be thinking: how could Disney possibly be doing so well now that Lost has been off the air for 9 months? Personally, I'm befuddled as well, and that is why I've decided to look into this. Disney's investor conference is next week, so their conference call was not too revealing, but it did tell us enough to explain the reasoning behind this success. I will start first with some commentary on their call and what makes Disney such a strong company, and then go into the stock itself with some technical analysis as well.
Let's start with television. Disney reported that their profits in the media division were up 47% and a lot of this is due to ad revenue from ESPN. The worldwide leader in sports benefited from Monday Night Football revenue and from the BCS Title game becoming the "most watched telecast in cable television history." A funny quip on this that I will go into further detail later: I was at a Disney park about a month ago while there was a collegiate cheerleading competition going on and the Oregon team donned T-shirts reading "12-0," apparently not having heard the bad news. The conference call did not discuss ABC; again, I'd assume they're still just searching for the next Lost, which unlike Jack and company, will never be found.
As I was saying, I recently vacationed at a Disney resort, Port Orleans Riverside, to be specific. You would never think that there was a recession based on the number of people there and at the parks, despite frigid temperatures. This is not news, but the Disney parks are different than that of the average amusement park. They make the clear distinction between theme park and amusement park, in that just the ambiance of the park is worth the price of admission. They offer extremely innovative rides and have been doing so for 60 years. Their newest big attraction, Expedition Everest at the Animal Kingdom, is a roller coaster that features a track that changes direction twice to give the feel of evading the Yeti.
Even the queue is interesting, offering a historical perspective on mountain climbing in a base-camp-like 'museum.' This is much better than standing around with nothing to look at for a 30 second roller coaster. Execs reported double digit growth in operating income based on ever-rising margins. This means prices are going up. Yes, it is incredibly expensive to go to any Disney park, and even more expensive to eat while you're there. But people will continue to do so because it is a staple of the American culture, a throwback to yesteryear.
Disney resorts are also profiting from their cruise ships. They have recently introduced The Disney Dream. I watched a special on it on the Travel Channel and the thing is ridiculous. Like any cruise ship, the main atrium is immaculate but the smaller details are what sets it apart, like interactive LCD screens to mimic windows in rooms without and interactive portraits in the halls. It is obviously more of a children themed ship, but promises entertainment for both them and their parents.
Movies also helped boost Disney profits. They announced that Tangled had grossed $500 million at the box office while at the same time adding a new princess to their franchising campaign. They seek franchising opportunities whenever possible. Case in point, Toy Story 3, which has become the highest grossing animated film of all time. It also creates a lot of themed toys that were bought up for the holiday season. Disney's acquisition of Marvel also helped in this regard. On Christmas day my 6-year-old cousin was running around with an Iron Man helmet on and I'm guessing that this is common among boys that age.
The call did offer some guidance, albeit limited, on their earnings for next quarter. Year over year should be lower because last year Q2 included Alice in Wonderland, and there are no blockbusters coming out this quarter. Additionally, Easter will fall in Q3, which affects the parks' numbers. However, long term looks promising, with the exception of the possible stoppages of the NFL and NBA which would kill media revenue. The newest Pirates of the Caribbean movie is coming out in the third quarter, followed by Cars 2 by Pixar, and the one I am personally anxious for, Jason Segal's Muppets next Thanksgiving.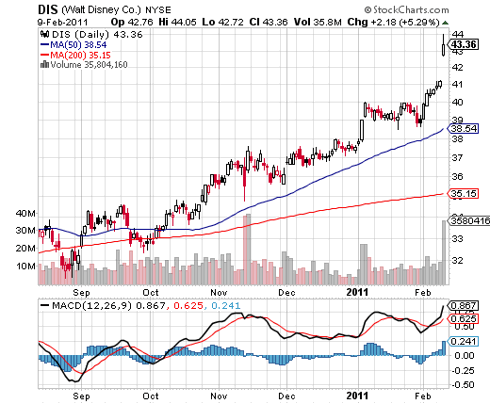 Disney the stock has killed it the past few days, and has been rising since October, from $33 to $43 to be exact. Looking at the six month chart above you can see a staircase pattern, in that if you drew horizontal lines at $35 and $38, the price jumps over it, bounces a bit, and then jumps over the next one. It will be interesting to see if this will happen at the $40 mark. Personally, I would think that over the next quarter the stock will hover around this area and drop a bit at the next earnings announcement, but not dropping below the $40 mark. Then look for it to take the next stair in the second half of their fiscal year.
The stock has good long term prospects. The company has repurchased 28 million shares this fiscal year. This builds shareholder value, while at the same time showing faith in the company. Their P/E is 19 (earnings of $2.28) and if you were to hold that constant while taking their estimated 1-year EPS, you'd get a price around $46. Their dividend is only 1%, but innovative companies need cash flows put back into their system to continue to develop new revenue streams.
So if you were to be able to pick it up at $41, there would be a 13% upside on the year. Combine that with increasing revenue as the economy recovers and people beginning to find jobs, and you'd have a pretty solid pick for the long term. With that being said, it will be interesting to see if any huge announcements are made at their investor's conference, which if negative, could present a buying opportunity.
Disclosure: I am long DIS.