Cisco (NASDAQ:CSCO) is a technology leader that has been constantly beaten down as of late immediately following earnings (see conference call transcript here). In August I thought the company was undervalued and I still believe that is the case. They are a world leader in enterprise routing and switching. They have recently made deals to begin a transition towards more of a cloud presence, structurally speaking, and as bandwidth needs constantly increase, the needs for Cisco's products will increase as well.
So, why so blue? For a stock with strong cash flows and a bulletproof brand, it seems like a lot of negativity is swirling around this stock.
Earnings: Cisco released earnings yesterday and again were hammered after-hours on squeezed margins and negative outlook. Fiscal Q2 net sales were $10.4 billion, an increase of 6% year over year. GAAP and non-GAAP net income were $1.5 billion and $2.1 billion respectively, which represented a year over year decrease of almost 18%. Their gross margins were squeezed from 64.5% to 60.2% year on year, with a decrease from 62.8% to 60.2% from the previous quarter. Their OPEX also increased from 40% to 44% year over year. The earnings per share were $0.27, which represented a sixteen percent year over year decrease. Non-GAAP earnings only decreased 8%.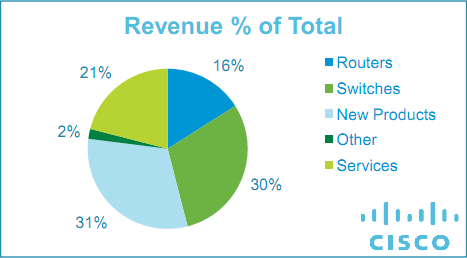 Revenue growth in New Products category was up 15% year over year, Data Center was up 59%, Collaboration was up 37% and Wireless was up 34%. However, operating margin decreased from 24.1% in Q2 2010 to 16.2% in Q2 2011, feeding fuel to the fire that Cisco is under continued margin strain.
Frank Calderoni, CFO of Cisco, said:
With total cash generation of $2.6 billion for the quarter, and revenues of $10.4 billion, our financial strength and cash position is clearly a major competitive advantage for us. We are focused on strong execution and moving the business forward to deliver results for our customers, our shareholders, and our employees.
Unfortunately, what they do with that cash has generally been subject to criticism, and finding justifications to shareholders for how new acquisitions fit into their strategic framework will be increasingly difficult for Cisco. As they transition, they must be careful to retain their focus on products in which they excel. They already are increasingly likely to run into heavy hitters like HP (switching) in some of their lines, but CEO John Chambers seemed confident in the transition of their business, stating:
The quarter played out as we expected. Our strategy of tightly integrating our multiple products through an architectural approach is working, and we are delivering innovation in each major product family. As a company, we are going through a period of transition as we move aggressively in the market with our architectural strategy. We have managed these market transitions many times, positioning Cisco and our customers for success. Simply put, we are owning our evolution and the next generation of industry leadership.
So, is Cisco owning their evolution? I am not so sure. Their highest growth sector at 37%, Emerging Markets, also lost more in margin than any other geographic region. Some analysts are worried about days sales outstanding increasing to 40, up from 38 in Q1, but I am not. I am calling the market's bluff on this one, and saying that they are overreacting to some honest news from a solid cash cow. For example, there really doesn't seem to be evidence to support the sharp contrast in returns over the past six months between Cisco and Juniper (NYSE:JNPR).
Stock Divergence: Juniper is the main competitor to Cisco, in addition to the Chinese government subsidized Huawei. In the short term, Juniper is the biggest threat to Cisco's dominance. Historically, the two stocks have moved together, but since those infamous words by Chambers in late 2010, they have diverged (click to enlarge image):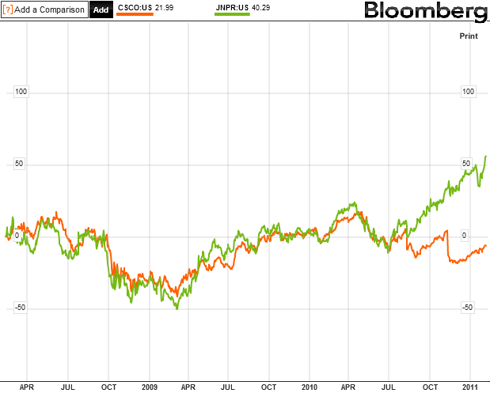 Source: Bloomberg
So, in my estimation either Juniper has been having too good of a run or Cisco hasn't been getting enough respect. In other words, either Juniper is overpriced or Cisco is dirt cheap.
So which is it? I'd bet on Cisco being cheap and Juniper being a bit pricey, although the catalyst for both of these stocks to return to the norm is more difficult to determine. Most of the time, Cisco's earnings are simply a good time for shorts to take their shots; their earnings calls would have to be absolutely phenomenal to warrant any actual celebration or upward stock movement. Let's take a look at the actual competitive framework.
Competitve Analysis: Cisco has always been set as a one stop shop for their services and products. This is an advantage that the niche operators like F5 (NASDAQ:FFIV) and Riverbed (NASDAQ:RVBD) cannot compete with. However, those niche operators can and will erode market share when a customer does not need a holistic solution. Huawei Technologies, which can basically borrow for free from the Chinese government, has won sizeable contracts abroad and has restrained some of Cisco's international growth. Juniper is more of a high performance networking play, with less of a focus on government and state contracts.
So, where is Cisco focused?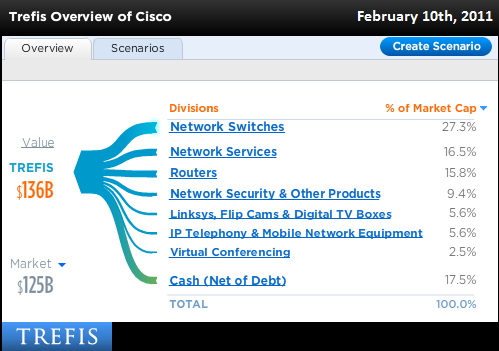 The graph above shows you the reliance of Cisco on various product segments. HP is getting into switches, which will press margins for Cisco. In addition, international competition is squeezing a potentially high margin segment. So, if you are worried about Cisco decreasing margins, you are right. However, they are making moves to be better situated for cloud frameworks, and they will always have the advantage of solutions that work very well together. If you factor in that they seem vastly undervalued for the traditionally overpriced tech sector, and we might have a value play.
Value: Cisco is trading at a historically low PE for the calendar year of 12x versus an average nearer 17x. Cisco has been using their hoard of cash to buy back almost $1.8 billion of their own shares this quarter, at an average price of $20.15. Their shares have also been brought back near the $20 level after-hours, where I believe they are an incredible fundamental play.
Management forecasts growth at 5-6% for Q3 and 8-11% for Q4. Given these assumptions, and assuming a broader recovery in growth after their product transition completes, I assign a price floor of $24 and a ceiling of $31. This gives a lower end premium of almost 20% on the current stock price.
I say this with a caveat; I am not sure when/if the market will change their opinion of Cisco. It seems like there needs to be an emotional trigger for such a one-eighty, since Chambers' statements in November provided the initial push downward. Regardless, I believe the value is there.
Conclusions: I still think that Cisco is a good play for the longer term value investor. As I mentioned above, I am not sure when the market will decide that Cisco is back in their good graces, but a contrarian move now can pay dividends later.
Speaking of which… I feel like there might be tremors for Cisco to start distributing some of that massive cash flow in the form of a dividend. In many ways, it would be a better use of cash than poorly executed acquisitions, but it may be a sign of weakness in their growth opportunities. I wouldn't be surprised if there was an announcement of some kind on the horizon. That might be just what this stock needs to return to a more reasonable value; be sure you don't miss the boat.

Disclosure: I have no positions in any stocks mentioned, and no plans to initiate any positions within the next 72 hours.