It is about time Halliburton (NYSE:HAL) got some love. Over the past few years, I thought this company deserved a higher valuation. As a $41 billion company, Halliburton has proved it is one of the best at what they do, but still it trades at a discount to peers. Even so, certain aspects of the oil services sector will show why there has been a bull run since June of 2010.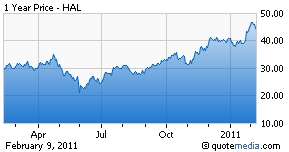 Halliburton provides services and products to companies in the energy industry. Unconventional drilling has been a boon for this sector. There is currently an expansion in shale drilling in the United States. The United States' rig count has been on a healthy upswing since the third quarter of 2009. As the number of rigs increase, there is an equal percentage increase in horizontal drilling.
From the third quarter of 2008 to the third quarter of 2010, horizontal drilling increased from 31% of total rigs to 51%. Oil and liquids rich drilling also increased from 53% to 59%. Areas like the Eagle Ford shale are creating more opportunities. This area has seen a large increase in rigs and money, providing faster development. This situation won't be changing anytime soon. Rig numbers are estimated to increase over 400% from the beginning of 2010 to the end of this year. Land acquisitions are increasing too, as over the same time frame, this has increased from $.2 billion to $4.3 billion in the third quarter of last year.
Halliburton will be busy for some time in new shale plays for two reasons. The increased number of wells and the difficulty of drilling those wells. Many oil and gas exploration and production companies do not have the know how or ability to succeed in difficult horizontal wells. In this case, they will call companies like Halliburton, Schlumberger (NYSE:SLB), Baker Hughes (BHI), or Weatherford (NYSE:WFT) to come out and manage everything from drilling and evaluation to completion and production.
The best way to analyze the transformation of new drills is to break down and separate drills into 2008 versus 2010. The information contained shows the differences over two years between four major shales. The first is hydraulic horsepower, which is generated by the pump trucks on location. The second piece of information is lateral length (feet). The third is how many drilling stages are performed. The last is the overall AFE cost (total well cost).
2008 Marcellus avg. HHP 6K, 3K ft. lateral, 7 stages, avg. AFE $3.4 M
2010 Marcellus avg. HHP 30K, 5K ft. lateral, 15 stages, avg. AFE $5.2 M
The Marcellus shale shows a large increase in hydraulic horsepower (500%). It also shows the laterals are now 2000 feet longer. Drillers are now doing more than double the stages in this area. Most importantly, each well costs $1.8 million more, and this means more money for companies like Halliburton.
2008 Bakken avg. HHP 12K, 6500 ft. lateral, 5 stages, avg. AFE $3.9 M
2010 Bakken avg. HHP 14K, 8500 ft. lateral, 17 stages, avg. AFE $6 M
In the Bakken the hydraulic horsepower was increased only slightly, but the laterals are 2000 feet longer. Stages increased over 300%. Well AFE increased $2.1 million.
2008 Eagle Ford avg. HHP 18K, Vertical, 3 stages, avg. AFE $5 M
2010 Eagle Ford avg. HHP 36K, 6K ft. lateral, 14 stages, avg. AFE $8.2 M
At the Eagle Ford, the hydraulic horsepower doubled. These numbers are somewhat skewed as the 2008 numbers were of a vertical well, as in 2010, and average of horizontal wells. AFE increased by $3.2 million.
2008 Permian avg. HHP 12K, 3500 ft. lateral, 8 stages, avg. AFE $3.5 M
2010 Permian avg. HHP 30K, 4500 ft. lateral, 12 stages, avg. AFE $5.5 M
In the Permian there was an increase of hydraulic horsepower by 18 thousand. The laterals were 1,000 feet longer. Stages increased and AFE increased by $2 million.
This subsection shows very important information with respect to Halliburton's business. The hydraulic horsepower increases with respect to horizontal drilling, and is a new and improved drilling method. Haliburton now uses twenty pump trucks, as opposed to the nine it used in 2008.
In 2010, well costs have increased significantly, and although this will help to attain more oil, it creates costs. When looking at well price increases in just two years, it looks as though Halliburton, Schlumberger, and others will continue to make more money with each well. Horizontal wells in shales all over the United States are now using more hydraulic horsepower, longer laterals, increased stages and this all translates to higher costs. These costs have translated to more money for the producer, so the trend will probably continue. The shortage of crews looks to also give pricing power to this group.
Halliburton sells itself by being a one stop shop. By offering all the services needed, it is easier for the customer. Halliburton is working to streamline its company. These changes have created a reduction of cap ex by 20%. They have also decreased personnel on location by 35%. Lastly, and most importantly, they have reduced well completion time by 25%.
Halliburton has also changed the way it drills unconventionals. In 2008, it used nine pump trucks. By 2010, 20 pump trucks were used. Hydraulic horsepower was increased. The biggest change is with respect to fracking. Right now, there is a large group of environmentalists unhappy with fracking, as they believe it is polluting the environment. There is talk of possible ground water pollution. It seems these concerns are unwarranted. Halliburton has gone to great lengths to make sure they leave as small a footprint as possible in all aspects of drilling. They have spent considerable time and money to develop their CleanSuite of products.
Halliburton's CleanWave water treatment system reduces the amount of fresh water needed to complete the fracturing process. This system offers an easy and mobile way of reusing the water. The CleanStream service is used to replace the current biocides used to kill bacteria in the well that can impede flow through corrosion. Last, and most important, is the CleanStim formulation. This is a hydraulic fracturing system composed solely of ingredients from the food industry. It is environmentally friendly while still creating an environment that is good for fracturing. This suite of products is just one way Halliburton is trying protect the environment.
Halliburton is also doing unconventional drilling internationally. They believe this is a $15 billion dollar opportunity. This includes the Middle East, with a time horizon of 1 to 2 years. In Asia, there are shale opportunities in China and India. Coal bed methane in Indonesia and Australia are other areas of interest for Halliburton. Latin America has opportunities in Mexico, Columbia and Argentina. Recently there was the first shale frac in Poland. There are shale opportunities all over the world. Some countries like Poland have much higher natural gas prices. Since Halliburton has almost perfected many of the techniques, they can be carried to other countries, where further profit can be made.
As a company, Halliburton has been doing quite well. Through quarter three of 2010, it had a year to date revenue growth of 17%. Third quarter operating margins were 19%. Return on capital employed was 13%. In 2010 through the third quarter, Halliburton had superior revenue growth in North America and internationally, when compared to its peer group (SLB and BHI). It's also seen better operating income. Total operating margins for Halliburton were 19%, while Schlumberger and Baker Hughes were at 17%. For the last four years, Halliburton has beaten its peer average with respect to return on capital employed. The most recent number is 2010 through the third quarter, where HAL was 13% and the peer group 8%. The peers are Schlumberger, Baker Hughes, and Weatherford. Revenue per rig is also increasing at a rapid rate.
In summary, this sector looks very good going forward. The United States shale drilling increases should help Halliburton's balance sheet. The current shortage of fracking crews continues. Halliburton is placed well, as demand continues to increase along with pricing. It should also be noted that Halliburton currently trades at a discount to its peers, and this discount makes it much more attractive.
Since oil is probably going to continue to go up, and the United States will continue with a large scale horizontal drilling program, so will Halliburton's backlog. Also, their environmentally focused strategy will pay off as the possibility of environmental mandates increase.
Disclosure: I have no positions in any stocks mentioned, but may initiate a long position in HAL, SLB over the next 72 hours.