I've written a number of articles lately about how cheap insurers and reinsurers are right now. I've even picked up a few new insurance stocks over the last few days, HCC Holdings (NYSE:HCC-OLD) and XL Capital (NYSE:XL). One that I've owned for quite some time, though, is Greenlight Reinsurance (NASDAQ:GLRE). One of the reasons why insurers are out of favor right now is the threat of future inflation. Greenlight Re is one of the only insurers that can protect you from both inflation and deflation.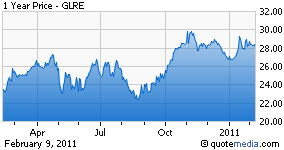 Let me explain further. Inflation is harmful to any business that takes in money ahead of time and has to pay it out in claims at a later date when prices are higher. It's a double whammy when the float, which is the premiums collected ahead of time, is invested in low yielding assets, often municipal and other government bonds. So insurers are hurt by the higher payout and they're hurt by the lower than expected investment returns relative to prices. Greenlight Re is different than normal insurers or reinsurers. Their float is invested in David Einhorn's hedge fund, Greenlight Capital, which has a large holding in gold and other inflation protected instruments. Einhorn also is famous as a short seller, which will help if rising interest rates hurt equities. I fully expect inflation to come, but how bad, I'm not sure. What if I'm wrong? In the unlikely event that Ben Bernanke's views and actions are correct, and if deflation occurs in the future, an investment in Greenlight Re will both benefit from Einhorn's excellent stock picking skills and the inherently positive insurance proposition of now paying out claims at a lower price than previously expected. Again, we get the investment gains and larger underwriting profits.
For those not familiar with David Einhorn and his hedge fund, let me go into a little more detail and then move on to the specifics of Greenlight Re. Many readers have heard this story before, but it never gets old. Einhorn started his hedge fund in 1996 at the age of 28 with only $1 million, half of which was from his parents. Today, he has $7 billion under management. He's returned 21.5% annually after fees and expenses since inception. He's most famous for his short positions in Lehman Brothers, Allied Capital (about which he wrote a tremendous book), Moody's (NYSE:MCO), and currently, St. Joes (NYSE:JOE). To protect against inflation, he's stockpiled a large amount of physical gold in a vault in Manhattan. Additionally, should prices rise, many of Einhorn's current positions, such as Ensco (NYSE:ESV) and ethanol maker BioFuels (NASDAQ:BIOF), should rise faster than inflation. In my opinion, Einhorn is one of the top three hedge fund managers.
Greenlight Re was established by Einhorn in 2004 and is domiciled in the Cayman Islands. They operate as a specialty property and casualty reinsurer. They're rated by A.M. Best as an "A-" which is considered excellent. David Einhorn is the chairman, and Len Goldberg is the CEO. Goldberg is an experienced chief and previously was CEO of reinsurer Alea North America Insurance Company and Alea North America Specialty Insurance Company. Greenlight Re is what's considered a broker market company, meaning brokers come to them with opportunities.
Greenlight Re should be releasing earnings in the next two weeks, so I'll quote the latest figures here from Q3. Book value stands at $19.87, putting P/B at 1.4. For some background on the historical P/B ratios, please take a look at an article I recently wrote: Four Cheap Reinsurers to Research: Historically Low Price to Book. On the negative side, their combined ratio for the first nine months of 2010 was 101.4%. That means they lost money on their underwriting. However, the ratio would have been 95.1% if not for additional reserving for a motor liability contract in runoff.
On the investment side, the company gained 4.2% in the first nine months. For Q4 alone, Einhorn's hedge fund returned between 7.2% and 8.4%, so full year investments for Greenlight Re should be very good. Please note that when I refer to his hedge funds, he actually has three partnerships, but holdings are similar. For the first nine months, they reported diluted EPS of $0.92. Barring the unexpected, which is entirely possible in the reinsurance field, Q4 earnings should be very good because of the investment gains.
The stock appears fairly priced now, but book value is continuing to grow, and we can always rely on Einhorn's superior investing skills. If we get inflation in the future, Greenlight Re should benefit against its peers, and in general, because of Einhorn. If deflation is here, the entire insurance industry should demand much higher multiples than they're currently getting.