Over the last few months, I have introduced such concepts as Statistical Indicator Analysis (SIA), Price to Owners Earnings (P/OE) and Cumulative Owners Earnings (COEP). Today I would like to introduce my Mycroft Indicator (MI), which is a new and original way to analyze stocks. What MI does is take the lowest "Price to Owners Earnings" achieved by a company during its lifetime and then compare it to its present P/OE. If the current P/OE is lower than the previous record low, then there is a high probability that we are getting in at a bargain price. The following table shows you the MI in action using Walgreen (WAG) as our example: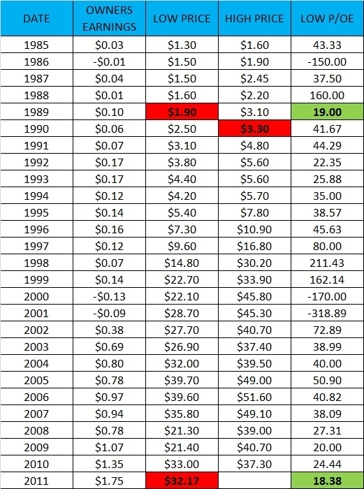 You can see from the table above that the lowest P/OE achieved was in 1989, when the stock was trading at 19 times its P/OE. When it hit 19 in that year the stock proceeded to go from $1.90 a share to $3.30 a share in just one year. Walgreen did not ever break below that number again until May 28, 2010 when it hit $32.17 (Using 2011 Estimates). On that day I initiated a buy on the stock to only watch it go to $26.26, which did not make me or my research look very good to my clients. But then WAG started climbing and yesterday closed at $42.66, which gave my clients a 32.60% gain in a little over 9 months. This is a very time consuming analysis as one must get the low and high prices for each year as well as the Owners Earnings numbers for each year (Owners Earnings = Cash Flow – Capital Expenditures). I am currently creating a database to house all those I have analyzed and from time to time will release them.
The reason I developed MI is because there are some wonderful companies out there that have never dropped to a P/OE of 15 because they are so well managed and investors pay a premium for them. So MI thus becomes a useful tool for the growth investor, which can be used to buy growth through value. COE + P/OE + SIA is for the value investor and MI + SIA is for the growth investor.
Here is the SIA chart for Walgreen: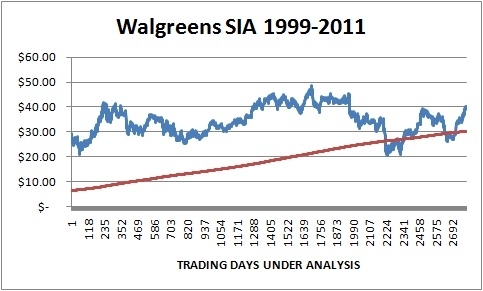 For those new to SIA here is an introduction to it:
The mistake I made is that I only bought using MI back in May, but as you can see had I waited for confirmation from SIA as well I would have gotten in at $29.15 in June when WAG hit its SIA.
Disclosure: I am long WAG.
Disclaimer: Always remember that these are the results of our research based on the methodology that I have outlined above and in other articles previously published. This research is provided as an educational tool and should not be considered investment advice, but just the results of our research. There are many ways to analyze a stock and you should never blindly follow anyone's work without doing your own due diligence or by seeking the help of an investment advisor, if you so need one. As Registered Investment Advisors, we see it as our responsibility to advise the following: We take our research seriously, we do our best to get it right, and we "eat our own cooking," but we could be wrong. Please note, investments involve risk and unless otherwise stated, are not guaranteed. Past performance cannot be used as an indicator to determine future results. Strategies mentioned may not be suitable for everyone. We do not know your personal financial situation, so the information contained in this communiqué represents the opinions of Peter "Mycroft" Psaras, and should not be construed as personalized investment advice. Information expressed does not take into account your specific situation or objectives, and is not intended as recommendations appropriate for you. Before acting on any information mentioned, it is recommended to seek advice from a qualified tax or investment adviser to determine whether it is suitable for your specific situation.