Savvis (NASDAQ:SVVS) reported Q4 2010 results on Tuesday (see company's press release and Seeking Alpha conference call transcripts).
Let's go through some of the highlights:
Revenue was $252.7 million, compared to $219.8 million in the fourth quarter of 2009, a 15% increase on the previous year's result
Adjusted EBITDA came at $67.8 million, compared to $54.9 million in the fourth quarter of 2009, for a 24% growth rate
For the full year, revenue was $933.0 million, up 7 percent when compared to full year 2009 revenue of $874.4 million
Adjusted EBITDA for the whole 2010 was $236.2 million, up 7% over the $220.0 million reported in 2009. The company also increased by ~15 bps its adjusted EBITDA margin, compared to 2009.
Savvis reported income from continuing operations of $24.5 million in 2010, compared to full year 2009 income from continuing operations of $40.1 million.
The company's net loss for 2010 was ($54.0) million, or ($0.98) per share, including approximately $11.8 million in costs related to the company's debt refinancing. For full year 2009, Savvis had a net loss of ($20.8) million, or ($0.39) per share.
Here is a quick look at some of the most important metrics for the company (click to enlarge images):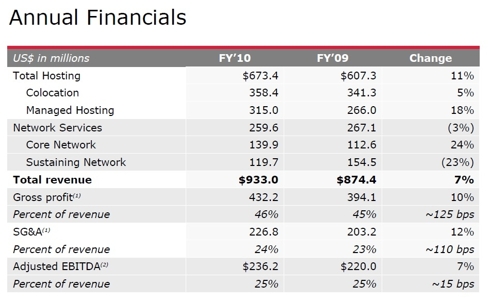 Q4 results were better than analysts' expectations on several metrics. Rob Powell commented in his article on Telecom Ramblings (Savvis Puts Together A Strong Quarter):

They picked a good time for it, with the extra attention they have been getting lately — whether they are interested in M&A or not. Those managed services that are drawing interest, both legacy and cloud, led the way with 10% sequential revenue growth and 32% over the same quarter last year.
In the wake of Verizon's (NYSE:VZ) $1.4 billion deal to acquire cloud hosting specialist Terremark (NASDAQ:TMRK), investors definitely turned their attention to other potential cloud computing acquisition targets like Savvis.
We've already commented, in a few of our recent articles, about this "cloud computing hype" that still doesn't translate into real revenue streams.
Terremark recently reported an annual run rate of $ 37,5 million for its cloud computing services, and Savvis reported revenues of $ 15.2 million for 2010 (up 106% over 2009 revenue of $7.4 million).
Here is a quote from the analysts Q&A session at the recent conference call:
Mark Kelleher - Dougherty & Company LLC

And how about cloud? What was the cloud revenue in the quarter?

William Fathers

So the run rate was $5 million for the fourth quarter.
Back to the buy out speculations. In an interview with WSJ, Savvis CEO, Jim Ousley, confirmed that his company is generating more and more interest from bankers as takeover speculations ramp up in the sector, but also commented:
We have strategic discussions with people all the time. Sure there are more people calling us now, but we don't have to do anything.

Three years from now, Savvis will have to be a lot bigger.

You can't be a player against Amazon or Terremark or Verizon in this sector that's growing dramatically and not be a $3 billion to $5 billion company.
It is interesting to note that Savvis expects to slightly increase its CapEx for 2011, following a trend that had seen a decrease from 2007 to 2009:

Most of expansion CapEx will be used to expand the data center footprint, as resumed in an article by Data Center Knowledge.
Analysts, on average, received these numbers with positive comments.
Oppenheimer raised its target price on the company to $37:
Savvis' fourth-quarter results were strong across the board, mostly driven by continued growth of managed hosting. Commentary on demand trends was upbeat, with continued improvement in bookings, installs, and renewals. Management reaffirmed previously provided 2011 guidance, which suggests strong 20% growth of adjusted EBITDA. The company consistently demonstrates strong operating leverage, with ample room to continue expanding, suggesting continued EBITDA growth at these rates.
Benchmark, on the other hand, maintained its buy rating with a $ 40 target price:
Yesterday morning, Savvis reported strong 4Q results that were better than expectations. Growth in the strategic managed and cloud hosting segment was solid. In total, organic revenue was up about 10% y/y, an improvement from a modest decline a year ago. The company did not adjust its 2011 outlook. Savvis

trades at 9x 2011E EBITDA, two multiple points below the sector average. We maintain a $40 per share target and Buy rating.
Disclosure: I have no positions in any stocks mentioned, and no plans to initiate any positions within the next 72 hours.