By David Russell
JDS Uniphase (JDSU) has been on a one-way rampage to the upside, and traders continue to look for more gains.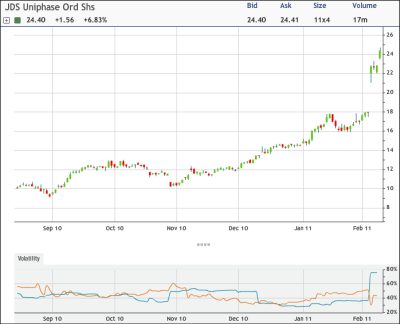 optionMONSTER's Heat Seeker tracking system detected the purchase of 2,750 March 26 calls for $0.68 and the sale of 1,750 March 22.50 calls for $2.16. Volume was below open interest in the March 22.50s, indicating that a long position was rolled from one strike to the other. The trade let the investor collect $191,000 of premium and increased the number of contracts owned, providing more leverage to gains in the stock price.

JDSU is up 6.83 percent to $24.40 in afternoon trading and has more than doubled in the last six months as investors priced in stronger demand for its communications gear. It gapped higher last week after earnings beat analyst estimates and management issued a strong fiscal third-quarter outlook. The stock hasn't traded this high since June 2006.

There's also been heavy trading today in the March 25 calls and the February 25 calls. Overall option volume in JDSU is triple the daily average, with calls outnumbering puts by a bullish 4-to-1 ratio.