Energy remains under pressure today, but if one looks at valuations within the current market it certainly looks as though energy companies are cheap compared to other areas right now. Sure we could see continued erosion in energy prices which would make the sector look more expensive, but looking at everything as it stands now indicates that there are some very attractively priced names out there.
Chart of the Day:
The SPDR Energy Sector ETF (NYSEARCA:XLE) is trading in the middle of its 52-week trading range as investors have not only sold energy exposure but also started to short it. The first half of this year saw gains of around 25% for energy while everyone cheered. With the heavy selling and many bears entering the trade, investors are forced to ask themselves whether they think that the $90 support will hold or not.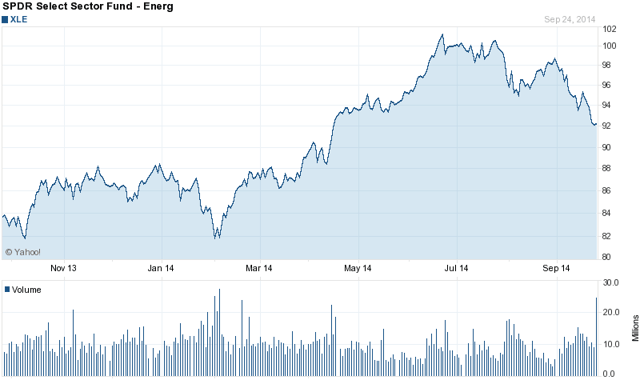 Source: Yahoo Finance
Commodity prices are as follows (at time of submission):
Gold: $1,220.60/ounce, down by $1.40/ounce
Silver: $17.65/ounce, down by $0.129/ounce
Oil: $91.40/barrel, down by $0.16/barrel
RBOB Gas: $2.618/gallon, down by $0.0107/gallon
Natural Gas: $3.812/MMbtu, down by $0.004/MMbtu
Copper: $3.0395/pound, up by $0.0045/pound
Platinum: $1,323.00/ounce, down by $9.70/ounce
No Refunds For BP
U.S. District Judge Carl Barbier is quickly becoming a major thorn in the side of BP (NYSE:BP) as his rulings continue to impact the company's bottom line. His latest ruling against the company centers around the payouts made to those who claimed they were impacted by the oil spill in the Gulf of Mexico, but whose payouts were much larger than they should have been due to an error in the formula used to compute the total damages owed based on events. While the judge did rule that the formula was incorrect, he ruled that the company cannot seek to get refunds from those who benefited from the inflated payouts.
Saudi Arabia In Trouble?
Just as reports surface that Iran's economy is actually improving now that certain crippling economic sanctions have been lifted, there are reports that Saudi Arabia could post its first deficit in years. The problem is twofold, rising expenditures with falling oil prices. While some may question why this is important, it is important to remember just how important Saudi Arabia is to the Middle East.
First, the kingdom's expenditures have risen this year due to aid pledges to other Middle Eastern countries and the continued buildout of infrastructure to attract foreigners to the region. Yes, Saudi Arabia does benefit the most from infrastructure building, but it does have the added benefit of bringing commerce, industry and tourism to the region.
More importantly, investors should focus on the impact this could have on the oil market. These reports have started circulating because oil is now very near the $89/barrel price that Saudi Arabia requires to balance its budget for the year. That is the WTI Crude price, which does open this up for argument based on where the country's exports are sold but for the argument being made by industry observers that is less important than what happens within OPEC.
Saudi Arabia has been very willing in the past to lower production in order to stabilize falling oil prices. It was one of the few members who stuck to the quotas and was willing to do whatever it took to protect OPEC's pricing power. With the possibility of the kingdom entering the land of spending deficits each year, one has to wonder how willing Saudi Arabia will be to cut production moving forward should OPEC cut quotas and even more importantly whether the country actually will abide by their quotas.
Disclosure: The author has no positions in any stocks mentioned, and no plans to initiate any positions within the next 72 hours.
The author wrote this article themselves, and it expresses their own opinions. The author is not receiving compensation for it (other than from Seeking Alpha). The author has no business relationship with any company whose stock is mentioned in this article.