At around 1:45 pm EST today (Thursday) Apple (NASDAQ:AAPL) experienced a mini-flash crash where the stock briefly went into complete free-fall before immediately recovering half of its losses. From high to low, the stock lost $10 in 20 minutes and saw big gap downs from $352.50 to $348.00 ($4.50) over a 1-2 minute period of time.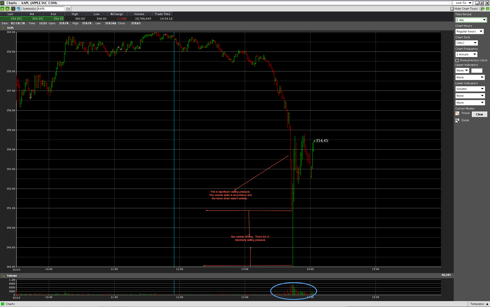 I watched the May flash crash live and can attest that this sell-off was extraordinarily similar in nature to the May sell-off. My initial reaction to this disorderly sell-off was that Steve Jobs must have gotten hit by a bus without a stock halt. Later it was discovered that the selling pressure was attributed to reports of thin crowds in Verizon (NYSE:VZ) stores during the iPhone launch.

Yet, whatever the reason for sell-off I can attest that the sell-pressure was entirely disorderly. It seems that we still have issues with specialists being unable to keep things afloat ahead of huge orders in the market. The volume spike was enormous as millions upon millions of shares were sold in the scope of 15 minutes.

Interestingly enough, the S&P 500 (NYSEARCA:SPY) barely even took notice to the Apple sell-off, which I find to be very peculiar given how widely owned Apple is and how much of weighting it has on the SPY. While the Nasdaq-100 (QQQQ) saw some selling pressure on the Apple flash crash, the selling was actually very muted given Apple's relatively high weighting. This market is getting more and more fragmented by the day. Six months ago, Cisco (NASDAQ:CSCO) being down 13.6% would have lead to massive selling pressure in the markets. Yet, today poor Intel (NASDAQ:INTC) results, poor Cisco (CSCO) results, and poor Amazon (NASDAQ:AMZN) results have absolutely no impact on the Nasdaq.

This is either testament to the strength of the market rally or evidence that the equity markets are no longer functioning normally. Yet, flash crash aside, any weakness in Apple for any reason is an extraordinary buying opportunity. That's for sure.

Disclosure: I have no positions in any stocks mentioned, and no plans to initiate any positions within the next 72 hours.