Northrop Grumman (NYSE:NOC) is one of the biggest US military contractors with leading capabilities in C4ISR, unmanned systems, cyber solutions and other areas. In 1939 Northrop Aircraft Incorporated is founded in Hawthorne, California. After a merger with Grumman Corporation and various acquisitions, NOC specializes in four different segments: aerospace systems, electronic systems, information systems and technical services.
This article provides a breakdown of the company and shows how the company has changed in the last decade. More importantly, this article discusses the sensitivity to US defense budgets cuts and concludes that in the past five years, earnings per share are not in any way correlated to global or US military budgets. This presents an investor with the opportunity to invest in a well-run company that provides services and products that are used now and in the future, during peacetime or in war situations.
A breakdown of the company
As mentioned above, NOC operates in four segments. Aerospace systems consists of manned military aircraft programs like the F-35, unmanned systems like the Global Hawk program and programs related to space like the James Webb Space Telescope. This segment is the biggest in terms of revenue and backlog.
Electronic systems are about radar, electronic warfare and infrared countermeasures. Information systems works with programs related to command & control, air and Missile defense systems, communication system, cyber capabilities, ISR payload and processing systems and civil & health mission systems development.
Finally NOC's smallest segment is Technical Services and it earns money with logistics, training and simulation programs.
In the table below the revenue in 2013, backlog and the sales projection for 2014 are presented.
Division

2013 Revenue
($ billion)

Backlog
($ billion)

Sales projection
(2014)

Aerospace Systems

10.0

16.7

9.7 - 9.9

Electronic Systems

7.1

9.6

6.8 - 7.0

Information Systems

6.6

6.7

6.1 - 6.2

Technical Services

2.8

2.6

2.7

TOTAL

24.6*

35.6

23.5 - 23.8
Source: Investor Presentation (July 2014)
*Due to intersegment eliminations of 1.9 billion USD, total revenue does not add up to 26.5 billion.
The total backlog is over $35 billion and estimated sales in 2014 are just shy of $24 billion. In comparison with 2013, revenues are projected to decline slightly.
Historic revenue and earnings
Back in 2004 NOC's revenues were about $30 billion. Ten years and two major wars later (Afghanistan, Iraq), revenue declined to about $24 billion in the trailing twelve months. At first glance this does not seem to be a good development. A declining top-line during such a long period spells trouble. It looks like NOC is not effective in generating sales.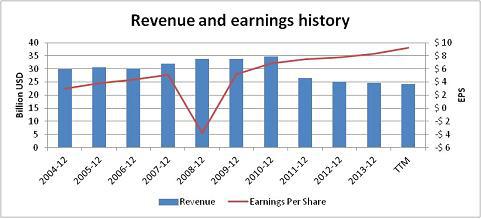 Source: Morningstar
However, the other part of the story is that earnings per share have increased almost every single year with the exception of 2008. The compound annual growth rate of the EPS in the last decade is a whopping 12%. How is this possible? The major reasons for the increase in EPS are increased earnings and a decreased share count. It sounds like kicking in an open door, but this is rather important in understanding what has happened with NOC the last few years. Top-line growth (or lack thereof) does not take into account operating efficiencies which could have a big impact on earnings or what the money is spent on (in this particular case, common stock repurchase).
Increase earnings
Revenues declined partly due to portfolio reshaping and shedding off low margin programs. As a result of these choices, margins have increased. Back in 2004 NOC earned about 3 to 4% of total sales, in 2014 this doubled to 8%! The same is true for other profitability indicators like ROE, ROA and ROIC.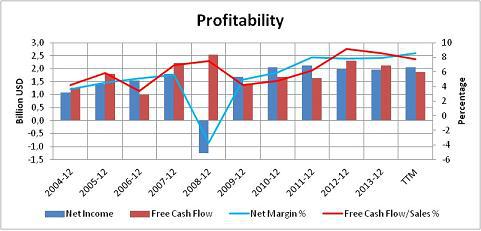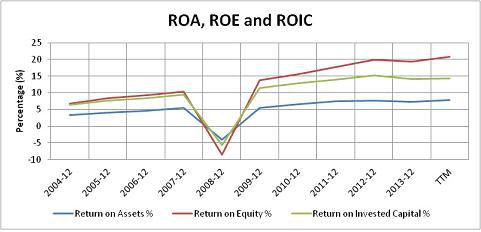 Source: Morningstar
This development (higher margin programs) caused net income to remain at more or less the same levels in the past years, even though revenue has declined.
Decreased share count
The 2nd part of the story is about the decrease in share count. During the last decade NOC has repurchased roughly 40% of the outstanding shares. The share buyback accelerated in the last five years. In 2012 alone, NOC repurchased 10% of the outstanding shares! During the last year repurchases have been scaled back a bit. The dramatic increase in share price during the last year probably is one of the reasons for the reduced buyback activity.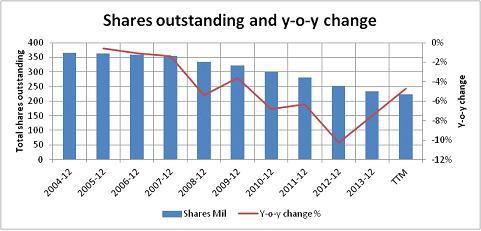 Source: Morningstar
In 2013, the company's board of directors authorized a share repurchase program of up to $4.0 billion of the company's common stock. As of June 30 2014, repurchases under this program totaled $2.2 billion which leaves $1.8 billion in the current buyback program. This means we can expect NOC to uphold the buyback activity in the coming quarters.
For management a share buyback program generally has three advantages over an increase in dividends.
Common share repurchases artificially raise EPS.
Common share repurchases are less permanent than dividend raises and management is flexible in deciding when to allocate funds.
Common share repurchase reduce the amount to service the dividend payments.
The figure below shows the power of common stock repurchases. Even though the dividend has grown at roughly 9% per year in the last 5 years, the total amount of money needed to service the dividend payments remained stable at $540 million.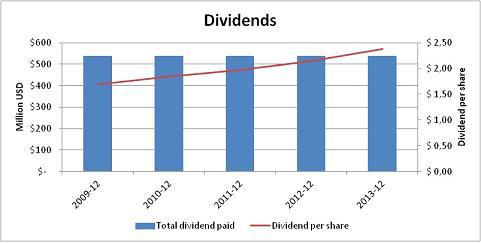 Source: Morningstar
Competitors
Northrop Grumman's competitors include Boeing (NYSE:BA), General Dynamics (NYSE:GD), Raytheon (NYSE:RTN) and Lockheed Martin (NYSE:LMT). The table below provides a brief overview of some of the financial metrics.
| | | | | | | |
| --- | --- | --- | --- | --- | --- | --- |
| Ticker | NOC | BA | GD | LMT | RTN | Defense industry |
| Market value ($bn) | 131 | 126 | 127 | 176 | 102 |   |
| Revenue ($bn) | 24,2 | 88,4 | 30,8 | 44,8 | 22,9 |   |
| Profitability |   |   |   |   |   |   |
| Net margin % | 8,6 | 5,7 | 7,4 | 7,1 | 9,5 | 7,5 |
| ROE | 21 | 46 | 18 | 127 | 21 | 54 |
| ROA | 7 | 5 | 7 | 8 | 8 | 7 |
| Debt |   |   |   |   |   |   |
| Debt/Equity-ratio | 0,58 | 0,52 | 0,26 | 1,43 | 0,40 | 0,71 |
| Dividend |   |   |   |   |   |   |
| Dividend Yield | 2,15 | 2,30 | 1,96 | 3,05 | 2,40 | 2,42 |
| Payout Ratio % | 27 | 37 | 33 | 53 | 36 | 38 |
| 5yr DGR | 9 | 4 | 5 | 21 | 14 | 11 |
| Valuation |   |   |   |   |   |   |
| Forward P/E-ratio | 12,7 | 15,4 | 15,8 | 14,4 | 13,4 | 14,3 |
| Trailing P/E-ratio | 14,1 | 19,1 | 17,6 | 18,1 | 15,8 | 16,9 |
| Price/Sales | 1,2 | 1,1 | 1,4 | 1,3 | 1,4 | 1,3 |
| Price/Cash Flow | 12,6 | 13,4 | 13,4 | 11,6 | 11,4 | 12,4 |
| Price/Book | 2,6 | 6,5 | 3,2 | 12,9 | 2,7 | 4,1 |
| PEG Ratio | 2,6 | 5,1 | 3,1 | 2,1 | 2,2 | 3,0 |
Source: Morningstar
These numbers show that NOC does not outperform the other companies on profitability, debt or dividend metrics but it certainly does not underperform either! NOC is more profitable than General Dynamics and Boeing, carries less debt than LMT and has a lower dividend payout ratio than Raytheon. However, based on the valuation multiples it seems that NOC is slightly cheaper than the other companies. They have the lowest forward and trailing P/E-ratio and price/book-ratio. They also sport one of the lowest price-to-sales-ratio and PEG ratio.
Potential risks investing in the defense industry
In a recent article about NOC, the author David Zanoni provided an excellent summary of recent events. You can find the article here. The author explained in detail which new contracts were awarded to NOC. The main thesis in the article is that:
NOC is likely to gain more new contracts as the company has key solutions for the war on terrorism and for the cutting-edge defense systems that are needed for today's complex international conflicts.
I would like to add to this statement that from a qualitative standpoint defense companies operate in a highly competitive yet stable industry. Often government contracts are long term in nature and given many of the required security protocols for defense contracts substantial barriers to entry exist.
Furthermore, it is common in the defense industry for work on major programs to be shared among a number of companies. It is not unusual to compete for a contract award with a peer company and, simultaneously, perform as a supplier to or a customer of that same competitor on other contracts, or vice versa. This means that the deviation in revenue declines because each company in the business takes a piece of the pie, no matter in what way it is sliced.
Finally, I would like to expand a bit on the sensitivity to the U.S. government defense budget. NOC's primary customer is the U.S. Government. Revenue from the U.S. Government accounted for 86 percent or more of total revenues in each of the last three years. However in 2013, NOC expanded their business with U.S. allies around the globe, increasing their international sales by approximately 20 percent to $2.5 billion. In any case, the budget environment, including sequestration as currently mandated, remain a significant long-term risk to the industry, as is stated in the risk section of the annual report 2013.
No correlation with global and US military spending
It is often said that the performance of defense contractors are closely correlated with military spending budgets. In economic good times or in wartimes military budgets increase, giving a boost to R&D or the purchase of additional military systems. In economic downturns or during peacetime military budgets could decrease. But are the earnings of NOC as sensitive to US defense budget levels as we might suspect?
It seems that at least in recent years this has not been the case. Despite more or less constant military budgets in absolute dollar amounts, earnings per share for NOC have skyrocketed!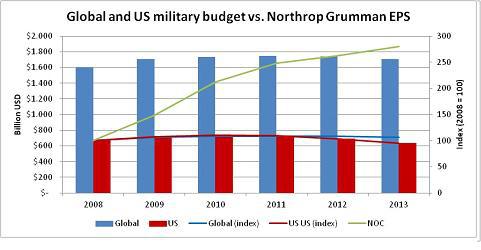 Source: Stockholm International Peace Research Institute
This graph shows that at least in the past five years, earnings per share are not in any way correlated to global or US military budgets. Could it be that defense companies like NOC adapt to a changing environment and can be profitable in various scenarios? Even in one where military budgets are not increasing? It certainly seems like it! Even if world peace suddenly broke out around the globe (something I would definitely cheer for!), future prospects for NOC might look dim. However sad but true, this is a very unlikely scenario. There are emerging global security challenges in key areas, such as unmanned systems, cyber, C4ISR, and logistics and modernization which provide future possibilities for NOC.
Summary
Northrop Grumman transformed itself in the last decade, much like IBM has done except for the issuance of debt. Lower margin programs have been let go to focus on more profitable programs. Coupled with a relentless buyback program, NOC's earnings per share have compounded at 12% per annum. As with most businesses it is uncertain what the future might look like. However, NOC has shown it has the flexibility and endurance to adapt to changing environments and to consistently offer shareholders a more than average return on their investment.
Disclosure: The author has no positions in any stocks mentioned, and no plans to initiate any positions within the next 72 hours.
The author wrote this article themselves, and it expresses their own opinions. The author is not receiving compensation for it (other than from Seeking Alpha). The author has no business relationship with any company whose stock is mentioned in this article.