By Andy Obermueller
When I recommended this stock nearly two years ago it was paying a 14.4% yield.
In most cases, yields this high aren't safe.
But this company is different.
In short, it borrows money at very low interest rates, invests in securities that pay high interest rates, and pockets the spread.
For many businesses, an operation like this comes with risk. But like I said, this company is different: It ONLY invests in securities that are backed by the U.S. government. And, thanks to a unique law, the company is required to pay out 90% of any profit it makes to its shareholders in the form of dividends.

In other words, at the time I recommended this stock, we were looking at a rare opportunity to lock in a ridiculously high yield with relatively little risk.
Since then, investors have piled into the stock like crazy and shares have soared. The company I'm talking about is Annaly Capital Management (NYSE:NLY) -- and if you got in when I recommended, you'd be sitting on a 90% profit today.
Take a look …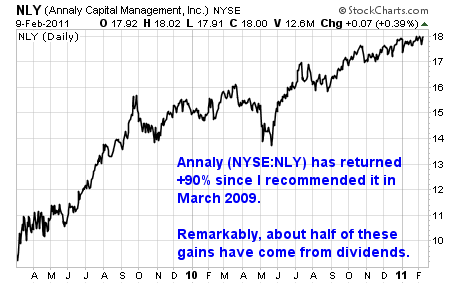 Remarkably, about half of these gains have come from dividends.
Here's how it breaks down…
When I recommended Annaly in March of 2009, it was selling for $13.50 a share. By the end of the year, you would have collected $2.54 in dividends for every share you owned. That's an 18.8% return -- in cash -- in about 10 months.
If you held onto your

shares

through 2010, you would have received another $2.65 a share in dividends. That's an extra 19.6% cash return on your original investment.
Add up your income from both 2009 and 2010 and you'd be looking at a 38.4% return from dividends alone in less than two years.
Now here's where it gets interesting …
Even though Annaly's shares are trading about 33% higher than when I first recommended them, based on the company's 12-month trailing dividends, you can lock in a 14.5% yield if you buy this stock today.
Keep in mind, though, that like all dividend-paying stocks, there are no guarantees. The company could cut its dividend at any time without any prior notice.
However, if history is any guide, Annaly should continue delivering strong returns ...
Since going public in 1997, it's returned more than 900% and hasn't missed a single dividend payment. On top of this, it still only invests in securities backed by the U.S. government, and it's still required to pay out 90% of its profits to its shareholders -- just like it was when I first recommended it.
With its huge yield and relatively low risk, an investment in Annaly today could be the easiest way to make a 14.5% return on your money this year.
Disclosure: Neither Andy Obermueller nor StreetAuthority, LLC hold positions in any securities mentioned in this article.