App Annie has released its monthly mobile apps index report for August 2014. King Digital (BATS:KING) retains its ranking as the No.2 top grossing apps publisher. SoftBank (OTCPK:SFTBY) is now the top grossing mobile apps publisher - thanks to its controlling stake in Supercell.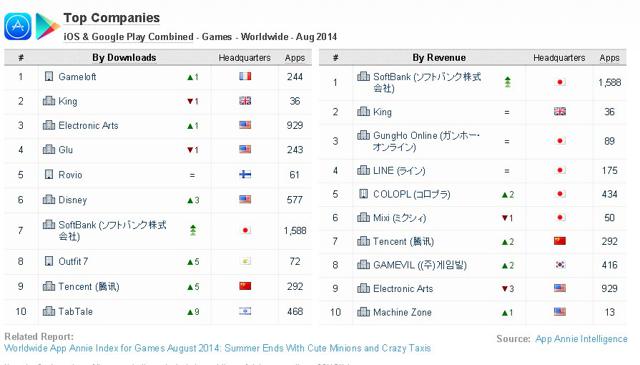 Supercell's Clash of Clans remains the top grossing mobile app in August. However, King's biggest source of income, Candy Crush Saga, is still the No. 1 most downloaded game among iOS and Android devices users.
The chart below should alleviate the worries of investors that Candy Crush Saga is in decline - this game is still the No.3 best-earning app in the world.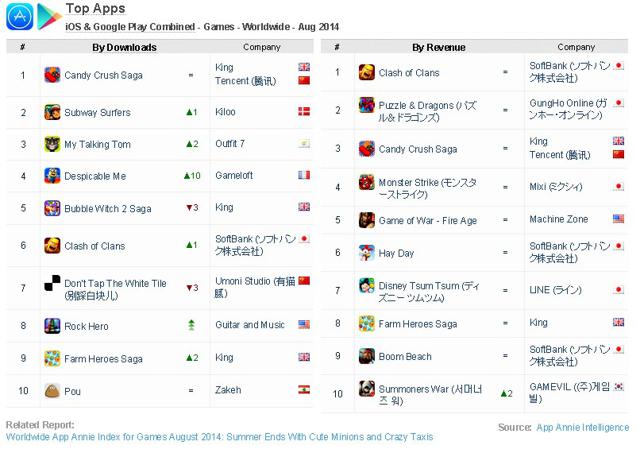 King also has another solid revenue stream in Farm Heroes Saga, the No.8 top grossing app. King's latest mobile game, Diamond Digger Saga is also a hit game in the making. Released only last September 3, Diamond Digger Saga has already received 5 to 10 million downloads from Android device users.
Diamond Digger Saga is greatly outperforming NFL Showdown, which Zynga (NASDAQ:ZNGA) also released last September 3. Less than 100,000 people downloaded NFL Showdown from Google (NASDAQ:GOOG) Play.
Another Hit Game in the Making
Diamond Digger Saga is a future revenue generator for King. According to App Annie's latest daily data, Diamond Digger Saga is now the most downloaded Android game in the United States, United Kingdom, and Germany.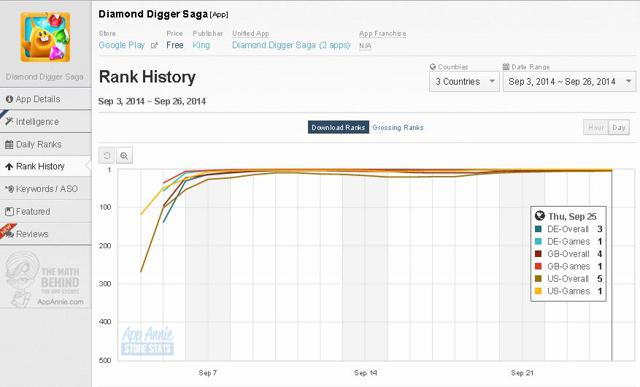 This is a very important achievement because the United States, Germany, and the United Kingdom are among the top five countries in terms of game revenue. Investors worried about King's huge reliance on Candy Crush Saga should take into consideration that the users who quit Candy Crush Saga might be the same people now playing Diamond Digger Saga.
King's customers are just shifting their time to newer titles. Candy Crush is now only the No.2 most downloaded Android game in the U.S., and it is now only ranked No.5 in Great Britain and Germany.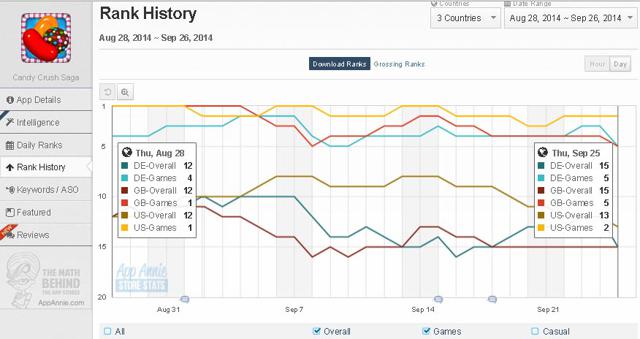 Candy Crush's decline in download ranking is understandable because gamers prefer newer titles like Diamond Digger Saga. The important thing is that King might be retaining the same number of paying customers.
As time goes by, the gameplay will get harder in Diamond Digger Saga. The same people who spent money on their Candy Crush accounts are likely to do so again on their Diamond Digger accounts.
The Revenue Stream Is Getting Stronger
Diamond Digger Saga is climbing up the charts for the top grossing apps on Android and iOS. This game is already among the top 20 best-earning Android apps in Great Britain (No. 15) and Germany (No.17). Diamond Digger Saga is also the 23rd top grossing Android app in the U.S.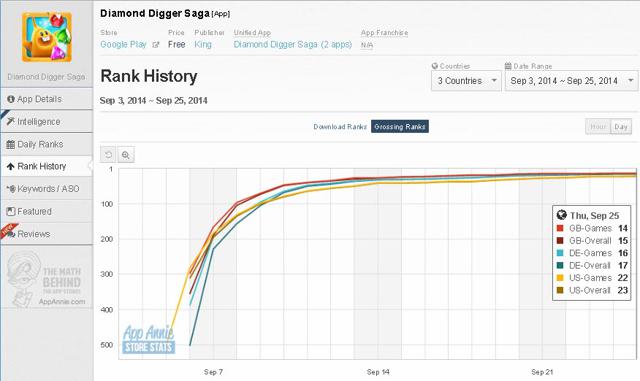 Diamond Digger Saga's revenue stream from iPhones users is also growing stronger. This game is the now 16th top grossing iOS game in the United Kingdom, 33rd in Germany, and 23rd in the United States.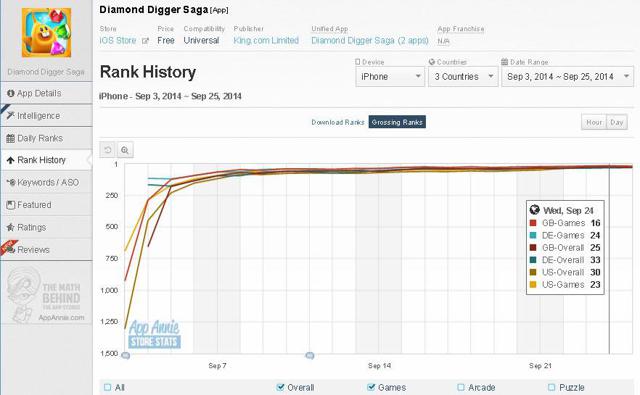 Conclusion
King remains a better long-term investment than Zynga. The poor performance of NFL Showdown is in great contrast to Diamond Digger Saga's growing number of downloads and improving monetization.
Unlike Zynga's multi-year deal with the National Football League, King is not paying any licensing fees on its new puzzle game.
I rate KING a Buy. In spite of it being a very profitable company, King has lower P/E and P/S ratios than Zynga and Glu Mobile (NASDAQ:GLUU). Glu's Kim Kardashian: Hollywood game is no longer in the list of the 10 top grossing mobile games in App Annie's August report.
My long recommendation for KING is in line with the Buy recommendation made by four analysts from BarChart. Seeking Alpha users should study the chart below - King is a diamond that should be dug up by more investors.

Disclosure: The author has no positions in any stocks mentioned, and no plans to initiate any positions within the next 72 hours.
The author wrote this article themselves, and it expresses their own opinions. The author is not receiving compensation for it (other than from Seeking Alpha). The author has no business relationship with any company whose stock is mentioned in this article.