Company Overview
Waste Connections (NYSE:WCN) is an integrated solid waste services company that provides solid waste collection, transfer, disposal and recycling services in the Western and Southern U.S. They also provide intermodal services for the rail haul movement of cargo and solid waste containers in the Pacific Northwest through a network of seven intermodal facilities. As of December 31, 2010, They serve approximately two million residential, commercial and industrial customers from a network of operations in 27 states, owning or operating a network of 135 solid waste collection operations, 54 transfer stations, seven intermodal facilities, 39 recycling operations, 44 active landfills, and one exploration and production waste treatment and disposal facility.

Thesis
We are long Waste Connections (
WCN
) and are raising our fair value to $34 from $28. WCN shares trade at a premium to their peer group for the simple reason that it is able to produce above average Free Cash Flow, Returns On Invested Capital, and superior margins . The company's 4Q10 results and the outlook in 2011 reinforce this perspective. Guidance for 2011 is conservative and assumes no volume growth. We on the other hand predict total revenue growth of 9.5%, where volume adds 3.5%-4.5% and the difference from acquisitions.
Waste Connections has a conservative growth strategy focused on gaining exclusive rights to secondary markets that allow it to generate industry leading operating margins.
Generally, profitability of industry operators is determined by the following factors:
Vertical integration & long-term collection contracts
The internalization of waste, which is bringing waste to a company-owned landfill
The ability to charge third-party haulers tipping fees either at landfills or at transfer stations
The efficiencies gained by being able to aggregate and process waste at a transfer station prior to landfilling
And given the inherent barriers to entry in the waste mangement industry such as:
The beaurocratic landfill-permitting process: Zoning permits and approvals can take significant time to obtain, 3-7 years due to NIMBY (not in my back yard) opposition from community and local political groups.
Required Economies of Scale: Companies with a sizable network of landfills typically control pricing and can charge high landfill fees (tipping fees) to other waste haulers that don't have access to their own landfills.
Landfill capacity, and ultimately tipping fees, tend to separate profitable companies from the competition because of the cost advantage in disposing of waste at company-owned landfills (a process known as internalization)
Independent waste haulers generally require financing to operate. Commonly, they get financing through the operaters of landfills. The process of internalization generally occurs when Waste Connection's the return on capital is greater by disposing the garbage themselves. However, this flexibility is a great tool to manage ROIC.
All these barriers let us to believe that this industry will provide for above returns in the long run.

The competition (WM & RSG) prefers densely populated areas that generate large amounts of waste, and typically provide higher tipping fees because of a lack of available landfill space. This has left a gap in the select secondary markets in suburban or rural areas of the western and southern United States where populations are growing rapidly. By steering clear of urban centers, WCN can focus on increasing its regional route density, vertically integrating its waste flow to boost profitability, while becoming the leading waste provider in those regions.

Moreover, roughly half of the company's revenue is produced under exclusive contracts with municipalities, operating as quasi-monopolies and providing fairly predictable revenue. These long-term franchise contracts, meshed with increasing route density, allows the company to become extremely profitable.

Finally, we think the company is poised to increase its profitability during the coming years as the firm integrates acquired assets from the Republic Services-Allied Waste merger. The U.S. Department of Justice issued mandatory divestitures because of antitrust concerns. WCN's purchase of assets resulting from as part of the RSG merger with AW will boost EPS over the next few years and is partially factored into our estimates already. We think the potential purchase of these assets will increase the firm's domestic footprint while simultaneously allowing the firm to generate value for shareholders.

Catalysts and Risks
Soft Positive Catalyst: Price increase in recyclied products, not included in company guidance
Soft Positive Catalyst: Continued improvement renewal rates and customer acquisition rate
Soft Risk: Irrational pricing where it competes against WM & RSG
Soft Risk: Increase in diesel fuel costs, revenue price growth in long-term contracts with municipalities lag fuel prices. This will reduce WCN's margins.
Soft Risk: Integration risk with acquisitions

Valuation







Financial Estimates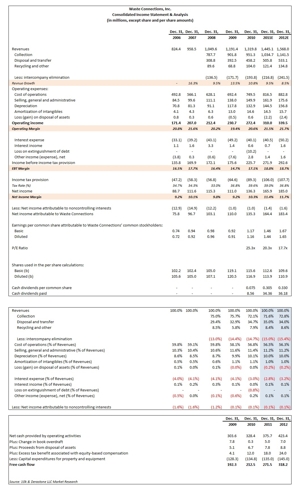 Management
The Waste Connections team is demostration of what good management is all about. They have been successfully integrated acquisitions, increased profitability, and created shareholder value. Management's performance incentives are measured against EBITDA, operating income, and operating cash targets. This combined with the fact that executive officers and directors own 2% of outstanding shares, aligns management's interests with those of shareholders. Compensation is in line with their competitors when taking into account the some perks they get:

"Includes matching contributions by us to our 401(k) Plan on behalf of Mr. Mittelstaedt ($7,523) and the following perquisites and other personal benefits: (i) restoration matching contributions by the company to the Nonqualified Deferred Compensation Plan for eligible employees on behalf of Mr. Mittelstaedt ($2,125); (ii) health club membership ($2,370); (iii) personal use of corporate aircraft incidental to a business function (see footnote (6) above) ($1,106); (iv) purely personal use of corporate aircraft (see footnote (6) above) ($38,840); and (v) professional association dues ($6,600)."

Proxy Statement (Filed: 2009-04-01) - SCHEDULE 14A

Governance can be improved by separating the chairman and the CEO.

Disclosure: I am long WCN.