Active money managers are betting the rally will continue. The NAAIM (active money managers) survey for this week showed an increase of 4.2% in bullish sentiment while the AAII (individual investors) survey showed a small decrease of 2.1%.
This week, active managers have, on average, an 86% allocation to equities. This is up from 82% last week and the highest allocation since late September 2009, when the market did indeed continue to rally. The median allocation rose to 97% while the top quartile of active managers have an allocation of 100% or greater to equities, with the bottom quartile having a 70% or less equity exposure. The eight week moving average is now at 79%. The 86% bullish allocation is more than one standard deviation from the historical average.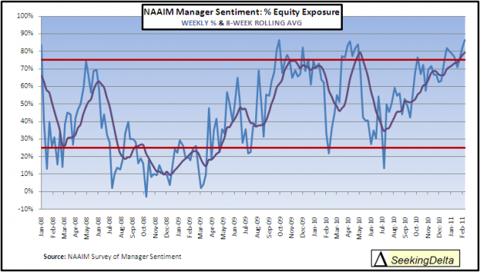 The NAAIM number measures current equity exposure (0% would be all cash, 100% fully invested). Additional details can be found here.
Individual investors' bullish sentiment fell slightly to 49% this week from 52% in the prior week. The sentiment reading is now, albeit just barely, within one standard deviation from average.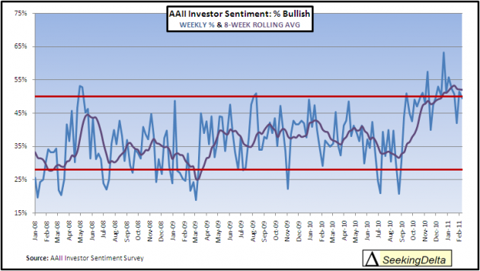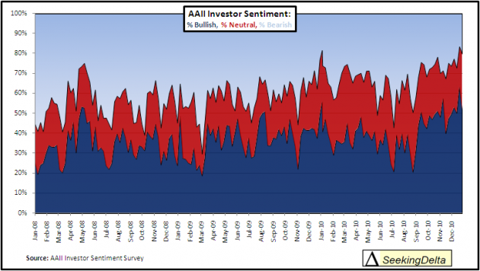 Bearish sentiment remained at 27% and the Bull-Bear spread is at 23%, well above the series average of 9%. The eight week moving average of bullish sentiment remains at 52%.
Finally, this week we look at one additional seemly contrary indicator: the equity put/call ratio. Since late 2003, when the 20 day rolling average put/call ratio has fallen below .55 (roughly 1 standard deviation from average), the average 30 day returns are -2.2% (-0.7% median) versus a series average of 0.2% (0.8% median). The current 20 day average put/call ratio is .549, just below the range. The last time the ratio dropped below .55 (April '10) the market sold-off roughly 14% over the next month-and-a-half. It does appear options buyers are becoming more cautious as the ratio has increased steadily after bottoming in December of last year.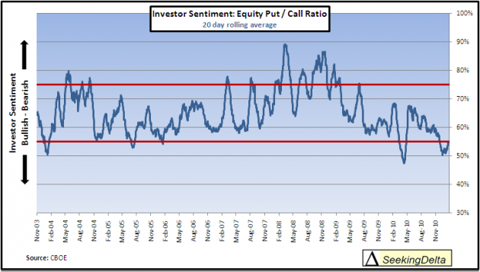 Overall, investor sentiment remains high. NAAIM bullish sentiment readings are one standard deviation from average, AAII sentiment is just below the "extreme" bullish mark, and option buyers are still bullish.
For analysis of the subsequent equity returns based on sentiment surveys please see the flowing links: AAII research here and NAAIM research here.
Disclosure: I have no positions in any stocks mentioned, and no plans to initiate any positions within the next 72 hours.