This week, the Swiss franc reversed course vs. bullion, giving up 3.9 percent to gold. Other reserve currencies also yielded to the metal. The yen lost 3.3 percent while the euro and sterling slipped 2.9 and 2.3 percent, respectively.
The U.S. dollar continued on its reflationary course this week as well. As of Thursday:
London morning gold fixes finished 2.0 percent higher at $1,359 after averaging $1,354; COMEX spot gold settled at $1,362 for a 0.7 percent gain; average daily COMEX volume tumbled 41.8 percent to 142,417 contracts; open interest inched 652 contracts lower to 462,396.
COMEX gold inventories rose by 19,954 ounces (0.6 tonnes) to 11.398 million, covering 24.7 percent of open interest; immediate demand for COMEX bullion could amount to as much as 94,300 ounces; 2.883 million ounces are now in a deliverable position.
Bullion assets of the SPDR Gold Trust (NYSEARCA:GLD) fell 3.8 tonnes (120,597 ounces) to 1,225.5 tonnes.
The average cost of protective gold puts fell another 23.6% percent while projected volatility, measured by the CBOE Gold ETF Volatility Index (GVZ), declined to 15.1 percent.
One-year gold lease rates rose 6 basis points (0.06 percent) to an average of 0.29 percent.
Junior miners fell out of favor this week, reflected in the 1.8 percent decline in the share price of the Market Vectors Junior Gold Miners ETF (NYSEARCA:GDXJ); gold producers, proxied by the Market Vectors Gold Miners ETF (NYSEARCA:GDX), fared better with only a 1.0 percent loss; in contrast, the S&P 500 Composite gained 1.1 percent.
GDX's correlation to the S&P benchmark increased another 6 points to 18 percent; at the same time, the blue chip index's correlation to bullion ticked up to -16 percent.
WTI spot crude oil prices fell 4.2 percent to $86.73; the average daily gold/oil multiple jumped to 5.5x from 14.8x.
COMEX financing rates inched up to a 36-basis-point discount to one-year Treasurys, bespeaking expectations for stable-to-lower yields; the one-year COMEX contango rose 5.8 percent to $9.20 an ounce, mirroring bullion's price increase.
Interbank yield spreads eased up by a basis point, to 0.49 percent, as measured by the one-year TED spread.
The Treasury yield curve steepened another 14 basis points when the 30-year bond rate rose to a weekly average of 4.73 percent; in the past six months, the long bond's yield has increased 75 basis points.
The euro dipped 1.2 percent against the U.S. dollar, averaging a $1.3646 cross rate in interbank trading.
Inflation, measured by the HAI Monetary Inflation Index, continued to turn up this week; daily readings in the one-year inflation rate, which averaged 0.5 percent the previous week, rose to 0.8 percent this week; at today's rate, the real return on three-month Treasury bills is -32 basis points.
One-Year Monetary Inflation Rate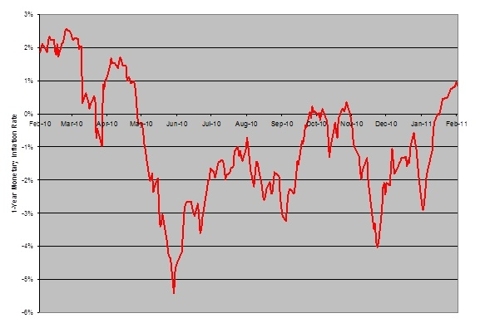 (Click to enlarge)