I have confessed lately to trying to steer myself towards opportunities with higher growth potential. While valuation remains important to me, I believe that in a strong market such as we are enjoying, it makes sense to focus on names being driven by strong and improving fundamentals. With that in mind, I decided to screen for companies with very strong revenue growth as well as other favorable characteristics. Here are the parameters I employed:
Market Cap > $200mm
5-year Sales Growth > 20% (compounded)
1-year Sales Growth > 10%
Return on Capital > 15%
Earnings Revisions Stable/Positive over past 3 months
3-month Price Momentum: > S&P 500
YTD Price < 20%
The goal, then, is to identify companies with strong growth in the top-line that are using capital efficiently and meeting market expectations with respect to earnings. I wanted to make sure that the stocks are "working" but not so much that they have gotten away. Here are the 22 stocks that made the cut:
[Click to enlarge]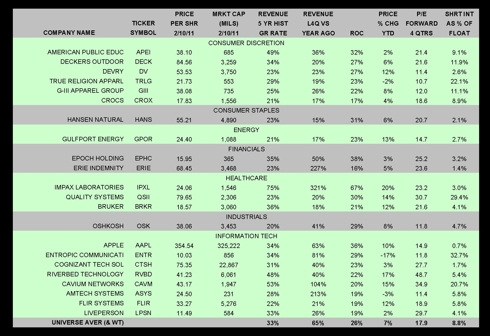 As you can see, the group is quite diverse, with market caps ranging from Small-Cap to Mega-Cap. Seven of the 10 economic sectors are represented, with particularly high representation from Consumer Discretionary and Technology. Of all the names that made the cut, I follow only FLIR Systems (NASDAQ:FLIR) very closely.
FLIR, which just reacted favorably to earnings and a cautiously optimistic outlook after opening down sharply, is a member of the Top 20 Model Portfolio and one that I profiled on Seeking Alpha very recently. I think it's a great example of the type of company that I am seeking and makes me want to dig deeper on the rest of the list.
One issue to consider is that some of these companies, including FLIR, have indeed grown sales strongly but not organically. While the growth at a company like Apple (NASDAQ:AAPL) is certainly more impressive given the lack of acquisitions, I wouldn't rule out growth by acquisition as an avenue for shareholder value creation.
The summary statistics at the bottom are encouraging. I included a column for PE and for short-interest in addition to the parameters upon which I screened. The group, on average, isn't up substantially more than the market thus far in 2011, though a few are close to the 20% max I imposed. Some are actually down slightly. The PE ratios are typically below 20X, with an average of 18X. The valuation is a premium to the market, but not exactly aggressive. Finally, there is a lot of skepticism in these names as reflected by 9% average short-interest.
Disclosure: I have no positions in any stocks mentioned, and no plans to initiate any positions within the next 72 hours.
Additional disclosure: FLIR is in the Top 20 Model Portfolio at Invest By Model