On June 30th, I published an article with 23 stocks that I found using a stock screener. The screen's objective was to find cheap and profitable stocks with high dividend yields.
This article aims to review the list made in the previous article and present a revised list for investors going into Q4 of this year.
Reviewing The Old List:
Since I published the article on June 30th at 4:40pm, the beginning period's price is the closing price on July 2nd (the next business day on the TSX). The ending period's price is the closing price on September 24th. As shown in figure 1, a portfolio consists of those 23 names on an equal-weight basis returned 0.6% (price return) while the TSX Composite returned -0.6%. Given that the average dividend yield on the 23 names is 4.1% compared to the index's yield of 2.5%, the total return of the portfolio is approximately 0.4% higher.
Figure 1: The Old List with Return Data Included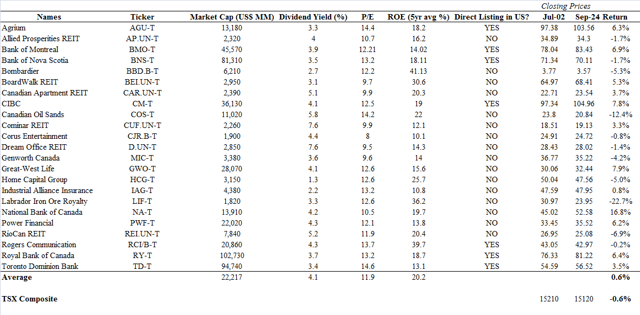 Source: Price Data From Yahoo Finance. Prices and returns are in Canadian dollars. For the period from July 2 to September 24, the Canadian dollar depreciated 3.4% against the US Dollar, reducing returns for US investors.
Looking at the 23 names more closely, 19 names had positive returns while only 3 names had negative returns. The biggest winner was National Bank of Canada which had a 16.8% return while the biggest loser was Labrador Iron Ore Royalty which returned -22.7%. Despite the wide range between the biggest winner and loser, the average return of the 23 stocks still bested the TSX Composite Index. Investors can use the list as a starting point and conduct further bottom up analysis to maximize the chance of picking the best ones and ignoring the worst ones.
Commentary For Canadian Markets:
I would like to provide a quick commentary regarding Canadian markets in general. As stated in my previous article, I still believe investors have a better opportunity to find bargains in the Canadian market than the US market. The TSX Composite Index, the main Canadian index, is only slightly higher than its pre-crisis highs while the S&P500 is about 33% higher.
The recent sell-off since the beginning of September is an opportunity to seek out bargains or switch into better bargains. Commodity prices are likely to dictate the short term movements of Canadian stocks because of the heavy weighting given to the energy and material sectors in the TSX. Nonetheless, previous history has shown that buying when markets are fearful does lead to handsome rewards. The current negative sentiment reminds me of the period between April 2013 - June 2013 when there was a general concern regarding global economic growth and Fed tightening. Many Canadian stocks sold off more than 20% during that period but soared afterwards. I don't think history will repeat itself but it does rhyme. Historically, the end of October was a good time to purchase common stocks (market bottomed in October for the 1974 and 2002 bear markets).
The New List:
I have provided an updated list for readers. The methodology for the stock screen is very simple: pick stocks that are cheap and profitable with an added bonus of high yield. The combination of low valuation (in terms of P/E) and high profitability (in terms of high ROE) provides safety and reduce investment risk. The high yield provides income for investors while they wait for the low valuation to reverse. I added two new parameters for the screen to ensure that high dividend yields can be maintained (via adequate payout ratios) and the dividend can grow through earnings growth.
The stock screen was selected based on:
Stocks with P/E (trailing) that is lower than the TSX's P/E of 16.5.
Dividend yield that is at least higher than the 10-year government of Canada bond yield (2.2% currently). This is a higher hurdle rate than the 2.0% in the previous screen because rates has risen since late June.
Historical 5-year average ROE of at least 10%.
NEW: To ensure the company has adequate coverage of the dividend, I added a dividend payout ratio to the screen. Companies must have a coverage ratio of 75% (dividend/net income) or less.
NEW: To ensure dividends can grow, I utilize Ben Graham's suggestion that past 10-year earnings growth must be 3% or higher. While some investors prefer to screen for a dividend growth rate, I believe screening for earnings growth is better criteria. A company can increase dividends without earnings growth but it is underlying earning growth that can increase the capacity to pay dividends.
The new list (in figure 2) is slightly smaller than the old list (in figure 1). The two new parameters and the higher threshold for dividend yield have eliminated 9 names and added 6. The 9 names that were eliminated include Agrium (AGU), Bombardier (OTCQX:BDRBF), Canadian Oil Sands (OTCQX:COSWF), Corus Entertainment (CRJEF), Dream REIT (OTC:DUNDF), Genworth Canada (OTC:GMICF), Home Capital Group(OTC:HMCBF), Industrial Alliance Insurance (OTC:IDLLF), and Power Financial (OTCPK:POFNF). The names that are added include IGM Financial, Centerra Gold, MCAN Mortgage Corp, Melcor Developments, Morguard REIT and PHX energy services. From a qualitative view on the names removed, I agree with removing financials with heavy housing-related exposure like Genworth Canada and Home Capital. In addition, Corus and Bombardier have reported disappointing earnings, which increase the risk regarding their future outlook. On the other hand, I don't agree, from a detailed bottom up prospective, on the screen's decision to remove Agrium, Power Financial and Industrial Alliance (see previous article). I think all three names are trading at reasonable valuation but their dividend yield and/or 10-year earnings growth might not have met the screen's strict criteria.
The new list still contains all 6 major Canadian banks. On average, all of them possess decent earnings growth and high dividend yields. Valuations on the banks remain extremely reasonable and have become more attractive after the latest sell-off. The average big 6 P/B multiple is 2x, slightly below the 10-year average of 2.1x. On an earnings multiple basis, they trade at 11 times forward earnings, which is in-line with historical average. My personal favorites are Scotiabank and Toronto Dominion Bank. The new list also includes Rogers. In my August article on Rogers, I argued its valuation vs. peers is too low and investors were overlooking the new CEO's turnaround plan. Investors should look for good entry points below $40.
Regarding the names added, I think IGM is a great addition due to its solid retail distribution channel through Investors Group. With a 4.3% dividend yield and trading at 16x earnings, the yield and valuation are very reasonable for a retail asset manager. Moreover, PHX Energy services, a provider of horizontal and directional drilling, is benefiting from a secular energy boom in North America. With P/E ratio at 11 and a solid profitability track record (5-year ROE of 17%), the company is another great addition to a portfolio. Out of the three mortgage related names added to the new list, Morguard REIT appears to have attracted some attention due to recent insider buying.
Figure 2: New List

Source: FT Stock Screener. As of September 25,2014. List include Allied Properties REIT (OTC:APYRF), Bank of Montreal (NYSE:BMO), Bank of Nova Scotia (NYSE:BNS), Boardwalk REIT (OTCPK:BOWFF), Canadian Apartment REIT (OTC:CDPYF), Canadian Imperial Bank of Commerce (NYSE:CM), Centerra Gold (OTCPK:CAGDF), Cominar REIT (OTC:CMLEF), Great-West Life (OTCPK:GWLIF), IGM Financial (OTCPK:IGIFF), Labrador Iron Ore Royalty (OTCPK:LIFZF), MCAN Mortgage (OTC:MAMTF), Melcor Developments (OTC:MODVF), Morguard REIT(OTC:MGRUF), National Bank of Canada (OTCPK:NTIOF), PHX Energy Services (OTC:PHXHF), RioCan REIT (OTCPK:RIOCF), Rogers Communications (NYSE:RCI), Royal Bank of Canada (NYSE:RY), and Toronto-Dominion Bank (NYSE:TD). US investors should note that only the big 5 Canadian banks and Rogers have US listings. Therefore, liquidity is very low on the US OTC market and US investors should try to trade on the TSX.
Conclusion:
While Canadian investors may experience a bumpy ride in the next few months, there will be opportunity for investors to add to bargain names or switch into cheaper stocks with better risk-adjusted return potential. The new screen provided in this article lists some potential investments that investors should investigate further. With adequate preparation, investors can take advantage of price declines and buy stocks when they go on sale. The key to success is doing your homework ahead of time so you won't be so hesitant when the bargain is offered to you.
Disclosure: The author has no positions in any stocks mentioned, and no plans to initiate any positions within the next 72 hours.
The author wrote this article themselves, and it expresses their own opinions. The author is not receiving compensation for it (other than from Seeking Alpha). The author has no business relationship with any company whose stock is mentioned in this article.
Additional disclosure: This article is for informational purposes only and does not constitute an offer to buy or sell any securities discussed in the article. The stock mentioned in this article does not represent financial advice. Investors are recommended to conduct further due diligence before committing capital to any investment.
Editor's Note: This article discusses one or more securities that do not trade on a major U.S. exchange. Please be aware of the risks associated with these stocks.