A Brief History:

From its IPO about five years ago at the beginning of the commodity bubble, DryShips Inc. (NASDAQ:DRYS) has always been run in a rather risky manner. The CEO George Economou hasn't been shy about pulling the trigger on risky deals to increase return. The problem is that he has so many inside conflicts of interest that investors have over the past several years been forced to beat the stock and company nearly into bankruptcy.

But at one time only three or four years ago, DRYS was a high flying 400% per year kind of stock. The beta at that time was approximately 4.0 and at times was as high as 5.0, the highest in the entire drybulk industry. But probably mostly due to bankers complaining about broken loan covenants, Economou has been forced into a less risky management style. He has diversified out of drybulk into both oil drilling and oil tankers, and he has begun to rely on locked in shipping contract rates rather than letting it ride for the extra profit potential in the spot market.

His conflicts of interest spans from exclusive deals made with his personal companies which effectively results in inaccurate financial statements that supercede generally accepted accounting principles or international financial reporting standards. Normally a company must disclose and consolidate companies with significant influence by the parent, but because Economou owns these other companies (Cardiff), which are entirely private equity, these companies can and have been easily made to appear as if they are not subsidiaries or parent companies. The truth is DryShips is effectively a holding company which is used to dispose of undesirable assets from Cardiff's balance sheet, at opportune times.

But, Economou does have quite a bit of skin in the game. He has a major ownership in DRYS, including tons of shares and a recent large preferred equity holding. There are all sorts of hidden trap doors in his stakes, including convertible equity and the like all over the place, so even with a significant improvement in earnings, DRYS will be held in check compared to its days of high flying.

With that said, is DRYS valued properly at this time?

Econometric Analysis:

In the old days, DRYS had a very high correlation with the BDI and FFAs, but that was because most of the fleet was tied to the spot market. Now that the entire fleet is locked in, the risk of the company has fallen significantly, and so has beta with the market and beta with the BDI. The chart below shows the BDI (spot market for shipping rates) for the past year.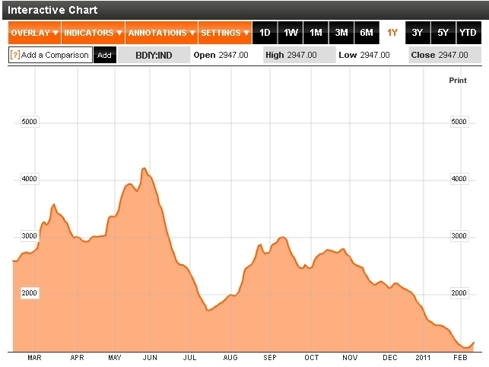 (Click to enlarge)
Mind you, beta with the BDI has never been highly statistically significant, but it has always been the underlying key for the company's stock performance.

But over the past year the S&P 500 has been up 24% and Oil USO has been down just 1%.

During this same year, DRYS has been down 9%.

DRYS has also underperformed the Guggenheim shipping ETF (NYSEARCA:SEA). Below shows USO compared with DRYS, SEA, and SPY.

The explanation appears to be that the BDI has been down 50% over the past year, but since Economou locked in all the rates, this really is unjustified to punish DRYS over the other companies.




(Click to enlarge)
No econometric model can demonstrate DRYS to have anything but a highly positive beta with the stock market and with the price of oil. It even has an increasingly positive beta with oil due to the acquistions in the oil sector by DRYS over the past year.

So, according to CAPM, DRYS absolutely has long term alpha. How much is tricky, though, because the massive loss in stock price from 2007 by itself could demonstrate alpha, but those losses in equity were definitely justified due to huge losses, the largest in drybulk history in fact.

But looking over the past year or two seems to be a new environment for the stock, a more accurate one in which models work.

This all leads up to the econometric conclusion that DRYS, due to its market beta of 3.5, and its USO (oil) beta of about .25, is approximately 83% undervalued from a year ago.

So why is it so cheap?

Financials:

What is up with these interest rate swap losses? If you haven't noticed, bankers have put DRYS into a headlock for the last two years, and every time earnings come around, DRYS shells out its profits to bankers like a kid losing his lunch money to a bully every day. To keep the company from bankruptcy, bankers basically forced DRYS to either sell off ships at depressed prices or use nearly all of the expected profits to insure that debt with interest rate swap losses. To some extent it is just sleight of hand, but on the books DRYS is still recording profits. In reality, it makes essentially no money at this time. And in my opinion this was all arranged in this manner to keep the company looking as desirable as possible to milk every last cent of investor money from dilution after dilution, which worked.

Conclusion:

DRYS appears to be nearly properly valued here, but it has longer term value "alpha" sealed up tight that won't show its head until the BDI begins a climb and Economou increases spot exposure. DRYS has many ships that will rise in value if the BDI ever climbs again, so the stock will likely overreact to increasing shipping rates, even beyond what its beta-based moves would dictate.

Economou's antics are tolerated by investors for one reason: He knows the market better than anybody. His timing is absolutely impeccable. He locked in long term rates nearly at the top of the bubble, which is the reason DRYS made so much money and still technically is doing so. He also recently locked in rates on the remaining whole fleet while the BDI is now tanking to unexpected lows. If there ever was an indicator with predictative value worth following, it is Economou's level of spot exposure. And for the time being, that is very bearish for the drybulk sector, all while DRYS has every ship locked in above market rates. When Economou begins letting ships ride the spot market again, one thing will be nearly certain: the spot market is due to rise again.

Don't look now, but Economou apparently is bullish about oil tankers. His latest move was December 23, when he bought a lot of oil tankers, and since then oil tanker stocks have surged on the news out of Egypt and the fear the Suez could be shut down. That is a good start already. I'm not convinced Economou understands the oil market itself, but he understands shipping rates like the back of his hand.

Disclosure: I am long DRYS.