The Transportation Index is starting to show signs of life that it isn't going to drag the Dow Jones down as it appeared it could have. I pointed out last week that the Dow Theory states that both the Dow Jones and the Dow Transports have to move in unison to confirm new highs and lows. Now with the move over the past two days at the close of last week's market in the Transportation Index, combined with the strength in Techs…it appears the markets are running on all cylinders and should continue to make new highs until the next major catalyst comes.
Currently my positions include: Fortress Investment Group (NYSE:FIG), Integrated Device Technology (NASDAQ:IDTI), Pall Corp (NYSE:PLL), Silicon Image (NASDAQ:SIMG), Stanley Black & Decker (NYSE:SWK), Exide Technologies (XIDE
I could see a pause day on the indexes on Monday/Tuesday as the markets digest their gains and then blasting higher. The Transports are only a couple of hundred points below all time highs and time permitting, I'm going to take a look over a couple of sectors within this industry group to find stocks setting up to breakout. If you have any suggestions feel free to leave them in the comments section.
Dow Theory Update by Tim Wood from Financial Sense – issues an intermediate buy signal on equities.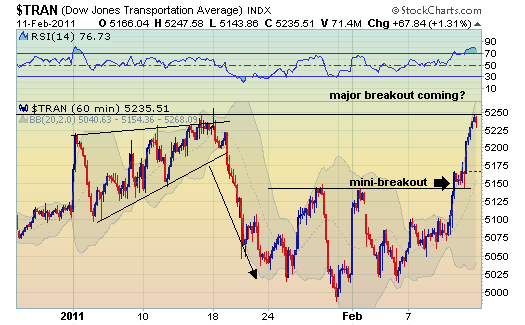 7 Straight days of gains.