The invisible hand of competition has a way of correcting imbalances and keeping order in the business world. There is no question: There has been a revival in corporate profits back up to record high levels since taking a big hit in late 2008 and early 2009. But those corporate profits are back to the upper end of profits as a percentage of GDP for corporate America as a whole. More likely than not, regression to the mean will take hold and margins should well decline in the years ahead. That in itself may well play the biggest headwind for share prices going forward.
Here is a chart of corporate profits after tax from the St. Louis Fed Research Department (click to enlarge images):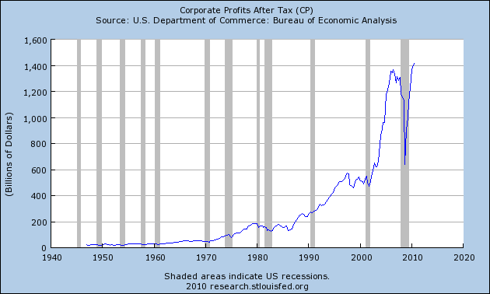 To better see how this relates to the gross domestic product of the US economy, below is a chart that I created showing corporate profits after tax as a percentage of GDP. This chart goes out to July 1, 2010 in when corporate profits after tax reached 9.61% of GDP.
The average since 1947 is 6.05%. Judging by this chart, this past decade in particular, we have seen well above average profits as a % of GDP.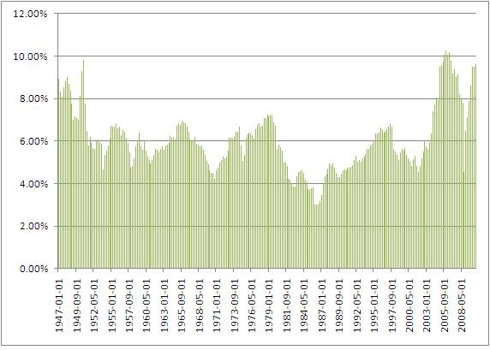 First, I want to check to see what corporate income taxes have been and how this might relate to profits being either dear or lackluster over the past 60 years.
Here is a chart of corporate income taxespaid annualized from the St. Louis Fed. This chart is annualized and goes out to 2009.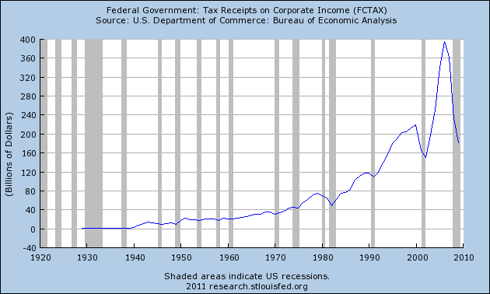 If I am to add federal tax receipts on corporate income to corporate incomes after tax, I would get income before tax. If I then divide tax paid to tax before income, I can get an overall federal tax rate.
Here is the result up to 2009: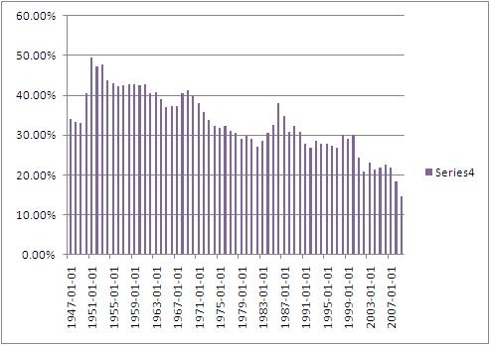 Rather unsurprisingly, for the last decade, as profits were so dear as a percent of GDP, the percent of income going to the government has gone down to what appears to be around 20% and even lower in 2008 and 2009. How much lower can they go?
(With trillion dollar budget deficits, maybe we should consider higher corporate taxes or less tax breaks?)
The last item I want to check are wages in the US. Another rather significant cost factor in business that would reduce or increase profits. American jobs have been shipped overseas to lower wage countries over the past 10 years. That would save money to the global corporations especially.
Here is a chart of wages as a percentage of GDP since 1947 that goes out to the third quarter of 2010. Source: St. Louis Fed.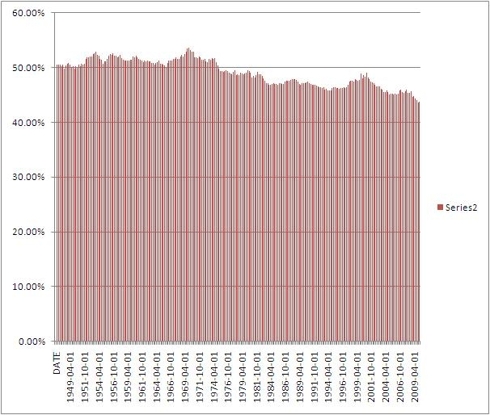 Here is what we have now:
From 1947 to now, near record high corporate profits as a percentage of GDP
From 1947 to now, record low corporate taxes being paid as a percent of pre-tax profits
From 1947 to now, record low wages as a percent of GPD. Note: A good deal of Americans Income has been replaced by government transfer reciepts.
The hard part is trying to figure out when the regression to the mean will begin. But what we can take notice of is that input costs are going up as inflationary pressure in commodities are beginning to rise.
Every company's profit margins need to be analyzed in great detail to see how they will weather "the invisible hand" doing his work.
Higher wages being paid in China coupled with a stronger RMB relative to the US dollar will certainly put pressure on margins of businesses that sell Chinese made goods. Without productivity gains or being able to pass costs on to customers, the company will end up eating the extra costs of good sold, thus hurting margins.
Here is a chart of the Chinese RMB to the US dollar. The trend is down making our dollars buy less and less RMB. China has announced that they will let the RMB rise 5% in 2011, and by my calculations, that would give Americans 6.29 RMB for every dollar by the end of the year.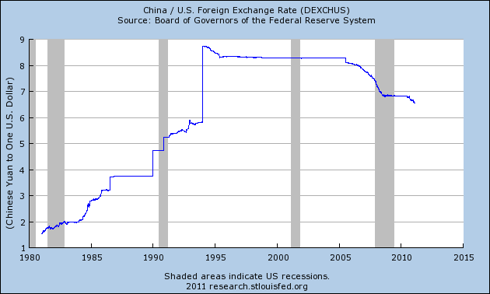 Without analyzing a specific stock in this article, I will point out that the biggest mistake analysts can make is when profit margins are dear, that they will remain dear and even grow. I saw this in 2005 with homebuilding stocks like Toll Brothers (NYSE:TOL). Analysts in a Value Line Investment survey I recall assumed that their 10% net profit margins would continue on into the next 3-5 years. 10% profit margins for homebuilders was already well above the average for the industry.
Here are a list of some companies for which I notice that analysts have profits estimated to grow FASTER than sales, which would imply not only maintaining profit margins but growing them as well.
Bed Bath and Beyond (NASDAQ:BBBY): Lots of products made in China and with a stronger RMB, BBBY may find it difficult to maintain profit margins as cost of goods in US$ goes up.
Current Net Profit Margin: 8.64%
Est. Annual Profit Growth Next 5 years: 14.87%
Est. Sales Growth next fiscal year: 6.9%
Apple (NASDAQ:AAPL): Many APPL products are also made in China.
Current Net Profit Margin: 21.81%
Est. Annual Profit Growth Next 5 years: 20.53%
Est. Sales Growth next fiscal year: 16.90%
Chipotle (NYSE:CMG): Record food costs may hit margins at Chipotle.
Current Net Profit Margin: 9.43%
Est. Annual Profit Growth Next 5 years: 21.22%
Est. Sales Growth next fiscal year: 17.70%
There are many more companies whose earnings are expected to grow faster than sales, which would imply yet higher net profit margins. In an environment of near record high profit margins in the aggregate of corporate America, buyer beware as that may well be asking too much.
The Yahoo Earnings Estimates page has the average estimate of earnings for the S&P 500 to rise 10.24% per year over the next 5 years.
I don't think the global economy can grow 10.24% per year over the next 5 years, so margins for corporate America as a whole would have to increase in order to see 10.24% earnings growth. Highly unlikely in my judgment.
My final conclusion is that stocks have priced in too much earnings growth, and that may well be like squeezing water from a rock with margins as dear as they currently are. I expect to see many lower earnings revisions and earnings warnings, which may put pressure on share prices in the months and even years ahead.
Disclosure: I have no positions in any stocks mentioned, and no plans to initiate any positions within the next 72 hours.