Outlook: The equity markets continue to "power forward", having successfully negotiated a small hurdle in the gauntlet of global economic issues with the resignation of Egyptian President Hosni Mubarak.
Investors Partied: Investors partied with the Egyptians and sent the market higher for the week with the S&P 500 advancing an additional 1.4%. However, with excess jubilation there is typically a subsequent hang over.
The Subsequent Hangover: Last week we looked at the rising divergence of inflation that includes food and energy costs with the 5 Year Treasury. The chart below looks at the inverted investor fear gauge, the VIX, versus the S&P 500. (Click chart to enlarge)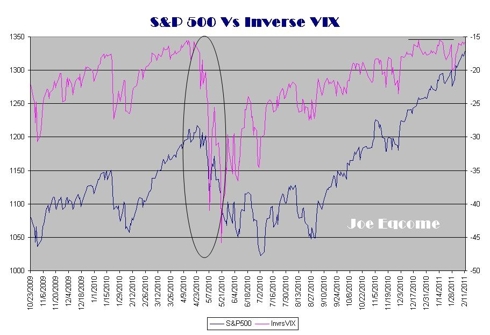 Since the VIX has a tendency to rise when the S&P 500 falls, and vice versa, an inverted VIX would track the S&P 500 (as depicted in the adjacent chart).
The VIX is now at a point were it was in April of last year prior to a 15% price adjustment into July.
Teed Up? Equity markets seem fairly valued and we may be "teed up" for professional investors laying in wait for an event to take the market down. There are many global as well as domestic (looming budget) economic issues that could set off an interim retreat of equity markets this year.
Also, we continue to see investors hedging their bets on asset classes like floating rate loans, convertible securities and high yield bonds. Whether seasonal or not, we've also seen institutional investors increasing their cash positions in money market funds (see below).
What, Me Worry? Whether the market is climbing a "wall of worry" or just ignoring the facts, it may be time to reduce new commitments to equities as they may get cheaper in the not-to-distant future.
CEF Weekly Review: On average the 13 closed-end fund (CEF) types registered an increase of 0.2% for the week ending 2/11/11. The high-low spread was +3.0% versus +3.1% the previous week on an average of +0.2% versus +0.7%, respectively. On an aggregate, unweighted basis, the weekly average price change for the 500 plus CEFs in the Eqcome database was also up 0.2%.
The PowerShares CEF Income Composite (NYSEARCA:PCEF), an ETF that invests in taxable income CEFs, was up 0.5% for the week. The S&P 500 advanced an additional 1.4% for the week and is now up 5.7% YTD. The S&P 500's average daily share volume for the week was down for a second week in a row, off 7.5% to 4.021 billion as volume built in the final days of the week.
(Click here for YTD CEF Performance. The table is based on a smaller CEF sample size as all the data fields are not available for the CEF universe.)
The Eqcome CEF Fear Index for the week eased. The average unweighted price increased 0.2% while related NAV was flat. After the 20.5% plunge in the VIX last week, the VIX dropped another 1.5% to 15.69. It is now at the same level it was in April of last year prior to the market's 15% drop into the beginning days of July.
Money Flows: The shift of money flow to equities from bonds seems to be an enduring trend. For the fourth consecutive week equity long-term mutual funds in the aggregate took in over $18.0 billion. This is in contrast to muni mutual funds during the same period that experienced an outflow of $12.0 billion for the week ending February the 2nd.
Interestingly, institutional investors shifted funds to money market accounts with a $12.0 billion increase--$11.4 billion in taxable non-government bonds. In contrast, retail investors actually withdrew $1.8 billion funds.
This was further confirmed by weekly money flows into the Dow Jones U.S. Total Stock Market Sectors. Funds flow was up 1.6% for the week ending January 11th with an Up/Down Ratio at 1.00. All the DJ sectors experienced inflows. Consumer Services saw the largest with a 3.0% increase in funds flow; Oil & Gas, which was buoyed last week with the turmoil in Egypt, edged up only 0.04%.
CEF Weekly Fund Type Performance: The current week's price changes looked similar to the previous week with equity-oriented CEFs advancing and fixed-income CEFs trailing in terms of price performance. One of the biggest differences from the previous week was WrldEqFnds. WrldEqFnds which participated in the previous week's rally—advancing 2.1%--was this week's worst performer declining 1.4%. This was consistent with the average of 28 ETFs that dropped 1.5% for the week.
In general CEF stock prices outpaced their underlying NAV on either the upside or the downside.
Click to enlarge: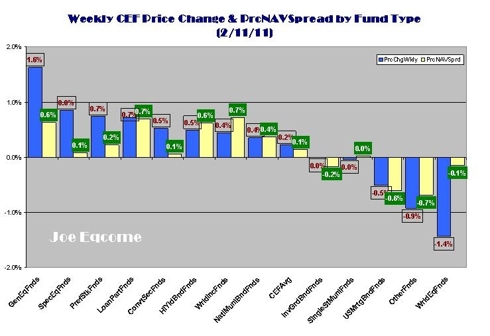 Weekly CEF Winners and Losers: One of the CEFs with the greatest positive spreads for the week was Nuveen Senior Income Fund (NYSE:NSL). NSL's price advanced 4.2% versus its NAV which declined 0.1%; this generated a positive PrcNAVSprd* of 4.3%. With the prospects of inflation rising, many investors may see adjustable rate U.S. dollar-denominated secured senior loans as an attractive asset class—particularly in a strengthening U.S. economy.
NSL pays a monthly annualized yield of 6.5% and trades at a slight premium of 4.1%. It is leveraged 25% and its annual expense ratio is 2.2%, which is slightly less than its 17 peer group average of 2.5%.
For a second week in a row, one the CEFs that experienced the greatest negative PrcNAVSprd was Highland Credit Strategies Fund (HCF). HCF's price declined 2.6% while its NAV increased 1.3%, generating a negative PrcNAVSprd of 2.6%. Earlier in the week, HCF announced a 4.8% reduction in its monthly distribution. Judging from HCF's trading volume prior to the distribution announcement, it appeared that the news of a reduction in the distribution had leaked out prior to its announcement. (See, "CEF Focus Stock(s) for the Week" below)
Economic & Earnings Outlook: (Click here for next week's economic calendar; click here for earnings announcements and estimates.)
ETFs: For a more detailed EFT performance by sectors, click here.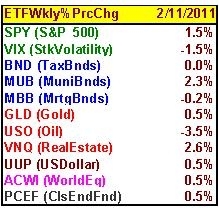 Insider Trading: The second week in February saw insider trading pick up. The most interesting of the transactions occurred in TCW Strategic Income Fund (TCW). TCW was subject to both buying and selling by the directors.
John A. Gavin purchased 41,900 shares at an average price of $5.18 per share bring his total holding to 49,000 shares. Matthew K. Fong sold in an open market transaction his what appeared to be his entire stake in TCW of 11,805 shares at an average sales price of $5.33 per share.
Other insider transactions of note for the week included Daniel Neidich, a director of General American Investors Co (NYSE:GAM), as he acquired indirectly an additional 3,000 shares at an average price per share for a family trust, Prince Street Investors, LLC, bringing his direct and indirect interest in GAM to 82,156 shares. Additionally, Lazard Asset Management, LLC, filed a 13G having acquired 1,704,626 shares for a 5.64% ownership interest.
Dale J. Sherratt, a director of MFS Special Value Trust (NYSE:MFV) and MFS Charter Income Trust (NYSE:MCR), appeared to have disposed of 9,000 and 7,000 shares at an average price of $7.60 and $9.22 per share, respectively.
CEF Distribution Announcements This Week: The following is a link to a table of CEF distribution announcements this week as well as the previous week's with yet expired ex-dividend dates. The list is not intended to be inclusive. (Click here for Joe Eqcome's Weekly CEF Distribution Announcements)
Significant CEF Corporate Events: Blue Chip Value Fund, Inc. (NYSE:BLU) announced Tuesday that its stockholders have approved the reorganization of the BLU into Westcore Blue Chip Fund (VTMVX), a series of Westcore Trust, an open-end registered investment company. The conversion and reorganization date is anticipated to be March 28, 2011. BLU will declare and pay the final dividend or capital gains distribution, if any, prior to the closing of the reorganization entirely in cash.
CEF Focus Stock(s) for the Week: Last week our focus stock was Highland Credit Strategies Fund (HCF). HCF's price declined 2.9% while its NAV increased 0.5% generating a negative PrcNAVSprd of 3.4%. All things being equal, the stock seemed like it was being temporarily pressured and may be the subject of a rebound base on a 3% drop in share price on heavy volume last Friday. The key phrase in the above paragraph is "all things being equal".
Suspicious Trading Pattern: HCF typically trades at an average 3 month daily volume of approximately 200,000 shares. On Friday the 4th, the stock traded three times its average daily trading volume with the price sliding 3.0%. On Monday the 7th, the stock traded five times its normal volume—almost a million shares.
On Monday, February 7, 2011, 6:30 PM EST, the Board of HCF disseminated a press release regarding a reduction in HCF's regular monthly distribution from $0.0525 to $0.0500 per share, a reduction of 4.8%.
Who Knew What When? Given this set of facts, it would be reasonable to question whether or not there was leakage of the distribution reduction announcement prior to dissemination of the press release Monday after the market close. It would seem that someone knew about the distribution cut prior to its announcement given the volume pattern. Or, alternatively, the information was released to a local paper prior to being disseminated on the news wire.
Little Precedent: Going back to the beginning of 2010 and looking at the change in daily volume, last Friday was the second largest percentage daily volume change going from 218,000 shares on Thursday the 3rd to 610,700 shares on Friday the 4th. The greatest volume change took place on October the 18th when volume went from 32,800 shares to 147,700 shares. This percentage change in volume appeared more of an aberration given the previous day's volume which was the lowest during the period and was 85.8% below average daily volume during that span.
Note to the SEC: Given this unusual volume and price performance, I'm dropping a note to the folks at the SEC to see if they feel the same way that there may have been illegal insider trading in the stock. Don't hold your breath.
Caveats: The "CEF Focus Stock(s) for the Week" section includes CEF stocks of interest to me—and possibly other retail investors—and are subject to further analyses. Their inclusion in this section should not be viewed as recommendations based on the analysis provided here alone. Such stocks are basically a "heads-up" of something that might be of interest—or, not.
Joe Eqcome (Owns a diversified portfolio of CEFs and ETFs and is long stocks in the CEFBig10™, CEFMuni10™ and CEFDisc10™.)
The recent increase in interest rates and the pressure on muni funds has placed downward force on the stock prices since the late-2010 (See: Performance Chart)
---
[*] All things being equal, price and NAV should move in tandem. A price movement greater than the NAV generates a positive PrcNAVSprd and may be interpreted as negative on a near-term basis and indicate that the stock is overvalued relative to its NAV which in theory is the stock's intrinsic value. The opposite would be true for a negative PrcNAVSprd.
---
Disclosure: I am long BLU.