TRADE SUMMARY
- Stay long the Canadian stock market (ETFs: EWC and XIU(TSX)).
- The BUY rating was issued at 11539.63 on 11/24/2009.
- The BUY rating has already helped investors generate potential returns of 29.77%.
- Our target return is 20.25%.
- While the initial target has already been reached, we maintain our BUY rating as we believe the Canadian stock market index will continue to strengthen.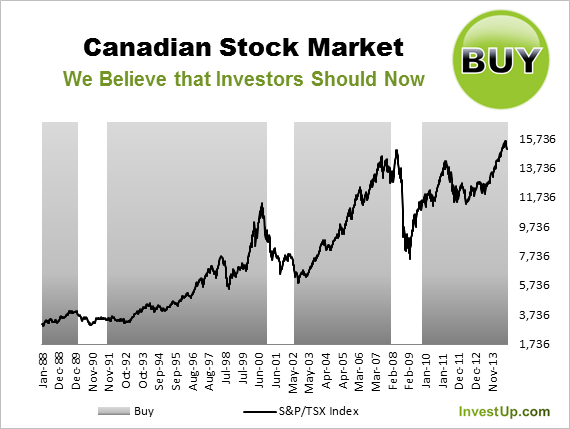 ANALYSIS
We continue to have a bullish bias on the Canadian stock index.
Our positive expectation for growth in Canada is based on the economic indicators remaining relatively strong. Thanks to reasonable growth figures, firm readings from corporate earnings, and ongoing healing in consumer sentiment, we think that the key decision for investors for the next twelve months is likely to involve backing the improvement. This is a stage in which it is profitable to position for the economic expansion in Canada and broader growth acceleration in the world by retaining some exposure to Canadian risk assets as we navigate a potentially volatile period in the next two quarters. As a result, we continue to have a clear bullish bias on Canada's stock market.
Elements in Canada's latest macro data set, particularly the data of this quarter relative to the previous one, are getting better. The recent retail sales and household spending numbers have shown better momentum. The trend of loans is also strengthening, historically leading to further growth and extending the life of this business expansion. On the other hand, the robust job market has boosted wage growth which in turn further supports consumption. In addition, with improving state of the financial sector and rising real incomes, we expect real GDP growth in Canada to realize above consensus in the next quarter.
The combination of incrementally more growth acceleration, with still accommodative policies is a very friendly one for Canadian cyclical assets. In addition, we believe that the upcoming macro news - decent activity data and benign inflation - is likely to provide a further boost to markets. Taken together, the factors discussed above suggest lower volatility and a better market condition. In summary, we believe that the current stage is a time when it is possible to take on more risk, and that means that Canadian equities should be added to the portfolio.