As a conservative money manager, I don't like to be long for the last 5% of a major uptrend. Likewise, I tend to get long a little early at market bottoms when stocks are at their cheapest valuations, but I don't try to time things based on price levels or charts. Instead I try to base all of my investment decisions on valuation and fundamentals before checking things like RSI and MACD. By using valuation analysis, an investor's job is a bit easier as one can tune out the talking heads and asset gatherers, who constantly chant the QE mantra as the main reason to be long equities, and focus on whether individual stocks or indices are cheap or overvalued.

Like anything else, short term fixes are not a cure for long term problems -- once the market fully discounts QE, a crash or correction of substantial magnitude is inevitable according to CAPE analysis, Tobin's Q, the bubble-like PE of the Russell, and the hype surrounding tech bubble 2.0. Stocks have not risen this far this fast in decades. Investors who are putting new money to work 10-20% higher than we are here would be far better served by buying physical gold or farmland, to my mind, than investing in the Nasdaq or Russell Indices. If you are long, consider hedging your stock portfolio with put options but consider waiting until a defined end to the current trend appears.

Timing a top in the market is never easy, but with the crashes we have seen in recent years of 10% or more in a single day, investors should be quick to take profits and to hedge exposure when the dip stops being purchased and starts being shorted. Far be it from me to predict a short term top, but if there ever was a time for a correction, now is it -- stocks do not perform well after 8 straight up days on the Dow, and the consolidation and crossovers in the MACD and stochastics make the markets appear more overbought then they have been in months.

Additionally, the Nasdaq has not made a new high above the 2008 bubble highs -- the Russell is also showing some price weakness on a relative basis and I expect these frothy indices to be hit the hardest in the coming crash.

Here are 10 Stocks that could be winners even in the event of an eventual stock market crash:

KO -- Coke is the best known brand name in beverages in the world. The stock is not particularly cheap, but the moat and management team here is second to none.

MCD -- McDonald's is raising prices in emerging markets, but the company will likely benefit over time with rising inflation as consumers are forced to find more affordable dining options.

NWLI -- National Western is a strong company in the life insurance and annuities markets.

JNJ -- Johnson and Johnson has not budged since the start of the fall rally, and shares appear undervalued relative to operating cash flows and business moat.

HUM -- Humana is all about scale and market share, and boasts a forward PE of around 9X. Health care spending should increase at a 7% or so per annum clip over the next ten years, so look to the healthcare sector for value plays.

S -- Sprint is trading for just 4-5X operating cash flows and has one of the cheapest plans available at $63 per month for unlimited service plus a free Blackberry 3G phone. Greenlight is long shares of Sprint, and I would look to sell the Jan. 2012 $5 put options here.

RIMM -- Research in Motion is a name I have written about extensively, as the company has posted 40% growth and sports a PE under 12X. With the addition of the Android operating system, RIMM shares could move even higher in the coming months. The big risk is obviously the competition from Apple's iPhone.

INTC -- Intel at 9X earnings is just too cheap to ignore. Many analysts are calling for a fall in yearly earnings but I believe the growth at INTC can continue as the PC will not go away as fast as many tablet addicts believe.

AAPL -- Apple's incredible growth rate is currently being widely discounted by the Street as the company is trading at 13.5X forward earnings while YOY quarterly earnings growth stood at over 70% -- at some point the law of large numbers could hurt gowth, but Apple's continues outperforming and this stock's valutaion makes it worth the risk of selling the Jan. 2012 $300 leap put options and for more risk averse investors, buying an equal amount of Jan. 2012 $270 put options can hedge much of your risk. (put spread)

GOOG -- Google is still growing rapidly while the Android platform is exceeding expectations. Investors looking at Google should realize that with higher growth/higher PE stocks the risks of a downside move are heightened. GOOG is a volatile stock, but has not moved up with the rest of the market over the past year.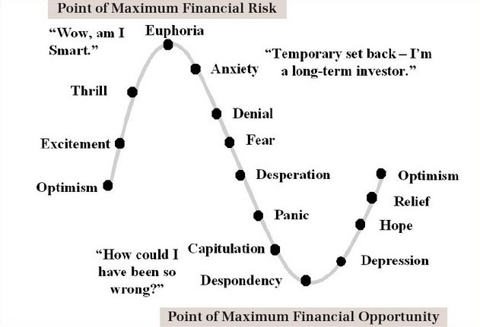 Disclosure: I am long AAPL, INTC, RIMM, MCD, KO, S, JNJ, NWLI, HUM.